These Meghan Markle & Prince Harry Engagement Memes Are Sooo Relatable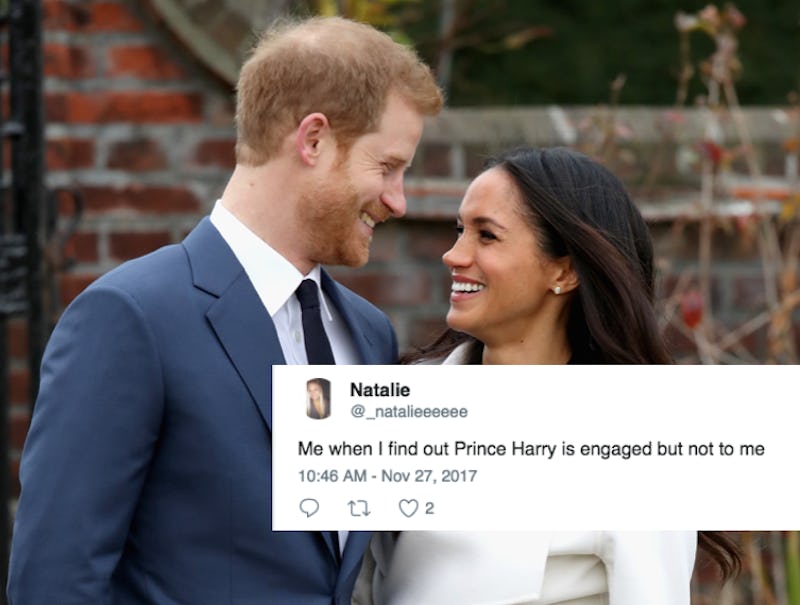 Chris Jackson/Getty Images Entertainment/Getty Images
The British royal family announced on Monday, Nov. 27 that Meghan Markle and Prince Harry are officially set to head down the aisle, and naturally, the internet has already begun to weigh in. A quick scroll through Twitter unearths a plethora of Meghan Markle and Prince Harry engagement memes, from those heartbroken that England's most eligible Bachelor is finally off the market to hopeful Brits counting down the days until the wedding so they can take the day off of work.
For those still playing catch up, Markle is an American actor best known for her leading turn as Rachel Zane on Suits. She and Harry, who is fifth in line to the British throne, first began dating during summer 2016 after they were introduced in London by mutual friends, though Harry didn't confirm their relationship publicly until November 2016. He proposed earlier this month, after just over a year with Markle, but told reporters during their debut as an engaged couple that he'd known she was the one "the very first time [they] met." According to Us Weekly, Markle's engagement ring features jewels from Harry's late mother, Princess Diana, who died in a tragic car accident when Harry was only 12.
Clarence House, the residence of Prince Charles and the Duchess of Cornwall, announced Harry and Markle's engagement, revealing the wedding is set for spring 2018 and that further details will follow in "due course." Shortly afterward, Markles' parents released a statement congratulating the couple, as did other members of the royal family. As far as how Harry proposed, what Markle's official title will be, and other logistics, little else is known, but the internet certainly has a lot of opinions. And because this is 2017, those opinions come in meme form.
Many Are Grieving
Prince Harry has been consistently named one of the world's most eligible bachelors, so it doesn't come as a surprise that there are a lot of people out there wishing they were in Markle's shoes.
Like, A Lot Of People
Hopefully, though, it's all in good fun and they're still happy for her — even if it's not their own personal pipe dream coming true.
Some Were Glad To See Harry Breaking From Tradition
This users was happy to see the royal family expanding their horizons.
And Others Just Wanted To Know Which Day They Are Getting Off From Work
Forget the congratulations, these people have plans to make. Per The Telegraph, Prince William and Kate Middleton's wedding day on April 29, 2011 was a bank holiday in the UK. Clearly there are a lot of Brits hoping the same holds true for Harry and Markle's big day.
Several Busted Out Their Best Suits Jokes
Twitter was full of references to Suits character Mike Ross (Patrick J. Adams), Markle's on-screen fiancée.
In Fact, These Fans Blamed Prince Harry For Ruining The Show Entirely
Deadline reported earlier this month that Markle and Adams are set to depart the series after seven seasons, and many have already begun to attribute the exit to her impending marriage.
Some Started Scheming About How To Get An Invite To The Wedding
They can dream, can't they?
While Others Were Less Enthused
Royal marriage, shmoyal marriage.
And This User Pointed Out A Potentially Awkward Fact
According to Metro News, Harry and Markle are distant cousins. (Though, for the record, they're very distant relatives, with their common lineage reportedly tracing back to the 15th century.)
But Mostly, People Were Thrilled
More than anything, Twitter was filled with a flood of positive, congratulatory messages.
From the ecstatic to the indifferent, it's clear people have something to say about the royal engagement, and there will be plenty of chatter to come as the wedding draws nearer.