The 'Apostle' Trailer Is Here & Not Even Dan Stevens Can Protect You From The Nightmares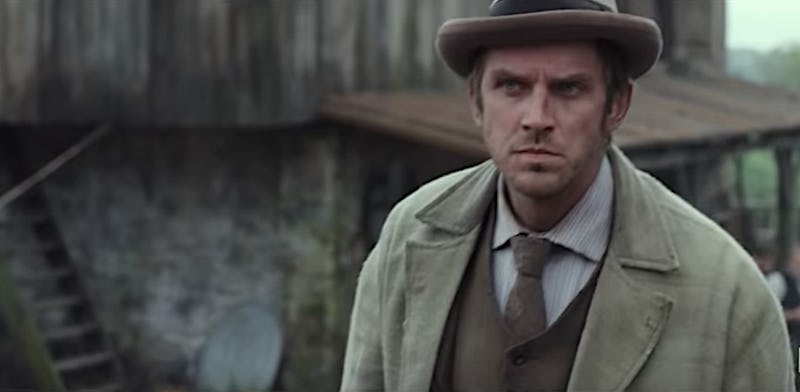 Netflix
Dan Stevens may have charmed the world during his memorable portrayal of Cousin Matthew on Downton Abbey, but judging from the trailer of Stevens' new Netflix project Apostle, this role will involve a lot less tea drinking and a lot more pain and bloodshed. In short, no amount of charm in the world will be able to prevent the nightmares you'll have after watching this teaser. And make no mistake — you will have nightmares. It's all but guaranteed.
Stevens plays Thomas Richardson, who returns home only to discover that his sister has been abducted by a mysterious religious cult. The only way to return her home safely is to pay a ransom, but Thomas wants revenge on the people who did this to his family, so he heads to the remote island where his sister is being kept in the hopes of rescuing her — and yes, maybe issuing a little of his own vengeful justice along the way. However, based on the trailer, things may not go exactly as planned for poor Thomas, who finds himself at the wrong end of a torture device — which looks about ready to tear his hands (and the rest of him) to shreds.
Other torture devices that can be seen throughout the clip include those of the spine-stretching variety as well as various shackle ones. Not to mention a particularly cringe-inducing vice crank that begins drilling a hole into some guy's head. (Honestly, it makes the island in Lost seem like a tropical paradise in comparison.)
Michael Sheen also stars in the film as the cult leader, referred to as Prophet Malcolm. He appears to be the one running this show and when he discovers that there's an intruder in their midst, he will go to any lengths to find that person and make them pay. Or perhaps even end up converting him in the process? Hopefully Thomas' incentive to save his sister is enough to get him out of this mess in one piece. (It's safe to say that no one in this world wants to see Stevens die on their television screens a second time.)
The official synopsis for the film, Apostle, reads as follows:
"The year is 1905. Thomas Richardson travels to a remote island to rescue his sister after she's kidnapped by a mysterious religious cult demanding a ransom for her safe return. It soon becomes clear that the cult will regret the day it baited this man, as he digs deeper and deeper into the secrets and lies upon which the commune is built."
Those interested in finding out whether or not Thomas' mission proves to be successful will just have to watch the movie when it becomes available on Netflix starting on Oct. 12. That's just in time to help really get you into the Halloween spirit, but good luck going to bed that night. Between all the torture and creepy blood sacrifices, it's the perfect recipe for a week's (or even month's) worth of nightmares.