The Awesome Reason Why Netflix's New Tearjerking Movie Has An Almost All-Female Crew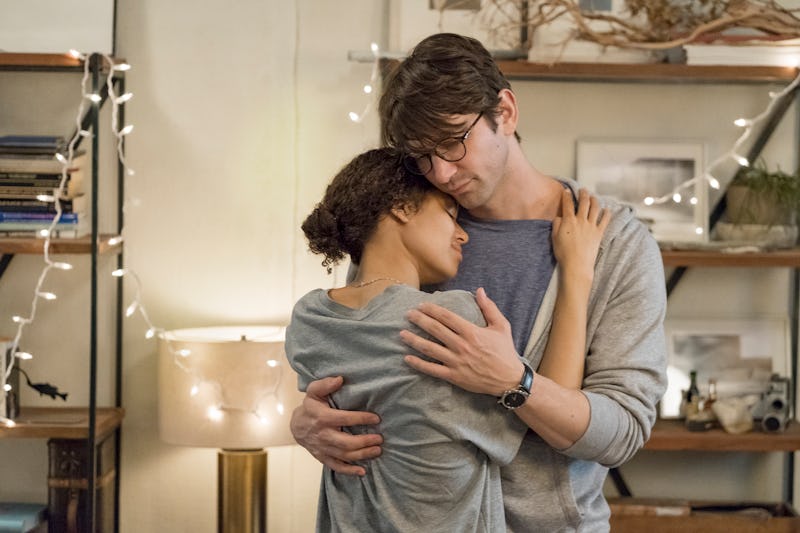 Netflix
The new Netflix movie, Irreplaceable You, takes a fresh approach to a story about a couple whose relationship gets derailed when one of them becomes seriously ill. In this case, the person is Abbie (played by Gugu Mbatha-Raw) who finds out she has cancer after getting engaged to the love of her life, Sam (Michiel Huisman). On the surface, the movie might seem like your typical tear-jerking rom-com, but once you know that Irreplaceable You has an almost-all female crew, it becomes a unique film, statistically speaking. And while speaking to me over the phone, Irreplaceable You's director, Stephanie Laing, explains why she felt her new movie needed to be made by women.
"I think there are certain stories that need to be told by women, as there are certain stories that need to be told by men," Laing says. "I think if you're a filmmaker and a storyteller, if you dive into the material you can tell it authentically, but I do find that for this time right now, in my life I prefer working with women."
As said, Irreplaceable You, streaming Feb. 16, is filled with women behind-the-scenes; in addition to Laing as director, there's screenwriter Bess Wohl, composer Lesley Barber, production designer Dara Wishingrad, art designer Patrice Andrew Davidson, cinematographer Magdalena Górka, and several others. Laing says that she made an effort to cast women in roles that are typically occupied by men in the film industry, saying, "When you get to a certain place and even when you're not, we have to help each other as women."
Consider the fact that San Diego State's Center for the Study of Women in Television and Film reports that out of the top 500 films made in 2017, women accounted for only 6 percent of cinematographers, making Górka role on Irreplaceable You almost radical. Similarly, Wohl's credit as the film's writer becomes more momentous when you learn that the same study reports that just 16 percent of all writers who worked on 2017's top 500 films were women. Perhaps most astounding is the fact the report's finding that women accounted for just 2 percent of all films made in 2017.
Irreplaceable You certainly stands out from its peers, and not just in the roles women played behind-the-scenes. The movie also manages to avoid falling into all-too familiar pitfalls of sexist rom-com tropes; there isn't any gratuitous nudity, and Mbatha-Raw is never objectified, with most close-ups just showing her face, filled with emotion. This adds to the power of the movie, which follows Abbie's attempts to find a new partner for Sam, while grappling with her own mortality. She doesn't act like the cliche "jealous girlfriend" while attempting to set up her fiancé with other women, but instead laughs when he tells her that he might want to be with someone who likes hiking more than she does if he can't be with her.
The fact that the film defies sexist stereotypes isn't a big surprise, though, when you consider that Laing was in charge. "I found the script and I was five pages in and I knew I had to tell this story," the director says. "I think that what is so honest and real about this story is that it's real life."
Laing says she wanted to make the film as realistic as possible, which to her, means making it humorous. "When bad things are happening or the world is falling apart, laughter is the only way to get through it," she explains. In addition to Mbatha-Raw and Huisman, Irreplaceable You also stars the talented comedic cast of Christopher Walken, Kate McKinnon, Brian Tyree Henry, and Timothy Simons, who all contribute to the movie's laughs.
Making a comedy about a woman dying from cancer may sound counterintuitive, but combining drama with humor is basically second nature for Laing. The director is also a TV producer, a two-time Emmy winner for her work on Veep and Tracey Ullman's Tracey Takes On..., and she's worked on other popular comedies like Eastbound & Down and Vice Principals. From this varied work, Laing says that she learned not just the technical aspects of filmmaking, but also how she could use all of her experience to help create space for women to redefine themselves.
So, two years ago, she created a production company called PYPO, meant to "level the playing field behind the lens." Irreplaceable You is the first feature film PYPO has produced, and Laing explains that for her, "Having an all female crew was really about putting your money where your mouth is." Since PYPO's entire mission is to give women the opportunities to tell their stories through comedy, Irreplaceable You basically had to have women behind the camera.
The company's name even has a feminist background, stemming from Laing wanting to redefine the word "pretty" for her daughter. "PYPO stands for Put Your Pretty On, which is something that my daughter said to me when she was four," the director explains. "I said we have to hurry up and leave, and she said, 'hold on I have to put my pretty on.' And I said, 'Oh my god, what does that even mean, when you're four years old?'" the director recalls with a laugh. In this case, Laing's daughter meant she had to put on chapstick, but it struck a nerve for the mother of three. "In that moment, I realized that the role I had to take as a parent was also to teach her what that word means and to reclaim the word pretty so it is from inside out and not just lipstick," Laing says.
Even though the directors has worked on many male-dominated before, she says she's using the power of PYPO to make sure she works on what she wants, with who she wants. And that starts with Irreplaceable You. Even without knowing that the movie has an almost all-female team behind it, you most likely would already be a fan; between Abbie and Sam's passionate romance and the other characters' witty, dark humor, the movie is simply irresistible. The fact that Laing created such a winning hybrid of a comedy and drama with so many women behind-the-scenes just makes it all the more exciting.
While PYPO may have started as a platform for women to make short comedy videos — Laing calls it "Funny or Die for women" — the director has clearly applied its mission to Irreplaceable You, and doesn't plan to end there. "Sherry [Thomas, the film's casting director] and I say to each other, 'cant stop won't stop,'" Laing says. "It literally became the mantra for the whole thing." Words of wisdom from a seriously inspirational lady.
This story was created in support of Bustle's 2018 Awards Season pledge. Read more here.