Netflix May Become Your Go-To Source For Comedy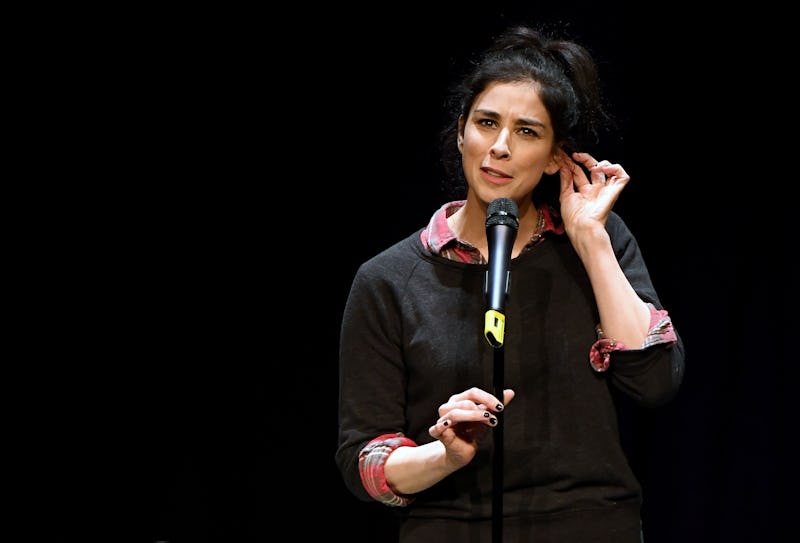 Ethan Miller/Getty Images Entertainment/Getty Images
Streaming services are proving every day that they aren't here to play any games, and the $10-$12 subscription fees are definitely worth it. Recently, Netflix added new comedy specials to its roster — from Sarah Silverman and Louis C.K. — that will air exclusively on the platform later this year, according to Vanity Fair.
Silverman's stand-up special has a premiere date of May 30, Variety reported, and will be produced by the controversial queen's comedy-driven media company JASH. And as if the news couldn't get any better, word on the street is that Louis C.K. has two projects in the works for the streaming service. The legendary comedian just filmed a special in Washington, D.C. entitled 2017, which releases April 4, and is currently working on a second, not yet named, Netflix original.
Also taking a seat on Netflix's comedy special pipeline are projects from fan-favorites Jerry Seinfeld, Chris Rock, Dave Chappelle, and Amy Schumer. Talk about barely being able to contain my excitement. Netflix just may be my new comedy go-to, and I'm not mad about it. With all of these talented performers on their lineup, Netflix is in a position to dominate the comedic world. I'll no longer be depending on cable television to bring exclusive content, especially when I can have access to legendary work at my very fingertips — anywhere and everywhere.
As for what this means for our favorite television networks, I honestly can't say. But I do know that they should totally take a nod from Netflix, and other streaming services. With Netflix, or the Hulus of the world, viewers can tailor their television experience to match their individual lifestyles. Being bogged down in front of the TV at a certain time just to catch your favorite shows is no longer a "must." Everything is watched on your own terms, and that's something worth investing in.
Netflix is no longer just a place to rewatch old episodes of favorite childhood shows. It's becoming a mix between the new Comedy Central and HBO — the new hotspot for all things original and NSFW humor-inducing.