Stephen Amell Is The Flash & Grant Gustin Is Arrow In These Baffling New BTS Crossover Photos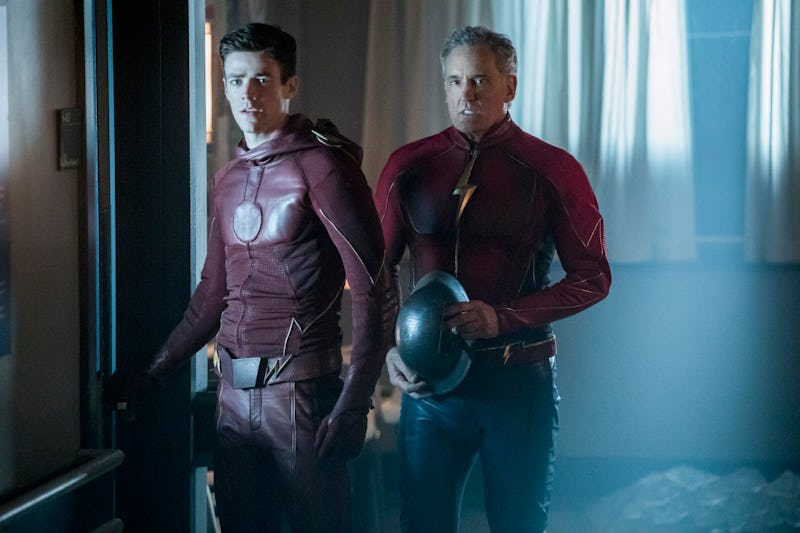 Jack Rowand/The CW
The DCTV shows only just started their 2018-2019 seasons, but each are pretty strong, and while the December crossover event seems far away, it'll sneak up on all Arrowverse fans sooner than they think. And with all the Arrowverse crossover photos the cast keeps posting, the impatience to see the three-part event is only growing. The crossover is taking place in the front-end of the season this year, and it's looking like the crossover event, called "Elseworlds," will feature the return of a few familiar characters.
Last week, Grant Gustin (The Flash) and Stephen Amell (Arrow) shared some intriguing photos from behind the crossover scenes, but the most shocking may have been the release of the official "Elseworlds" poster, which revealed that Barry Allen and Oliver Queen switched superhero identities. Yep, Amell, who plays Oliver Queen aka Arrow, was Barry Allen, and Gustin, who plays Barry/The Flash, was Arrow.
Now, in addition to that original promotional poster, cast members have shared more looks at the two actors in their new roles. Gustin posted a pic of himself and Amell standing alongside Melissa Benoist as Supergirl, with John Wesley Shipp returning to the world of The Flash. Gustin wrote, "Not that this Arrow costume isn't incredibly comfortable, but I'm pretty jealous that @stephenamell is wearing my Flash suit in a picture with @johnwesleyshippjr wearing his OG Flash suit. WHAT'S GOING ON!?" Yes, we would like to know as well.
In the first few seasons of The Flash, Shipp played Henry Allen, Barry's father who was wrongly convicted for the murder of Barry's mom. He later returned as Jay Garrick (aka The Flash from Earth 3) and Henry's doppelgänger. However, thanks to Gustin's caption, and his costume, he's not going to be Garrick this time around. In the photo, Shipp's Flash is sporting the exact same costume Shipp wore in the 1990s show The Flash. He played Barry Allen back then, and it had almost the exact same premise as The CW show's, down to his origin story, job, and S.T.A.R. labs (all thanks to the comics, of course). Could he be playing another Flash, this one from the '90s past?
Amell posted an even closer look at both of their Flash costumes on his own Instagram, captioning it with, "Who said you should never meet your heroes?" The difference between the two costumes is definitely striking, with the 90s big muscle look, and The CW's more modern one. It's actually also pretty cool to see the evolution of the costume this close to each other.
So, if Shipp's back in his '90s costume, how does that play into the crossover and the Arrowverse? Is he Garrick in a "new" costume, or is it actually Barry Allen from a different earth?
On top of it all, Shipp posted a sneak peek on Instagram as well, writing, "Such an honor to be standing with these men who are the definitive Flash and Arrow of our time (albeit a bit of a wardrobe malfunction at the moment🤔 - MORE WILL BE REVEALED❗️)." Shipp also confirmed that the costume was, indeed, a recreation of his costume from the '90s television show. "Cheers guys and thanks for making this happen - and especially to designer Kate Main and the artists at @oceandriveleather because-as we know-it takes a village to recreate FLASH90😬⚡️," he added.
"More will be revealed," he said? It better be, because all this guessing at why Barry and Oliver have switched identities, or why Shipp is dressed in his old costume, is getting exhausting. "Elseworlds" is all about what ifs and turning what we know on its head, but at this point, answers would be very much appreciated.