New Details About Christmas At Wizarding World Will Make You Say "Accio Vacation!"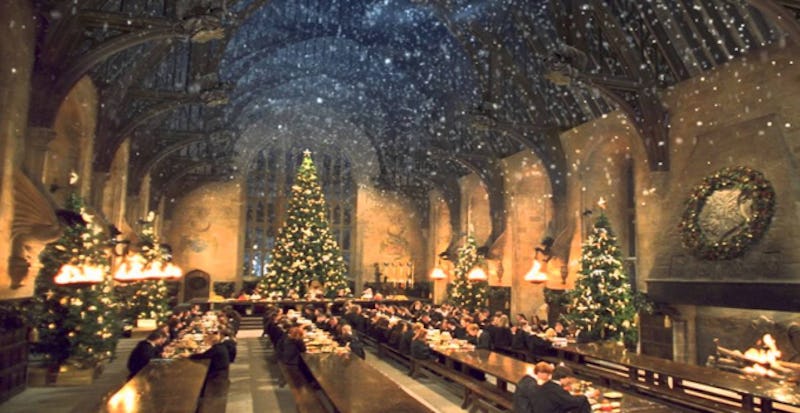 Warner Bros. Pictures
I know all of us are extremely busy packing our bags to catch the Hogwarts Express on Sept. 1, so please forgive this announcement that's about to distract you from anything and everything you were hoping to get done: Christmas is coming to The Wizarding World of Harry Potter in Orlando at long, long last. For years now, No-Majs stuck on the wrong side of the Atlantic have watched in envy as their fellow Potter enthusiasts at the Warner Bros. Studio Tour in London enjoyed holiday festivities (that FOMO from their Dinner In The Great Hall event ringing any psychologically distraught bells?), but now you won't have to cry into a stranger's Instagram feed.
While Christmas in The Wizarding World of Harry Potter was announced last April, more details have recently been released so that fans can have an idea of what to expect when they take the Floo network down there this winter. The festivities will run from from Nov. 18 to Jan. 6, with daily events that are so thematically on brand that you'll actually feel like you were whisked away to Hogwarts. Here's the promotional video Universal Orlando released a few months ago to get us all hyped for this very Harry Christmas, which is bound to be the most gloriously nerdy one you've ever had:
In a press release, Universal Orlando revealed that Christmas in The Wizarding World of Harry Potter will include holiday-themed Harry Potter food (fingers crossed for flaming Christmas puddings), as well as performances by the Frog Choir and Celestina Warbeck and the Banshees. Every evening, a massive, "state of the art" projection will light up Hogwarts castle, displaying Christmas moments inspired by the Harry Potter series. And, of course, the streets of Hogsmeade and Diagon Alley will be decked to the nines in holiday lights and decorations (because let's be real; Muggle, No-Maj, witch, or wizard, WE'RE ALL HERE FOR THE INSTA).
If you find yourself lacking a broomstick or an Apparition license, I'd hop on the travel plans now, if I were you. Be sure to save some extra galleons for Potter swag; this Hufflepuff plans on disappointing the goblins watching her bank account in Gringott's the moment the first Christmas light twinkles in Hogsmeade.