Here's What To Know About The "Leaked" Footage From The Harry Potter Video Game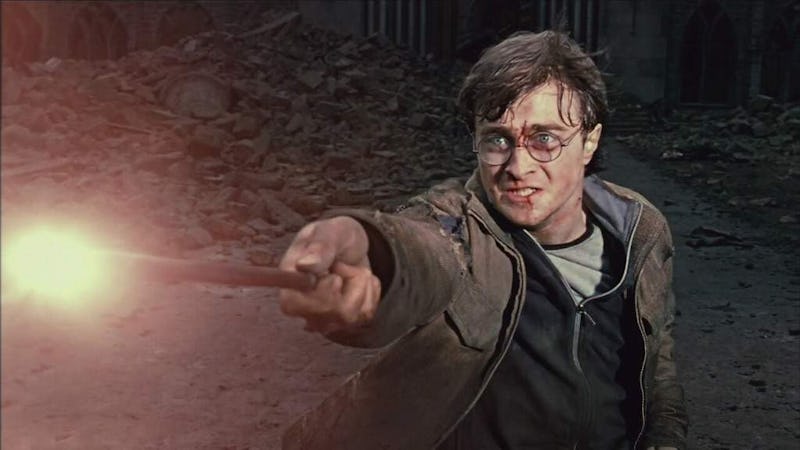 Warner Bros. Pictures
Over the past 20 years, Harry Potter has been a source of endless entertainment, passionate debate, fierce fandom, and some very well-kept secrets. It's rare for anything related to J.K. Rowling's series and its many spin-off endeavors to be leaked before she and the rest of the Potter powers that be are ready for the public to know about it. Which is why the news that some footage from an upcoming Harry Potter video game may have been leaked has sent Potterheads into a bit of a frenzy. According to an article published on Variety, a YouTube video of footage from the game was leaked on a Reddit thread. The video has since been removed from YouTube due to copyright infringement. (You can see screenshots at Variety.)
According to Variety, the leaked scenes came from Reddit user VapeThisBro, who writes that they secretly filmed it after being asked to watch the footage and take a survey. They claim that the video game contained "RPG elements, like a character creation screen, and shows the character running in third-person perspective, making potions, performing spells, and exploring familiar environments, like the Great Hall in Hogwarts."
The same Reddit user also posted an apparent blurb about the game. It reads:
"Set in the 19th Century (1800's) Wizarding World, this 3rd person open-world action RPG game centers around your character with unique abilities who has eared a late acceptance to Hogwarts School of Witchcraft and Wizardry. You are a newly arrived 5th year student to Hogwarts that demonstrates a latent gift for magic with a unique ability to track and identify remnants of a pottant ancient power. Upon arrival, strange events begin to materialize in the Forbidden Forrest and trouble begins to brew within the castle walls. Together with Professor Elezar Fig, you embark on a journey through both familiar and never before seen locations to bring to light the truth behind these mysterious occurrences. On your quest you will craft potions, master new spells, and discover fantastical beasts. You will battle Dark Wizards, Goblins, and other supernatural enemies and uncover the truth about your destiny — the Fate of the Wizarding World lies in your hands."
The apparent blurb then goes on to list various features of the game, including the fact that gamers will be able to choose whether to pursue life as a good or evil wizard, possibly setting this game apart from others before it:
"-Journey to Hogwarts to become one of 8 different Wizard types
-Experience Hogwarts, make new friends, uncover new secrets, and change the fate of the Wizarding world.
-Experience a new magic system that creates countless possibilities to master magic.
-Freely explore the Wizarding World for the first time. Choose your house and friends at Hogwarts, and decide to pursue a path of good or evil.
-Create your own witch or wizard, and experience a all new story separate from the books or films"
Though Warner Bros. has not made an official announcement about the legitimacy of the footage and description, the video's removal based on a copyright infringement claim from Warner Bros. Entertainment Interactive could be an indication that the footage is real. If so, this new gaming experience would be the latest in a string of releases that center on the Wizarding World.
The mobile game Harry Potter: Hogwarts Mystery was released on April 25, and Pottermore announced a Harry Potter "augmented reality" game to be titled Harry Potter: Wizards Unite back in 2017. The latter is meant to mimic the 2016 mobile-gaming sensation Pokemon Go by allowing players to view their real world through a wizarding lens. As of Oct. 2018, Wizards Unite has not yet been released. As for the leaked video game, there are of course no details about release date, price or type of game it will be just yet — but if I know Potter fans, they've already got their wands ready.