The New 'Harry Potter' Mobile Game Just Launched — Here Are 6 Parts Fans Will Love Most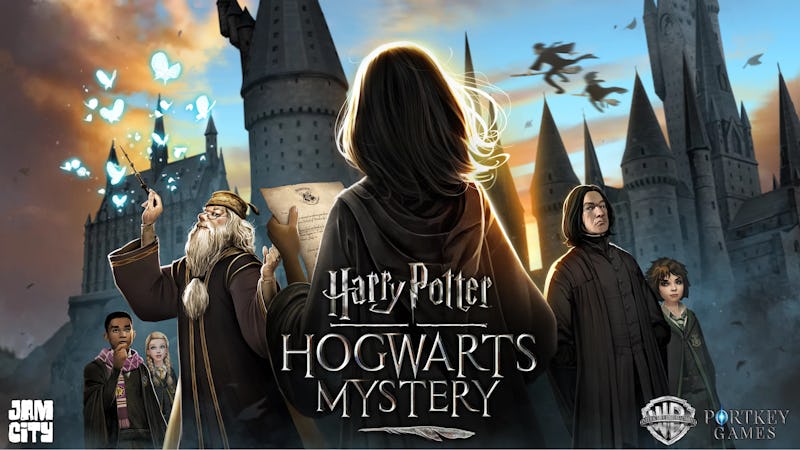 Happy National We're All About To Get Fired From Our Jobs For Lack Of Productivity Day, otherwise known as the day the new "Harry Potter: Hogwarts Mystery" mobile game has launched at long, long last. You may recall in the back of your cluttered Muggle mind that the Portkey Games label of Warner Bros. Interactive Entertainment and game developers Jam City announced a collab back in 2017; since then, we've gotten numerous trailers and sneak peeks of the game, but now our time in the sun has finally come — the game is officially available on iOS and Android starting today.
I got a chance to test out the game a few days prior to the launch, so I mean it from the bottom of my Hufflepuff heart when I say that this is a game that was made by fan, for fans. The world and storylines they've created are a love letter to the fandom, from the way they weave Hogwarts' classrooms together, to the callbacks in the game based on the choices your character makes, to the Easter eggs hidden throughout the game. It feels almost startlingly personal — most Harry Potter fans waited a long, long time for a game like this to come out, and let me be one of many to say it was a wait well worth it.
The game is super intuitive and designed for players of all skill levels, so there isn't much you need to know before you download it. That being said, there are plenty of reasons to get hyped. If you're not typically a mobile game player (guilty as charged) or on the fence about whether you want to commit yourself to another app that will consume your life "Pokemon GO"-style, here are a few things you should consider.
It's Set In The 1980s — Before Harry & His Crew Hit The Scene
I could write entire essays (read: fan fictions) about why this is such a stellar choice, but the primary reason is this: Hogwarts, to you and your character, is much more of a blank slate. Voldemort isn't running around wreaking havoc, there are no major players to worry about, and you get to experience Hogwarts the way 11-year-old Harry did — or, y'know, the way he did for the first eight blissful seconds before it all erupted into chaos.
But the timing is also ideal because it leaves you with just enough familiar characters that you still feel very anchored in the story. Your favorite professors are there; a young Tonks and a young Bill Weasley are your classmates; the Whomping Willow is still out on the lawn, and puppy Fang is romping around in the grass. It's exciting, but it's not stressful. In other words, the way Hogwarts was meant to be.
It Is, In Every Sense Of The Word, A Choose Your Own Adventure
The way you experience the game is entirely shaped by you and the decisions that you make. In fact, very few people will experience the game the same way — split second choices you make, from the way you answer a friend's question to the Hogwarts House you select, will ultimately influence what you see, the secrets you're clued into, your access to certain parts of the game.
And on a more vain note, you get to choose your Avatar's entire ~look~ as well as their name, and it is profoundly satisfying. It's like playing the Sims, but Hogwarts-style. And the more you learn, the more credits you'll get to newer outfits and hairstyles to make your avatar stand out, too.
It Feels SUPER Personal
It is made very clear from the beginning of the narrative that the ~mystery~ the game alludes to has everything to do with you — specifically, your character's brother. Much like Harry himself, you walk into the school with a reputation that precedes you, with characters referencing your brother with equal parts admiration and disdain. Before your arrival at the school, something big went down and he disappeared — and the more you play and the more skills you learn, the closer you get to understanding why.
The Graphics Are Breathtaking
We all have a vision of what Hogwarts looks like in our own head that we married with the version of Hogwarts in the films — this mobile game does a seamless job of weaving those two visions together, creating a fluid version of Hogwarts where you see how each room connects to each other and get a sense for how a student would actually move around on grounds. The outside of the grounds are gorgeous, too — and with the potential for future expansions in the game, we may be getting to see a whole lot more of it.
Bill Weasley Is Bae & Anyone Who Disagrees Can Fight Me
Is this relevant to your gaming experience? Absolutely it is, and don't @ me. My boyfriend is fresh as heck in this game and we should all appreciate him in his pre-Gringotts glory. If Bill Weasley isn't enough of a reason for you to download this game, you need the kind of help I simply cannot give.
Seriously, though, this game is the 2018, fully realized, and meticulously written version of that Harry Potter RPG thread that got eaten by LiveJournal in the early 2000s. It is wish fulfillment in its highest form. Now if you'll excuse me, I have a Transfiguration lesson to conquer — enjoy your time at Hogwarts, y'all.