Chicago West & True Thompson Are Cousin Goals In This Sweet New Photo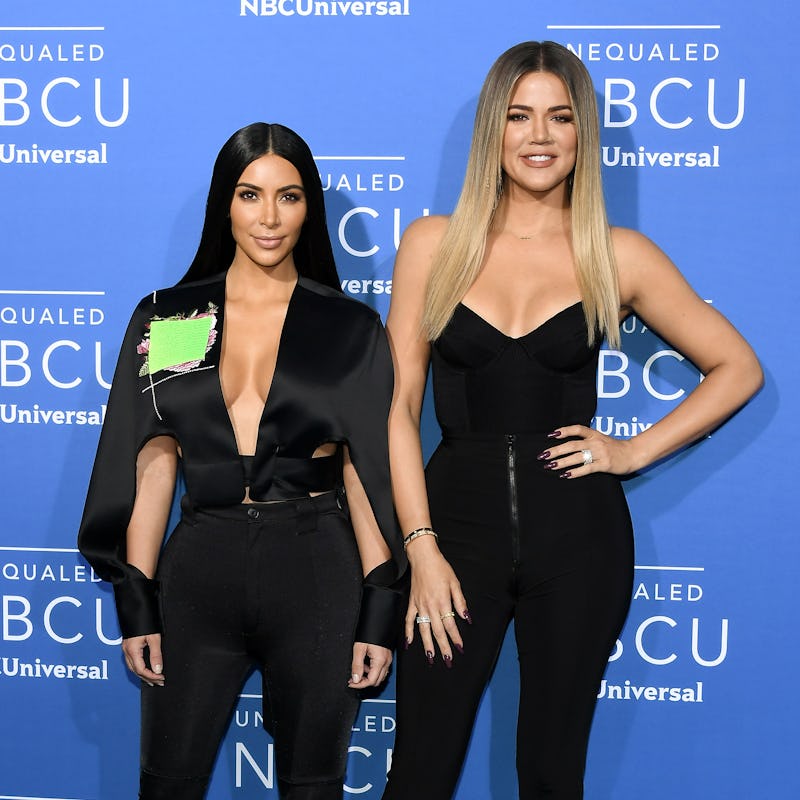 Dia Dipasupil/Getty Images Entertainment/Getty Images
Back in August, Kim Kardashian ushered in waves of adoring hysteria from fans when she posted a close-up photo of Kar-Jenner babies True and Chicago, calling the infants "best friends for life." Well, judging by this adorable new picture of True Thompson and Chicago West, it seems pretty safe to say their burgeoning friendship is still going strong. Fans who'd like to take a closer look at True and Chicago's latest adorably pure interaction shouldn't be too surprised that this one also made its way onto social media via the one and only Kim K. Only this time, the precious cousin pic cropped up on Twitter.
On Friday, Sept. 7, the reality star and mom of three gifted the likes of Twitter with an exceedingly endearing snapshot of True and Chicago that's bound to have fans melting. Those who've yet to witness this particularly sweet iteration of Kardashian family bonding — starring its youngest generation — should probably take a seat. Because, fair warning: The unbelievable cuteness that these two angel-faced kiddos bring to the table might just sweep you off your feet.
The photo sees two of the Kardashian-Jenner clan's tiniest members sitting comfortably side-by-side on what looks like a plush living room carpet. Chicago, the youngest of Kim K and Kanye West's three children, sits to the left of her cousin True, Khloé's first child with NBA player Tristan Thompson. Now, the little ones are only a few months apart (Chicago was born in January, while baby True didn't arrive until April), but it's no secret that a few months goes a pretty long way during a child's first year of life.
In her mom's recent photo, for example, Chicago seems to be taking her unofficial duties as "slightly older cousin" to infant True pretty seriously. With a colorful plastic toy in one hand, Chicago leans into the camera, resting her free hand on her cousin's elbow as if to say, "Don't worry, kid. I'll protect you." Judging by her tweet's clever caption, it sounds like Kim picked up on the potential motive behind her daughter's sweet gesture, too. "I got this True," she wrote, captioning the photo.
Of course, the fact that neither Chicago nor True has been on the planet for even one calendar year — and thus, probably don't have a ton of control over their motor functions just yet — is worth keeping in mind. Still, even if Chicago didn't actually rest her little hand on True's arm for any particular reason, it remains extraordinarily charming that she did so at all.
After scrolling through the tweet's lengthy comments section, it seems safe to say lots of Kar-Jenner fans on Twitter thought so, too. "Omg ... how can you Mama's resist their little rolls," commented Twitter user @jackiebrooke_, who tagged both mamas (that's Kim and Khloé, just so everyone's on the same page) in her tweet. Replying to that particular comment, Khloé confirmed that, obviously, she certainly can't resist. And, seriously, who can blame her?
If Kim's latest cousin bonding snapshot is any indication, it seems pretty safe to assume that True and Chicago have got each other's backs. The pair might not yet have graduated from infancy, but apparently, that's no match for the famous Kardashian-Jenner family loyalty. Here's hoping there's a lot more True-Chicago sweetness (and protectiveness, and everything else) where this came from in years to come.