These New Prince Louis Photos Are The Perfect Way To Celebrate The Youngest Royal's Birthday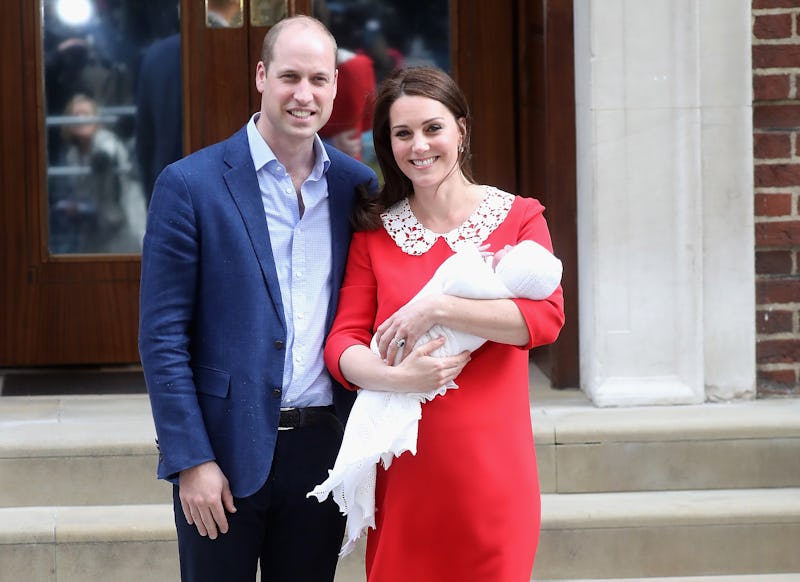 Chris Jackson/Chris Jackson Collection/Getty Images
Royal watchers received a special gift on Monday when the official Kensington Palace account released new photos of Prince Louis just in time for the tot's first birthday. Prince William and Kate Middleton's youngest child will turn 1 on Tuesday, April, 23, and as his birthday pictures illustrate so beautifully, it's been a big first year for the youngest royal. While he hasn't been in the spotlight as much as big brother George, 5, and Charlotte, 3, just yet, the little guy already has the charming smile thing down pat.
The official tweet reads, "The Duke and Duchess of Cambridge are delighted to share three new photographs of Prince Louis ahead of his first birthday tomorrow. The photographs were taken earlier this month by The Duchess at their home in Norfolk."
Aside from confirming that Prince Louis is absolutely adorable, the new photos also show off Middleton's eye for photography. Only a mom could get a 1-year-old to actually smile for the camera, and the fact that the pictures are technically beautiful as well is just a bonus. A source told Harper's Bazaar that the Duchess loves photography. "Kate is a keen photographer and has enjoyed developing her skills over the years. She's looking forward to sharing more of her photos over the months ahead— including on the @KensingtonRoyal Instagram account," they told the publication.
Seeing more candid photos from Middleton sounds like yet another thing to look forward to from the busy royals. In addition to little Louis' birthday, the family is also prepping for the birth of Meghan Markle and Prince Harry's first child. The baby is due any day now, but he or she gracefully didn't steal the spotlight from their cousin by arriving on his birthday.
Right now, all eyes are on Prince Louis and his adorable little two-toothed grin. Middleton seems to have captured her sweet boy in his natural element. According to Harper's Bazaar, the royal family has been spending the Easter holidays at their Norfolk home of Anmer Hall. As you can see in the photos, the youngest member of the family is enjoying the country living. His sweater is covered in grass, making it clear that he's loving the fresh air.
Louis is also keeping a couple of family traditions alive. First of all, Middleton also served as the official photographer for Charlotte and George's first public birthday portraits. And secondly, he's already living that hand-me-down life. As reported by People, those blue navy shorts that the young prince is wearing in his photos are the same ones his brother wore for a Christmas photo in 2014. Additionally, those navy blue shoes were spotted in royal photos of George from when he was a baby.
Middleton may be a royal, but she's also an environmentally conscious one who believes in hand-me-downs and re-wearing outfits. She has no problem wearing her dresses to more than one public outing and she's instilling those same values in her children from an early age.
While he won't officially turn one until tomorrow, Prince Louis' royal birthday is already off to a wonderful start thanks to his mom and her superb camera skills. May the coming year bring him nothing but good things (including a new little cousin to play with!).