Nick Jonas Brought His Arms To The Billboard Music Awards, But He Left His Flair At Home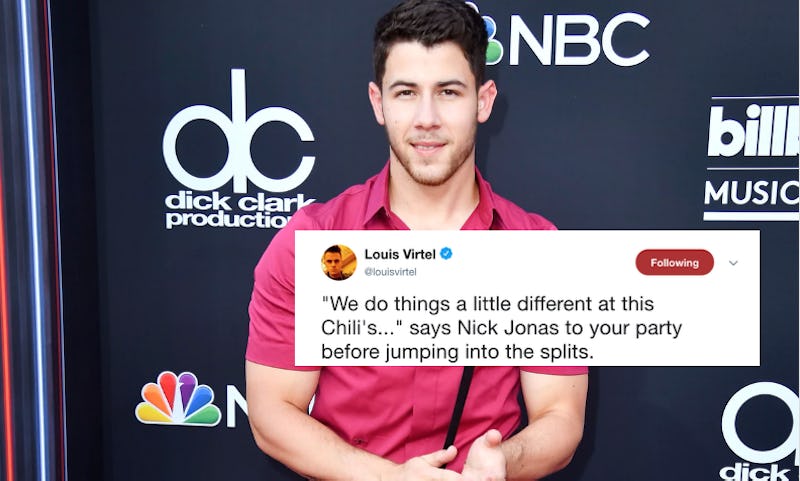 When the time comes for another awards show like the 2018 Billboard Music Awards, you can be sure of one thing and one thing only: If a celebrity wears something on the red carpet with any small or unusual detail, Twitter will notice and love it. At the 2018 Billboard Music Awards, one of the celebrities who did just that — perhaps unknowingly — was the lovely and talented Nick Jonas. Jonas first appeared on the Billboard Music Awards red carpet, wearing a pink shirt, red pants, and tie (though it could also be a single suspender). The outfit looked perfectly nice — but it also showed off his very muscular arms, and also possessed certain qualities that had Twitter timelines everywhere flooded with good-natured jokes.
Jonas wasn't nominated for a Billboard Music Award this year, but he appeared at the event in Las Vegas to present. Of course, his outfit quickly became the main focus of everyone's attention, and Twitter wasn't the only place that noticed.
"Nick Jonas looks so buff while hitting the red carpet at the 2018 Billboard Music Awards held at the MGM Grand Garden Arena on Sunday (May 20) in Las Vegas," the Just Jared website writes. "The 25-year-old's biceps were bursting out of his form-fitting shirt while arriving at the event!"
Observe:
Let's be real for a second: Nick Jonas looks pretty good in his outfit. Let us also recognize that yes, those biceps are popping, and yes, the outfit is reminiscent of a few different things you may recognize from other corners of pop culture.
Nothing coming to mind? Never fear: Twitter has the insights you need. For example, some thought that Jonas looked a bit like some of their favorite animated characters:
Others thought that his biceps were worth all the praise in the world:
And some tweets pointed out the slightly rude, if not very real fact that Jonas resembled a waiter at your favorite jazzy suburban restaurant chain. ""We do things a little different at this Chili's..." says Nick Jonas to your party before jumping into the splits," one tweet reads. "Nick Jonas gonna hook you up with THE best table at this Macaroni Grill," reads another.
Take another look at his outfit:
What do you think? All that's missing are a few pieces of flair — apparently, no one told him that 15 is the minimum.