Danielle Jonas Had A Pretty Good Reason For Missing Priyanka Chopra's Bachelorette Party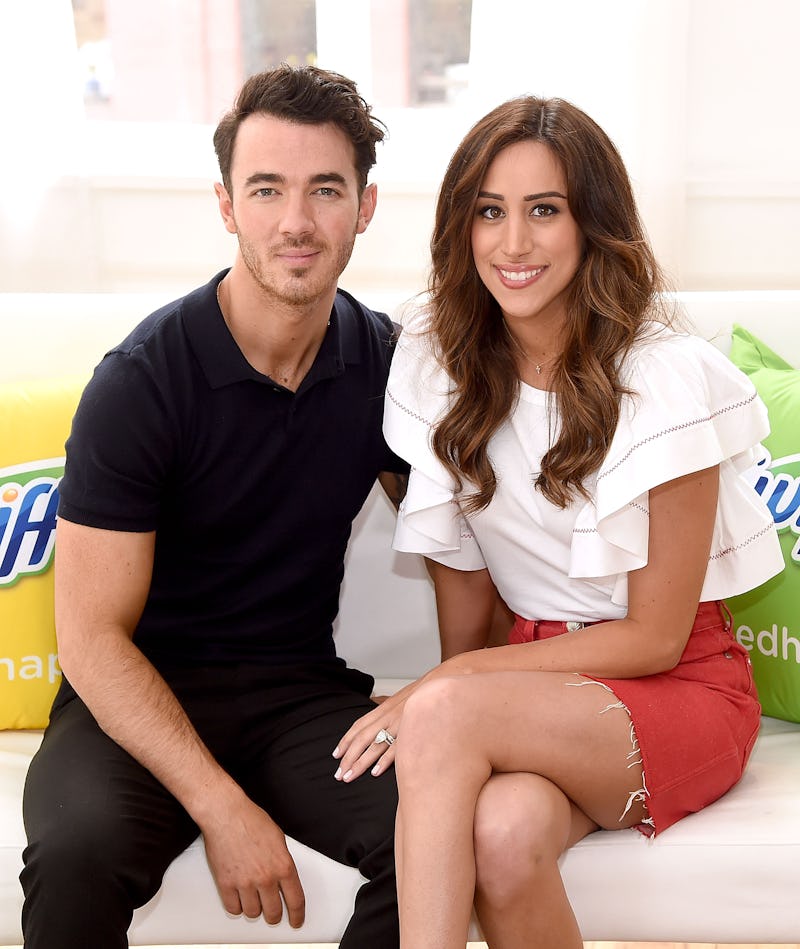 Jamie McCarthy/Getty Images Entertainment/Getty Images
Priyanka Chopra and her closest gal pals did it up big this past weekend in Amsterdam. The group was there to celebrate her upcoming nuptials to Nick Jonas, but one important person was noticeably absent from the festivities, as Just Jared reported. So, why wasn't Danielle Jonas at Chopra's bachelorette party overseas, you ask? Well, brace yourself — because her excuse was far from scandalous. In fact, it was totally logical.
Danielle wed Kevin — the oldest JoBro — back in 2009. Since then, they've had two daughters together, and tend to lead a less public life than Kevin's famous younger brothers, Joe and Nick.
Joe and actor Sophie Turner announced their engagement in October 2017, with Nick and Chopra following suit less than a year later. Turner and Chopra have been spending a solid amount of time together since becoming future sister-in-laws, and have even adorably dubbed themselves the "JSisters."
Now, since Danielle and Kevin live in the New Jersey suburbs and have two young kids to care for, it makes since that Danielle wouldn't be able to hang with Chopra or Turner nearly as much. It seems a little odd that she didn't fly out for Chopra's bachelorette party at the very least, though, right? After all, they're about to be family.
Well, as it turns out, the reason Danielle couldn't make it to Amsterdam wasn't because of any bad blood — but because she and Kevin were in the middle of moving. See? Totally reasonable explanation.
After what appears to be a very fun night, Chopra posted a photo of herself and Turner wearing "hungover" sleep masks in Amsterdam. "The morning after," Chopra captioned the photo, followed by the hashtags #TheJSisters and #Bachelorette.
First of all, wow, that is not how most people look when they're hungover (myself included). Second, this photo clearly created some FOMO for Danielle, who commented, "Moving to another house stinks. Wish I could have gone. I'm glad you guys are having fun!" as Just Jared pointed out.
That's a bummer. Moving definitely stinks, just like, in general — but to have to pack your things up and move instead of going on a girls' trip to Amsterdam? That might just stink the most.
Danielle and Chopra might not be quite as close as Chopra and Turner, but the future sister-in-laws have definitely hung out more than once. Back in June, Nick brought Chopra as his date to a family friend's wedding in New Jersey, according to the Daily Mail. Kevin was a groomsman in that wedding, and Danielle served as a bridesmaid. There must have been at least a little reception dancing and drinking between the group, right?
Even if there wasn't, though, Danielle hung with both Chopra and Turner less than a month later. All three ladies joined their respective Jonases to celebrate the 4th of July with the rest of the Jonas family in New York City, E! News reported.
While Chopra's Amsterdam bachelorette party definitely looked like a blast, they'll likely be plenty more partying for her, Danielle, and Turner to do together sometime soon. Perhaps at Nick and Chopra's rumored December wedding? We'll see.