Priyanka Chopra & Sophie Turner Have The Sweetest Nickname For Each Other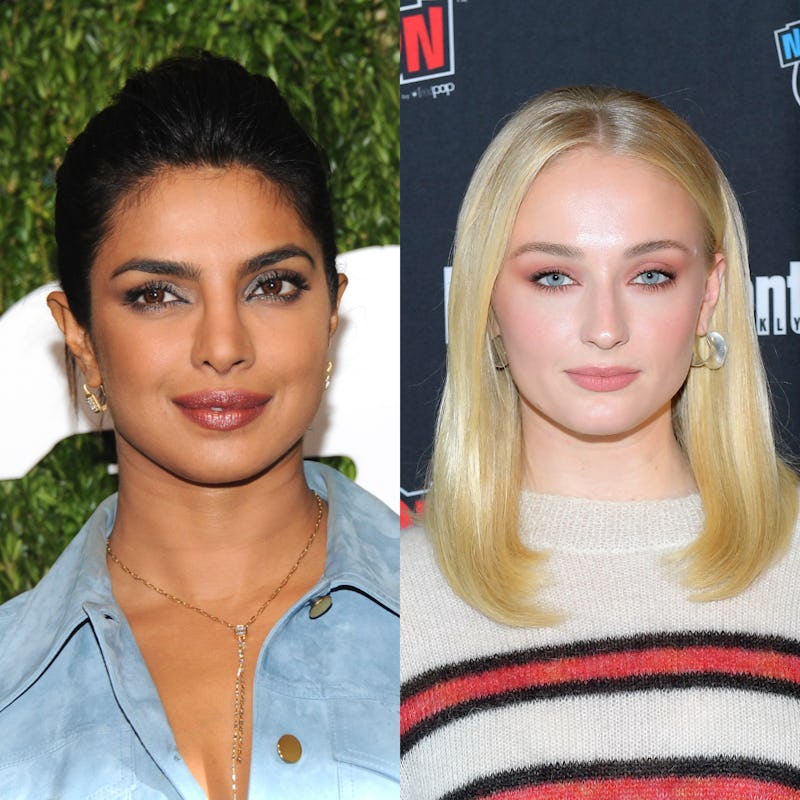 Desiree Navarro/Getty Images Entertainment/Getty Images/Roy Rochlin/Getty Images Entertainment/Getty Images
These two will soon be part of the same family, and already Sophie Turner and Priyanka Chopra have a nickname for each other. Chopra, who is engaged to Nick Jonas, invited Turner along for her bachelorette party weekend in Amsterdam. It's no surprise the actors have become close friends, as Turner is engaged to Joe Jonas. The two will one day be sister-in-laws, and while celebrating this weekend, it appears they decided to dub themselves the "JSisters." On Sunday, Turner first shared a picture of Chopra wearing a sash that read "bride-to-be" on her Instagram Story. Chopra shared the image to her own account, captioning it: "#TheJSisters." Later, she shared a video of herself carrying Turner, which also had the JSisters caption.
It's a fitting nickname, and it makes it clear that both stars are excited to be related. In the second video, Chopra joked that being a Jonas meant new responsibilities, including carrying Turner through the streets of Amsterdam. "In heels," Chopra said in the video. "This is what you have to do for sister-in-laws these days!" The posts are not the first time the stars have shared their excitement over their soon-to-be family. In August, Turner shared a picture from the couple's engagement party, writing:
"Wow. First I'm blessed with an incredible future brother-in-law, and now such an beautiful, inside and out, future sister-in-law. I'm so excited to welcome you into the family Priyanka Chopra. I love you both Nick Jonas."
Chopra's posts on Sunday were just a small peak into the bachelorette festivities. On Saturday, the star also shared several moments from the trip on Instagram, including a photo on a boat where she can be seen smiling in a white sweater. She also shared a group photo with friends and family, and Turner is included. The caption read: "Setting sail...#bachelorette #Squad."
According to People, the star also teased the celebration in her Instagram Story, showing off pink and golden balloons, flowers, and champagne from the event. She also shared a picture of a whimsical yellow telephone next to fuzzy red slippers, so it's clear the whole weekend was a time for relaxation and fun.
Nick and Chopra announced their engagement in July after several months of dating. The bachelorette celebration is not the first hint the couple will tie the knot soon. Last week, they celebrated their upcoming nuptials with a bridal shower at the Tiffany & Co. Blue Box Cafe in New York City.
The event was attended by both star's families, though an anonymous source told People that Nick was away on travel. "Nick couldn't attend because he was traveling, but both Priyanka and Nick's moms were there. Kevin Jonas Sr. and Kevin Jonas also attended, and were the only guys there," the source reportedly said. "Both families seemed genuinely excited. They're in love."
While it's clear that both stars are thrilled to become family, Turner seems to be waiting to jump into wedding event planning. Turner revealed her engagement to Joe in October of 2017, after about a year of dating. The star, who is 22, is younger than her soon-to-be sister-in-law, and has been busy wrapping up the final season of Game of Thrones. Given Turner's schedule, it's no surprise that she and Joe haven't had the time to begin preparing for the big day.
Turner and Chopra are clearly ready to be sisters, and are making the most of being engaged at the same time. Even though Chopra and Nick have not always been the most public about their relationship, Chopra has shared several sweet updates from her engagement and bachelorette parties. These events hint that the couple's wedding will be soon, and it's possible both of the #JSisters will continue to share updates for fans.