Priyanka Chopra Opened Up About Reaching This Major Milestone With Nick Jonas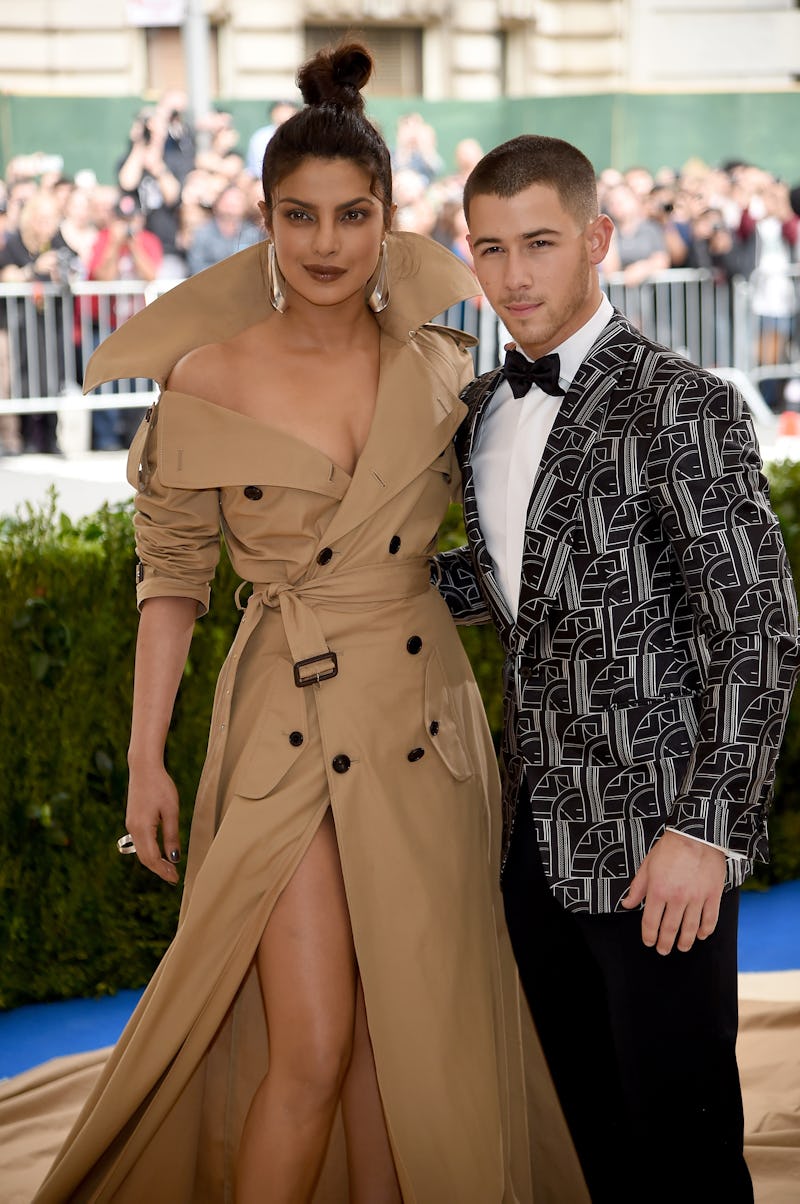 Dimitrios Kambouris/Getty Images Entertainment/Getty Images
After months of playing it coy about their relationship, Priyanka Chopra confirmed that Nick Jonas met her mom in a new interview with People published on Friday. It's a huge step for their relationship, especially since she hasn't publicly spoken much about Jonas at all. Fans who have been following the pair for updates will definitely want to listen up.
"We're getting to know each other and I think it was a great experience for him," the Quantico star told the magazine. The "it" in question is their recent trip to India. It had been rumored that Jonas would meet Chopra's mom during the visit, and Chopra apparently confirmed in the People interview that the two did meet. "I think he really enjoyed it," Chopra said of the trip. "It was really beautiful. He had a great time."
Aside from meeting one of the most important people in her life, Jonas also attended pre-wedding parties for some of Chopra's friends. They also appear to have made their relationship Instagram official during the trip to India. Jonas posted a video of Chopra on his Instagram Story, captioning it, "Her," along with the heart-eyes emoji. The video was simple but effective, since the couple hadn't confirmed they were actually dating before that post. (The two of them attended the 2017 Met Gala together, but reports that they were dating only started in May.)
As for Jonas' family, Chopra seems to have met many of his relatives, too. Chopra spent the Fourth of July with the Jonases, including all of the Jonas brothers. The pair, along with Joe Jonas and his fiancée, Sophie Turner, were seen riding Citi Bikes through New York over the holiday. They also reportedly watched the fireworks together.
Chopra also met some of Jonas' extended family members in June, when Jonas reportedly brought Chopra to his cousin's wedding. Us Weekly reported that the couple was also seen at a brunch with the Jonas family the morning after the wedding.
The family meetings weren't the only noteworthy thing to come out of their Fourth of July together, either. Page Six reported that Jonas and Chopra were seen wearing matching gold rings over the holiday. It could be nothing — or it could be another sign that their relationship is getting more serious. (Bustle previously reached out to reps for Chopra and Jonas about the rings, but did not receive an immediate response.)
And if meeting each other's family isn't enough, E! News reported on Friday that Chopra and Jonas have talked about moving in together. An unnamed source claimed to the outlet, "Nick has basically been living in Priyanka's New York City apartment with her and they spend a lot of time together. They next step is him permanently moving in, and it has been a discussion."
Of course, that's all speculation for now. But if the relationship really is getting more serious, it wouldn't be a surprise if the two of them decided to take that step. Still, the same source told E! News that Chopra and Jonas won't necessarily rush into a quick celebrity engagement. Their source also shared, "Everything has been going very smoothly between the two, but they aren't in a rush to the altar anytime soon. They are enjoying getting to know each other, but are definitely still inseparable since going public with their relationship."
Now that Chopra is officially discussing their relationship during interviews, like the one with People this week, it looks like the two of them might be sharing more details about their relationship soon. They'll probably never reach the level of, say, Ariana Grande and Pete Davidson's Instagram devotion, but it's clear that they care deeply for each other, and that their relationship is continually moving forward.