This Video Of Nick Jonas & Priyanka Chopra's Moms Dancing Together Is So, So Sweet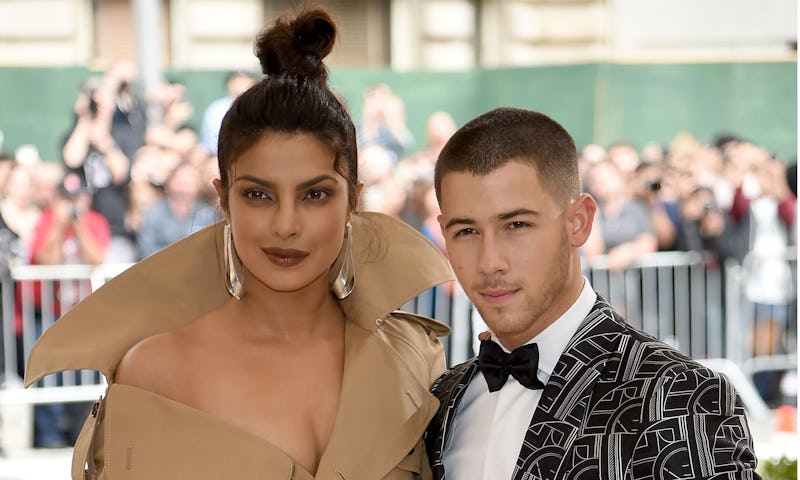 Dimitrios Kambouris/Getty Images Entertainment/Getty Images
Ever since Nick Jonas and Priyanka Chopra's engagement photos first careened onto the internet, fans have been swooning. Those who were saddled with a major case of FOMO after seeing the stunning snapshots — honestly, who wasn't? — might want to check out this new video of Jonas and Chopra's moms dancing together at the engagement party. If you thought the rollout of engagement-themed photos on social media earlier this month was a lot for your heart to handle, this video might just bowl you over (but in a good way).
Now, fans of Jonas and Chopra's public romance will probably have a tough time forgetting the duo's gorgeous engagement ceremony, which took place earlier this month in Mumbai. There were floral arrangements, glittery lights, and some truly exquisite faux-foliage. (Remember that photo backdrop?) Judging by the outpouring of photos posted to Instagram in the ceremony's aftermath, it seemed pretty safe to say this particular pre-matrimony bash was one for the ages.
The best part? Well, other than the fact that Jonas and Chopra's future partnership was blessed in front of their friends and family, of course. The couple's engagement party also marked the first time Jonas and Chopra's parents met, according to a handful of reports. In the hours following the party, fans were gifted photographic evidence of this big-time meeting, courtesy of a heartwarming family photo posted to Chopra's Instagram account, which pictured the Jonas-Chopra clan standing side-by-side and looking happy as ever. Talk about wholesome content, no?
Speaking of, let's circle back to this week's throwback video. On Tuesday, Aug. 28, Jonas' mother Denise (aka "Mama Jonas," per her IG handle) took to Instagram to share a video clip from the engagement party that fans hadn't seen before. As those who've watched know already, it might be one of the sweetest videos to grace social media in at least a minute — but probably a good deal longer than that.
The video only runs for 10 seconds or so; but rest assured, that's more than enough time to tug the heartstrings of social media users far and wide. It opens with a shot of Jonas and Chopra's mothers — Denise and Madhu, respectively — dancing together, surrounded by family and friends. Madhu leads with some effortless footwork, while Denise follows along herself. Seriously, to those who've yet to witness Jonas and Chopra's mothers doing a synchronized dance floor boogie (and feelin' themselves, too!) on the eve of their kids' engagement party: You've got to watch this video.
And as if Denise's Instagram video hadn't already reached peak levels of heartwarming all on its own, Mama Jonas' caption really sealed the deal. "Thank you @madhumalati for being patient with my lack of dance skills! I miss you," she wrote, before tacking an appropriate themed hashtag onto the end of the video's caption: #engagementparty.
So, who else really wishes they could've snagged an invite to the Jonas-Chopra engagement extravaganza? In lieu of a real-life invitation, at least fans of the couple (and they're extraordinarily sweet parents) can still relive the event on social media as often as they'd like. Here's to hoping there are more unearthed video clips where Tuesday's came from.