Nick Jonas & Priyanka Chopra's Wedding Date May Actually Be Sooner Than You Think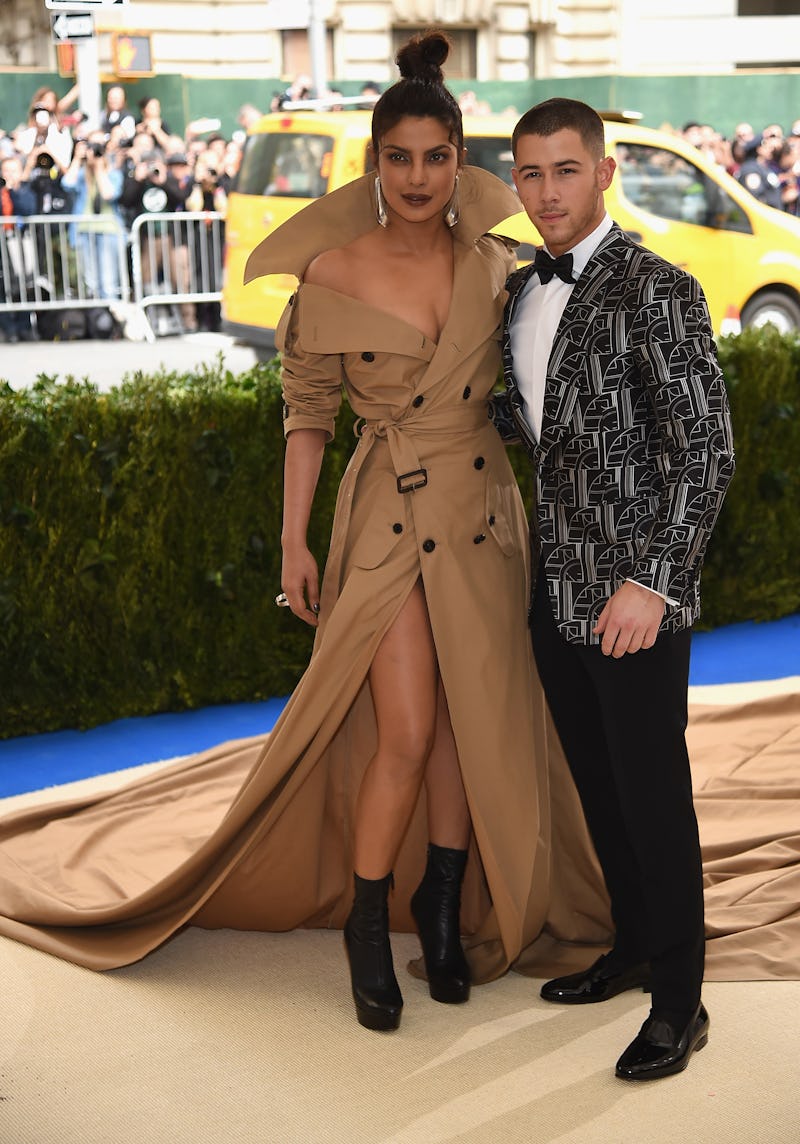 Dimitrios Kambouris/Getty Images Entertainment/Getty Images
Nick Jonas and Priyanka Chopra's engagement took the world by the surprise, but what's the next step in their relationship? Jonas and Chopra's wedding might be right around the corner, according to Us Weekly's latest report. Of course, the relatively private couple has not confirmed this, but there have been some conflicting reports about the wedding date. (Bustle reached out to reps for the couple for comment, but did not receive an immediate response.)
A source claimed to Us Weekly, "The wedding is happening in India in December." In case you didn't know, India is Chopra's home country. Another inside source told Us Weekly in September, "The wedding is coming soon and they really want to blend wedding traditions from both of their cultures that are important to them." That same person shared,
"Priyanka is having a really good time planning the wedding because it's a mix of Indian and American styles and customs, which she knows so much about."
Even though that one "insider" claimed that they will wed in December, an Entertainment Tonight source claims that Jonas and Chopra won't tie the knot until 2019. This person explained, "Priyanka and Nick are on the same page about wanting to get married earlier rather than later, and are telling friends it will most likely be next year."
A source in that same article also claimed, "The couple is still planning their wedding for next year. Both of them are extremely busy, but are making time to enjoy the relationship and not rush anything more than they already have."
And it really has been a rush. Jonas and Chopra's relationship has progressed pretty quickly. Reports emerged in May about their then-budding romance. Rumors circulated that Jonas proposed to Chopra in July. And now there's some conflicting speculation about how soon these two will become Mr. and Mrs. Nick Jonas.
Even so, the two have already taken some strides in the wedding journey. The Jonas family joined the Chopra family in Mumbai, India for a roka engagement ceremony in August. According to The Sun, "Roka is one of the most significant ceremonies that takes place before an Indian wedding." It brings the bride and the groom's families together and usually both give each other gifts and "bless the happy couple before they embark on their future together."
Jonas discussed the roka experience with Jimmy Fallon during his appearance on The Tonight Show in September. The singer shared, "So after we got engaged, we went to India, to her home country, to Mumbai, and my parents came along. We did this beautiful roka ceremony."
Fallon asked, "What is that?" The "Jealous" singer explained,
"Basically it's a confirmation from both sides of the family that they approve of the engagement. And then there's some beautiful prayers and a connection just for the family to have a chance to meet, hang out and get to know each other. It's really incredible and both left that ceremony so full of joy."
Fallon wondered, "How did your parents handle that?" He revealed, "My parents were blown away by the love shared among all the people." Fallon even joked that the experience was "a little different than New Jersey"
Chopra's future husband agreed and added, "It was really special. For she and I, it was just really nice to have that time with the family first as a private moment and to be able to share with the world afterwards."
And that's most likely what will happen after their wedding, unless some paparazzi photos surface while they're in India. Until then, just keep an eye out from December onward and try not get too "Jealous'" when those pictures emerge.