Nicki Minaj's "Barbie Dreams" Holds Nothing Back & Twitter Can't Handle It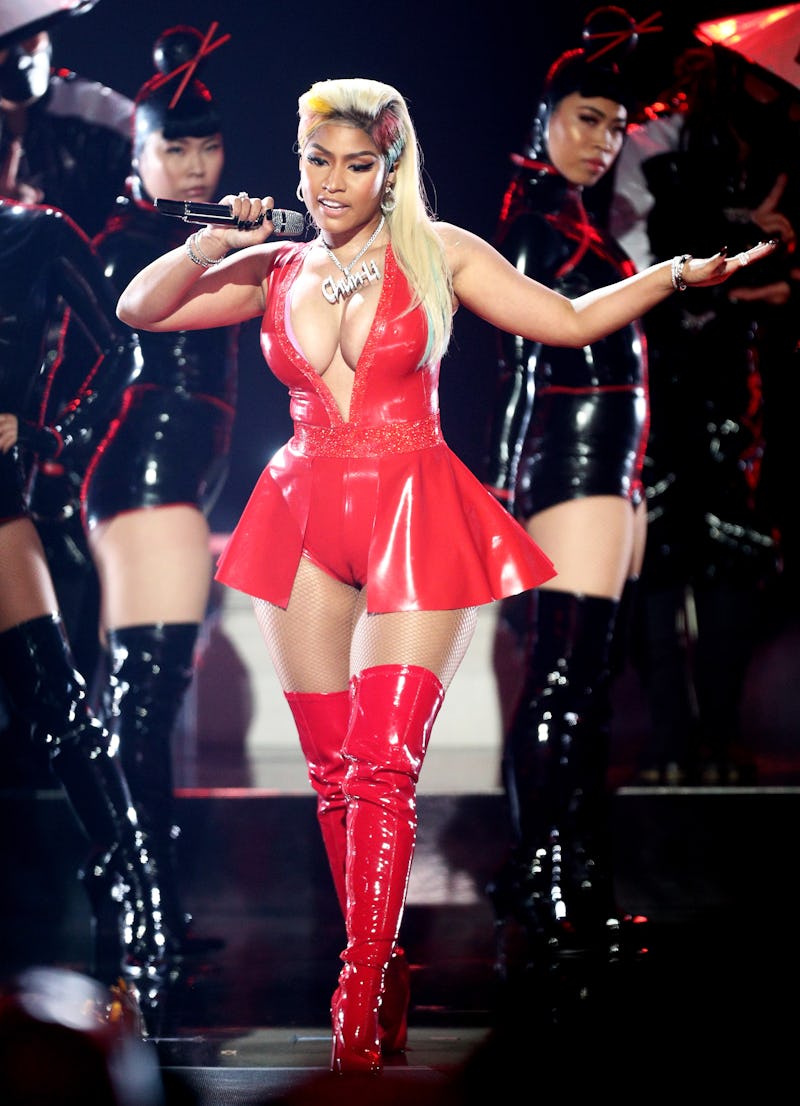 Frederick M. Brown/Getty Images Entertainment/Getty Images
Nicki Minaj has never been one to pull punches, and on Queen, she's truly coming for everyone in the rap game. Nicki Minaj's "Barbie Dreams" holds nothing back, and it's guaranteed to make her new album a hit. Minaj debuted Queen, her fourth studio album, on Apple Music's Beats 1 Radio on Friday, and the song "Barbie Dreams" — and its revealing lyrics — caused a meltdown on Twitter not long after its premiere.
Minaj begins the four-plus-minute track by declaring what she's looking for in a man, namely, someone "to give some babies," before going after all of the industry's biggest names, as well as revealing some — ahem — intimate information about rappers she's dated or been linked to in the past, including 50 Cent, Drake, who she describes as "crying," and DJ Khaled. (Her line about the latter included a reference to Khaled's infamous comments about oral sex, though she clarified on the Beats 1 show that she loves the DJ and his wife, declaring, "that's my baby, too.")
After freaking out over the lyrical contents on social media, many rap fans pointed out that the song was an homage to the Notorious B.I.G.'s 1993 smash, "Just Playing (Dreams)." Minaj borrowed both the beat of "Barbie Dreams" and its conceit from the Biggie track, in which the late rapper dropped some of the biggest names in R&B at the time, and the "dreams" he had of hooking up with them. (Lil Kim put her own spin on "Just Playing" on her 1996 album Hard Core.) Minaj even made sure to shout out Biggie during the song's opening bars, saying, "R.I.P to B.I.G." before tearing into her fellow rappers.
Like B.I.G., Minaj also mentioned in the chorus that she's "just playing" in the song, but that didn't stop social media from reacting to the song's hardest (and harshest) bars:
After she spotted tweets declaring that she had "snapped" and was calling out her fellow hip hop icons on "Barbie Dreams," Minaj made sure to clarify at the end of her Beats 1 show, Queen Radio, that the song "is not a diss. Everybody I talked about on that song, I love." Minaj also added that she purposefully chose people who "can take a joke," when she was writing the track. (Still, that didn't mean that everyone couldn't enjoy the shock value of some of her more savage rhymes.)
Of course, many fans were primarily focused on the fact that Minaj wrote an homage to one of Biggie's most famous songs — and that she reworked one of her older mixtape tracks (also called "Dreams" and released in 2007), in the process. For those Barbz who had been hoping for a return to "Mixtape Nicki," it was an extra treat.
Talking about the album, Queen, on Beats 1, Minaj revealed that it was the love and support of her fans that kept her going during her four-year hiatus, saying, "you guys made me feel like I had to come back, and because of that I felt super empowered." Of course, she then joked that her fans were "crazy," in their reactions to new music and projects on Twitter, and was delighted by the response that she got to "Barbie Dreams" after debuting it for the world.
Queen was released on all streaming platforms at noon on Friday; Minaj will do one more Beats 1 Radio Show on Thursday, Aug. 16 on Apple Music.