Nicki Minaj's 'Queen' Is Getting A Surprise Release & Here's What You Need To Know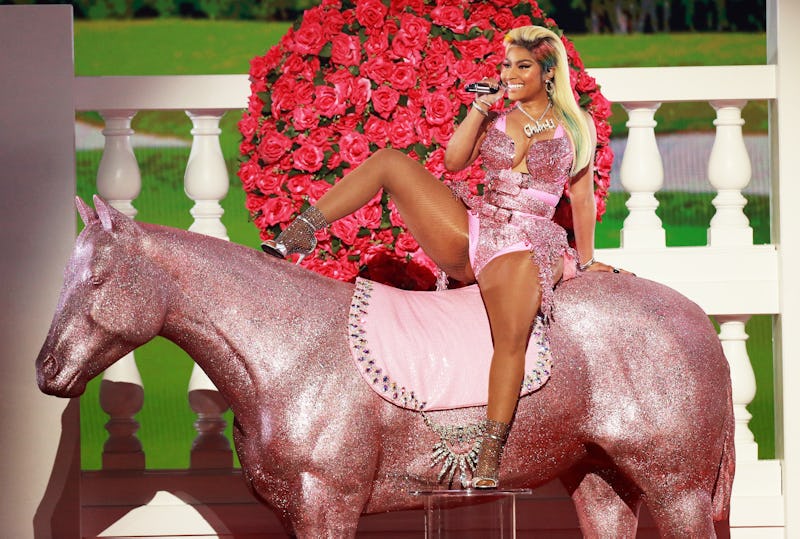 Leon Bennett/Getty Images Entertainment/Getty Images
Nicki Minaj's first album in four years would be highly anticipated no matter what, but the rapper has added to the intrigue of Queen with its ever-shifting release date. Although she had pushed back the album to Aug. 17, Minaj is releasing her Queen album a week early. During her Queen Radio show on Apple Music's Beats 1 radio on Thursday, Aug. 9, Minaj announced that Queen will drop on Aug. 10 at 12 p.m. ET. This is the third time that the release date has changed and while Minaj reportedly wanted to drop the album even earlier on Friday, fans can still celebrate the fact that Queen will be here before its scheduled release date.
Back at the Met Gala in May, Billboard reported that Minaj announced the release date and name for her first album since 2014's The Pinkprint. The original date for Queen was June 15, but later in May, she revealed that the album wouldn't arrive until Aug. 10. But Minaj did give something for fans to snack on around the original date, releasing the single "Bed" featuring Ariana Grande on June 14. So when Minaj revealed that Queen was pushed back yet again to Aug. 17 — the same day as Grande's Sweetener album — it was kind of kismet. And while some people thought this shared date would cause tension between the artists, both Minaj and Grade made sure to quash any rumors of a conflict between them.
The week delay for Queen was reportedly due to a licensing issue. In a since-deleted tweet that The Shade Room shared, Minaj wrote that one of the songs on Queen sampled a Tracy Chapman track that she didn't have the rights to. The rapper polled fans to see if she should keep the Aug. 10 date and lose the song, or to wait the week. At the time, she had chosen to wait the week, but that changed again when she shifted the timeframe during her Queen Radio show on Aug. 9.
According to Spin, Minaj stated that she had wanted to play the new album during her radio takeover. "I was going to play the album right now but someone f*cked up," Minaj reportedly said. "It's a lot of corporate drama in here." But she still promised that Queen was going to arrive sooner than expected since she revealed the 12 p.m. ET drop time. She also stated that she had just finished the album only three hours before Queen Radio went live on the air at 10 p.m. on Thursday.
An hour before Queen drops, at 11 a.m. ET on Friday, Minaj will return to Beats 1 to take over the airwaves again and talk through every song on her album. And, as shown by the tracklist that Minaj shared on social media, there are a whopping 19 songs on the album for her to discuss. Fans can tune in at 11 a.m. ET to get the insider info on all the new songs, plus her previously-released singles of "Bed," "Chun-Li," and "Rich Sex" featuring Lil Wayne. (The single "Barbie Tingz," which dropped in April, didn't make it to the final album, but there is a song on Queen titled "Barbie Dreams.")
It's unclear if the song that samples Chapman is still a part of the album, but Billboard had reported that the album had 19 tracks in June, so it could be on there. Either way, Minaj isn't letting "corporate drama" hold back her album any longer. After all, she is the Queen, so she's taking charge and giving the people what they want on Aug. 10.