Nicki Minaj's Comments About Her Sex Life Show She's Not Afraid To Ask For What She Wants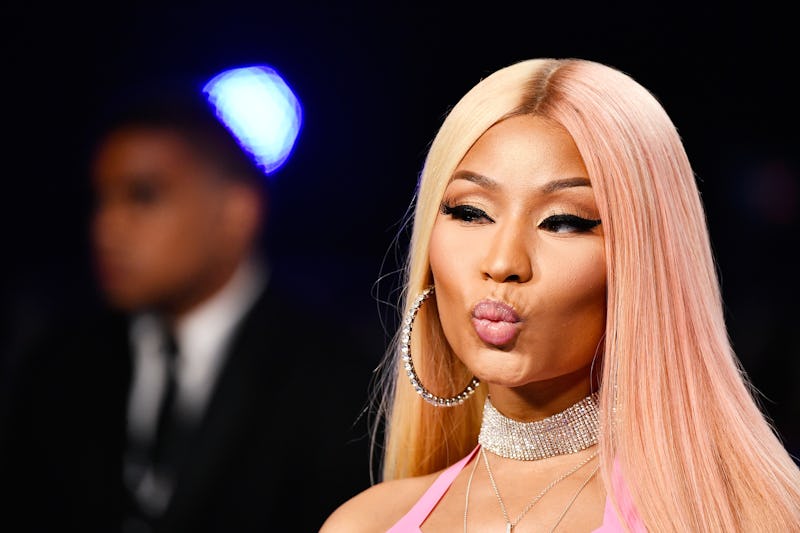 Frazer Harrison/Getty Images Entertainment/Getty Images
On the Season 16 premiere of Ellen DeGeneres' show Ellen, Nicki Minaj candidly discussed details about her love life, proving that she's not afraid to go after what she wants in the bedroom. During a Tuesday, Sept. 4 chat with DeGeneres, Minaj discussed a myriad of things about her life as one of the biggest rap stars in the world, including her bedroom requests which the entertainer revealed can comprise of "exercising" three times a night, according to People.
It goes without saying that Minaj is one of the hardest working people in the entertainment industry, particularly with the recent release of her new album, Queen, this past August. However, given the recent comments about her bedroom habits, it seems that stage performing isn't the only arena where this emcee puts in work. Spilling major tea about her sex life to Degeneres, Minaj explained:
"If you have someone that you don't see on a regular basis, it's not like if you're living with the person and you see them every night. But if you see them once or twice a week, then three times a night. When I see you, three times a night."
She went on to share that her expectations come with zero-tolerance policy, telling the daytime talk show host: "And if you can't hang, goodbye. You're not wasting my time."
After being asked if her demands in the boudoir must be met consecutively, Minaj bluntly explained, "It has to be no more than a half an hour between each thing." In addition to revealing the nature of her bedroom behavior, Minaj also revealed that she "hates" cuddling after the deed is done, saying: "Once I get mine, if I feel really, really great, leave me alone! Go away. Go make me some food or a sandwich or something."
While her after-hours routine may sound a bit exhausting to some, Minaj's comments are both refreshing and empowering for many women who may not feel as comfortable with voicing their opinions in the bedroom. It's something that Minaj is obviously aware of because she used the moment to offer words of encouragement to other women listening, sharing:
"Do me a favor, ladies. Realize that this is about you feeling good, too. This is not about him only feeling good. And I've found that the worse you make them feel, the better after, that they know how to do it better."
Her feelings on the subject certainly come as no shock to longtime fans of the hip-hop superstar. Just last month, Minaj sent the internet into a frenzy with the release of the track "Barbie Dreams" which name-dropped a list of famous people with whom Nicki may — or may not — want to hook up with.
The song which is a riff on Notorious B.I.G.'s iconic "Just Playing (Dreams)," made mention of several high-profile rappers and entertainers, including Minaj's fellow Young Money Records cohorts Lil Wayne and Drake, as well as her one-time boyfriend, rapper Meek Mill.
Throughout the diss-track she unapologetically addressed all of her subjects directly by name while giving scathing perspectives on their respective bedroom skills. While she remains adamant that the song was strictly in jest, Minaj explained that she's mainly been involved in a series of serious relationships throughout her lifetime. During her sit down with Degeneres, she shared,
"I was in a couple of relationships. So I had three: I went from a six-year to a 12-year to a two-year, and then I was ready to just chill and relax."
In addition to her 2-year romance with Mill, Minaj was also in a 12-year relationship with rapper, reality star and newly-minted sex toy model, Safaree Samuels. With those relationships now in her rearview, it seems that the Barbz is loving the perks of living the single life and has used the moment to become more acquainted with herself, telling DeGeneres:
"I didn't know who I was minus a man. I am finally learning who I am, and I love myself. Everything I do now isn't about pleasing some man, and that makes me feel so empowered."
The 35-year-old lyricist spoke about life post Mill in the July 2018 issue of Elle magazine, revealing how being single has made her stronger person.
According to Billboard, she said:
I remember feeling like I could do anything at one time in my life. And somewhere along the line, I just started second guessing myself, for whatever reason...as soon as I realized that I could actually live and breathe, and eat and sleep, and walk and talk without having a boyfriend, something clicked in me."
She continued, "Becoming single was one of the things that made me feel strong and powerful."
Nicki Minaj's honesty about what makes her happy is certainly admirable as it proves to be a great message for women everywhere about going after whatever they want in life.