Attention, '90s Kids: This New Streaming Service Has All Your Favorite Nickelodeon Shows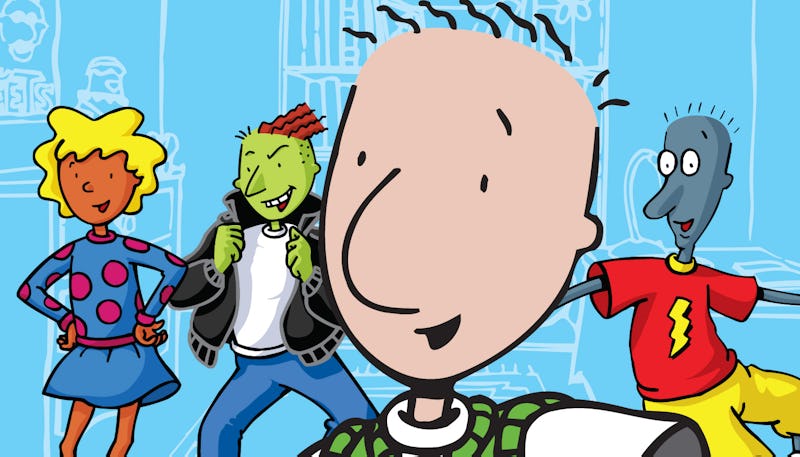 VRV
Attention all '90s kids: grab your favorite scrunchie, stock up on butterfly clips, and put on your best Sketchers shoes, because you're about to meet your new favorite streaming service — and it's going to take you right back to the best decade ever. Go ahead and cancel your Netflix subscription right now, because VRV, a fandom-focused video aggregation platform, has partnered with Nickelodeon for NickSplat, a channel for anyone who has been dying to binge Nickelodeon classics like Doug, All That, Catdog, and so many more.
Your prayers to the nostalgia gods have been answered with NickSplat, the new destination for nearly 30 classic animated and live-action Nick series. The titles on the streaming service's new channel include AAAHH!!! Real Monsters, All That, Are You Afraid of the Dark?, CatDog, Clarissa Explains It All, Doug, Kenan & Kel, Legends of the Hidden Temple, Rocko's Modern Life, The Angry Beavers, and The Wild Thornberrys, among others, with additional series to be added at a later date. NickSplat is available to purchase a la carte for $5.99 per month, or included in the VRV premium bundle membership for $9.99 per month.
To celebrate the launch of Nicksplat, VRV brought all your childhood dreams to life this weekend with The Childhooding Zone in Santa Monica, California. With cocktails made with Capri Sun and Fruit Gushers, a make-your-own-bowl cereal bar, a giant bowl of Lucky Charms to jump into and all the inflatable furniture that used to decorate your bedrooms, it was a delightful blast from the past. Aside from the two small children running around, the activation was completely filled with twenty- and thirty-somethings reliving their childhood with apparent glee.
That's exactly what VRV wants Nicksplat to do on a global level. "There is this 'kidult' audience that's overlooked," VRV General Manager Arlen Marmel tells Bustle. "There is this whole audience of adults that grew up on animated content and is really hungry to see these shows again and have them readily available, so Nickelodeon is the perfect partner for us."
These "kidults" can range from 20 to 40 years old, according to Marmel, and they love to watch content from when they were kids ... even if it's not meant for adults to enjoy. "Who's making those rules?" Marmel asks rhetorically. "My thing was Hey Dude. We can all use a little more joy and this is a place to celebrate nostalgia, joy, escapism, and safe spaces to be yourself. That's what VRV is all about, and Nicksplat in particular really represents that."
Marmel adds that he hopes to build on the emotional attachment millennials have to these shows. "Our goal is to build this base camp for fandom," he says. The Childhooding Zone is only the beginning of that push. While it was only open for two days in Los Angeles, there will be more opportunities for fans to visit and relive their childhood in VRV's activation in the future.
"The Childhooding Zone is going to go to New York Comic Con and then we've started to talk about translating this experience to multiple cities simultaneously," Marmel reveals. "We want the audience to have a deeper relationship with VRV and that has to span beyond just pressing play. It can be about events, we just launched the first edition of our zine, we're working on a podcast network now, we have a gallery, we're going to introduce merchandise in the near future, all these other ways audiences can interact with the content."
Sure, VRV and Nicksplat are bringing nostalgic content to fans, but ultimately, its goal is to help you feel like a kid again. "The world is really complicated right now and if VRV can help bring a little bit of joy back, then we're succeeding," Marmel says. And what better way to feel joy than streaming all the best shows of your childhood? They still hold up almost three decades later, so heat up some bagel bites and start watching.