Nicola Roberts Shut Down "Misogynistic" Coverage Of Cheryl & Liam's Split SO Well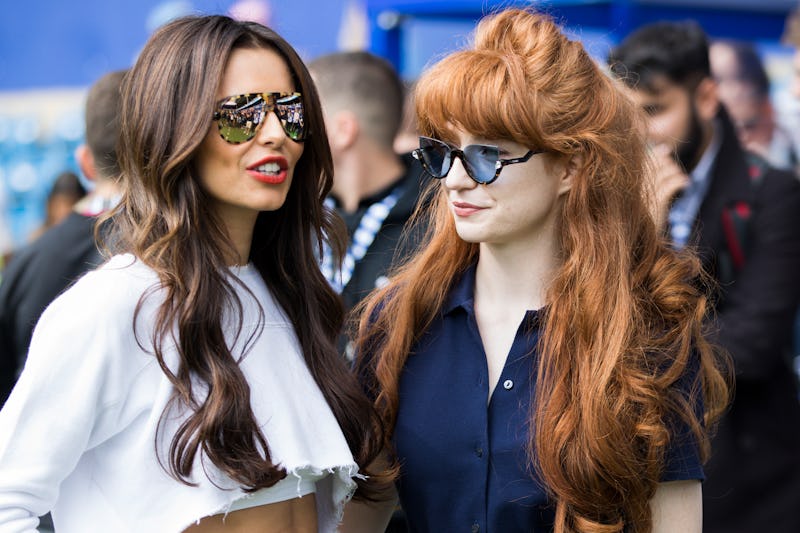 Tristan Fewings/Getty Images Entertainment/Getty Images
Break ups are tough, which is why it's always a good idea to have your closest gal pals front and centre when things go south. For Cheryl, this gal pal quite clearly comes in the form of a best friend and former Girls Aloud bandmate. Nicola Roberts and Cheryl have been super tight since their Girls Aloud days, and this week Roberts defended Cheryl against the "misogynistic" media coverage surrounding her recent separation. Earlier this week, Cheryl confirmed her split from her boyfriend Liam Payne after two years and a child together, and Roberts is already down in the trenches defending Cheryl against "misogynistic" comments, because that's what true friends do.
In case you missed it, in the wake of the separation announcement, there were comments on Twitter and in the media asking "Why can't Cheryl keep a man?" This is, as well as being deeply unkind, an outrageous double standard. After all, do you hear anybody asking why Liam can't keep a girl? It's a take that also seems to have be running through the mind of Nicola Roberts quite a bit.
During an appearance on Wednesday's Loose Women, Roberts was asked to share her take on the Cheryl and Liam split. Instead of doing that, Roberts took the time to assure the panel that Cheryl is doing "OK" after breaking up with the former One Direction singer, before going on to address the problematic way some media outlets are choosing to angle their post-Cheryl and Liam split coverage.
Here's what Roberts had to say about that:
"I actually think what's been interesting this week is how the misogyny through the media has played out. There's been a couple of articles saying, 'Why can't [Cheryl] hold a man down?' and things like that, and it's just like – why can't a man hold her down, you know?"
I personally think Roberts makes a great point.
Cheryl's relationship status has been a hot topic since her early Girls Aloud days, which is a pressure in and of itself. But it's irresponsible and just plain sexist to suggest Cheryl is responsible for any of her love splits because of some perceived her lack of ability to keep a man. I mean, is that even a thing?
This is 2018, and one would hope that — without definitive proof otherwise — the breakdown of a relationship is considered the responsibility of both members of the couple. Cheryl is undoubtedly a huge catch, so maybe the question every media outlet should actually be asking is — as Roberts quite rightly suggested — why can't a man keep Cheryl?
As I ponder that question, it may interest you to know that Nicola and Cheryl have a long history of coming to each other's defence. Indeed, the pair have consistently had each other's backs over the years and it's not all one-sided, proving Cheryl is as much as true friend to Roberts as is vice versa. In the early '00s, Nicola became the target of arguably cruel comments made by former Radio 1 DJ Chris Moyles, who dubbed her "a sour-faced old cow" and made negative remarks about her appearance, as the Daily Mail reports.
After coming to Nicola's defence, Cheryl scolded Moyles for the comments during an interview with Heat Magazine, saying: "I find what he says about my friend really offensive and upsetting." She then went on to give him the cold shoulder with Kimberley Walsh during an all-celebrity Mount Kilimanjaro climb for Comic Relief in 2009, refusing to forgive him for upsetting Roberts, The Mirror reports.
It's been great to see their friendship endure through the years, with Nicola sharing a post to celebrate Cheryl's 35th birthday last weekend.
Now what about that Girls Aloud reunion?