Nicole Kidman's New Amazon Show Sounds Like A Traveler's Dream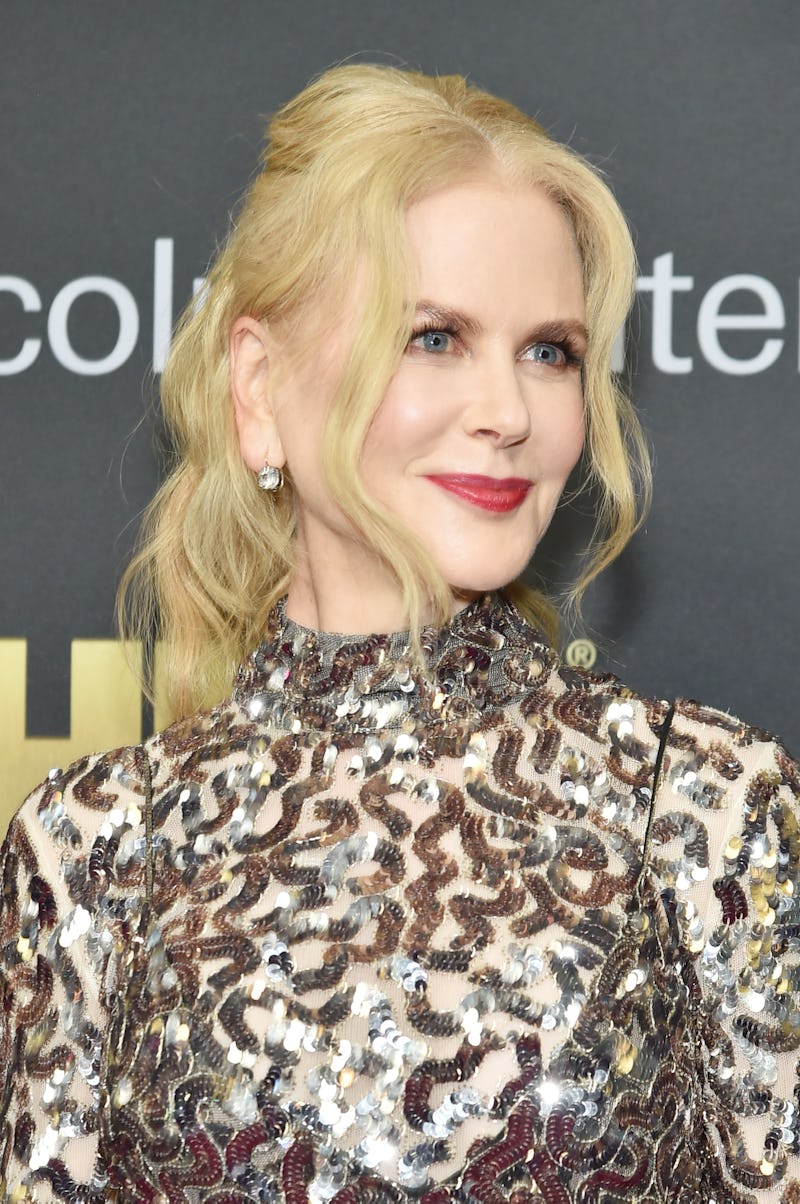 Mike Coppola/Getty Images Entertainment/Getty Images
Big Little Lies fans have no shortage of new shows to look forward to already — including Season 2 of the HBO hit — but they need to make room for one more on their growing list. As reported by Variety, Nicole Kidman's first Amazon show under her production company's new deal has been announced. Based on the best-selling novel by Janice Y. K. Lee, The Expatriates marks the beginning of Kidman's Blossom Films partnership with Amazon. At this time, it's unclear whether or not the Big Little Lies actor will have a role in the series, especially since it was announced on Friday that's she re-teaming with Liane Moriarty for Nine Perfect Strangers.
Whether or not Kidman takes on a role in the series or not, there's no shortage of vibrant sounding female characters in The Expatriates. According to Variety, the series will follow seven women who are part of a close knit group of expatriates in Hong Kong. None of the characters have been cast yet, but they all sound fascinating. There's Margaret, an architect who fears there's something wrong with her latest project, and Mercy, a Korean-American grad student with a dark past. They're joined by British expat Hilary, who desperately wants to be a mother; Tammy, who discovers her husband has a second family; Barbara, who is all about the finer things in life; Fanny, who's desperate to make friends, and Olivia, a Chinese socialite who loses her standing in society.
In a statement via Variety, Jennifer Salke, Head of Amazon Studios, said,
"After announcing our recent first look deal with Nicole and Blossom Films, we are thrilled to kick off this relationship by bringing this very popular novel from author Janice Y.K. Lee to Prime Video. The story weaves an addictive tapestry that follows a group of complex women and their lives as outsiders in Hong Kong. It's a compelling exploration of the strength of these women as they persevere through struggles with marriage, career, parenting and unimaginable loss."
Even though it's going to be a while before The Expatriates lands on Amazon, the series already sounds like it has the potential to be a hit.
Since Big Little Lies became a monster success for HBO, the women who made the show possible have been busy making new and exciting TV deals. In addition to The Expatriates, Kidman will also be helping bring Nine Perfect Strangers to the small screen, as mentioned above. She's also set to reunite with Big Little Lies writer David E. Kelley for the HBO limited series The Undoing. Meanwhile, Reese Witherspoon has teamed with Kerry Washington on Hulu's upcoming domestic thriller, Little Fires Everywhere. Witherspoon is also working on an untitled series for Apple's new streaming service.
The result is, there's a fresh crop of female-centric series coming to a TV near you, and they all sound richly drawn and thrilling. It likely won't be easy to stand out in that crowd, but The Expatriates' setting could add a unique spin to the series. It's not often that TV turns its attention to people who have relocated to a different country or the trials that come with such a major move.
Even if the busy Kidman just keeps her producer hat on for this one, The Expatriates could end up being a must-see drama — especially for people who can't get enough of Big Little Lies. Which is basically everyone, right? Keep your fingers crossed that casting news starts rolling in soon, because this is one show the world needs to know more about, ASAP.