Reese Witherspoon & Jennifer Aniston's New Show Is Tackling The Land Of Megyn Kelly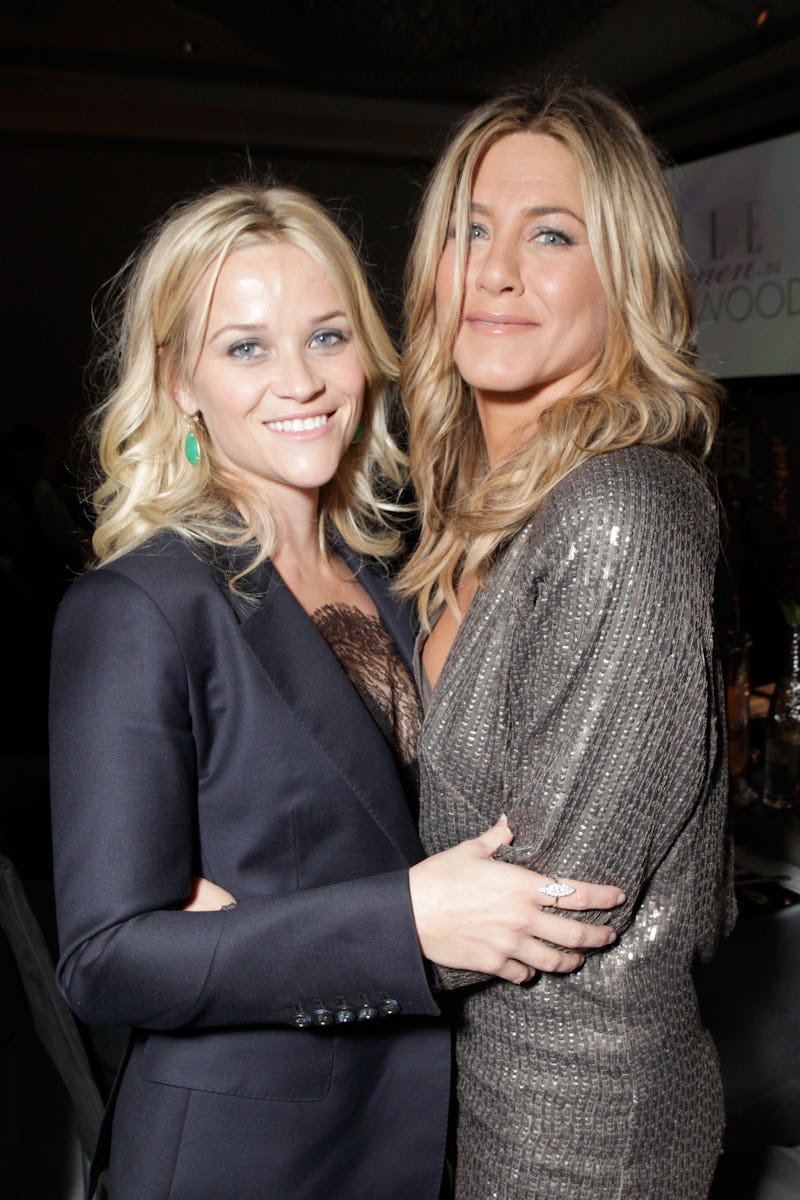 Todd Williamson/Getty Images Entertainment/Getty Images
Just knowing that there's a show starring Reese Witherspoon and Jennifer Aniston in development is exciting enough, but now we're getting new details about what it's going to be about. And boy, does it sound juicy. According to The Hollywood Reporter, the untitled Witherspoon and Aniston drama will be tackling the world of morning TV. Heck, it might even be getting some inspiration from Megyn Kelly's morning show on NBC.
The show will reportedly give an "inside look at the lives of the people who help America wake up in the morning, exploring the unique challenges faced by the women (and men) who carry out this daily televised ritual," according to THR. The show, which will not only star Witherspoon and Aniston, but will also be executive produced by the duo, is based on an original idea by former HBO executive Michael Ellenberg and will be written by Jay Carson (House Of Cards), who will also act as showrunner.
The series, which was already picked up by Apple for a straight-to-series, two-season order, will also reportedly take inspiration from Brian Stelter's book Top of the Morning: Inside the Cutthroat World of Morning TV. Stelter's 2013 book looked at the rivalry between the Today Show and Good Morning America, along with anchor Ann Curry replacing Meredith Vieira on Today, who was quickly replaced herself. According to People, Stelter will also act as a consultant on the show.
As cutthroat as the world of morning television may be, Witherspoon is clearly excited for the show, which reunites her with Aniston 17 years after she played her younger sister on Friends. "So excited to be back and reunited with this one-of-a-kind lady!" she wrote on Instagram and Twitter. "Can't wait for y'all to see what we have in store. #FunThingsToCome."
While seeing these two onscreen together for at least 20 episodes is sure to be fun — especially, since this marks Aniston's return to TV, a decade after Friends ended — there's also a chance the show will take on the current landscape of morning television. This certainly means the show could include references to the newest addition to morning TV, Megyn Kelly.
The Fox news anchor turned NBC morning host hasn't had an easy go of it since her morning show, Megyn Kelly Today, launched in late September. Variety reported that celebrity publicists aren't booking their clients on Kelly's show. While promoting theWill & Grace revival, Debra Messing said that she regretted appearing alongside Kelly after she made a controversial comment to a gay audience member. Jane Fonda certainly didn't look that happy either after Kelly asked her about plastic surgery.
Her luck in the ratings department hasn't been great either with Page Six reporting last month that she's "destroying NBC's morning ratings" and hurting Hoda & Kathie Lee's ratings, which airs right after her show. This doesn't even include the blowback Kelly received for her interview with conspiracy theorist Alex Jones, which aired this past summer on her other show, Sunday Night With Megyn Kelly.
But, Kelly's also currently the most talked about morning show anchor because of these bumps in the road making her perfect TV show fodder. Especially on a drama starring two female actors.
Need more proof that references to Kelly could end up on this drama? Back in September, Vanity Fair wrote about how Kelly joining Today marked a new era for NBC that might not make their current anchor Matt Lauer very happy. It is him in Stelter's book, who's often accused of being the reason Curry was pushed out of her Today show gig. That kind of rivalry certainly would make for good TV, now wouldn't it? Maybe Aniston or Witherspoon will find themselves going up against a Lauer of their own on this upcoming drama.
It also wouldn't be surprising if Today's Kathie Lee and Hoda Kotb didn't find their way into the show somehow. Likely, with large glasses of wine at very early hours in the morning.
As of now, Apple hasn't announced how they'll be rolling out the Witherspoon/Aniston series or when. But however and whenever, surely fans will be there for these two and any real-life morning news anchors they may be channeling.