Nikki Bella Posted A Bittersweet Message On What Would've Been Her & John Cena's Anniversary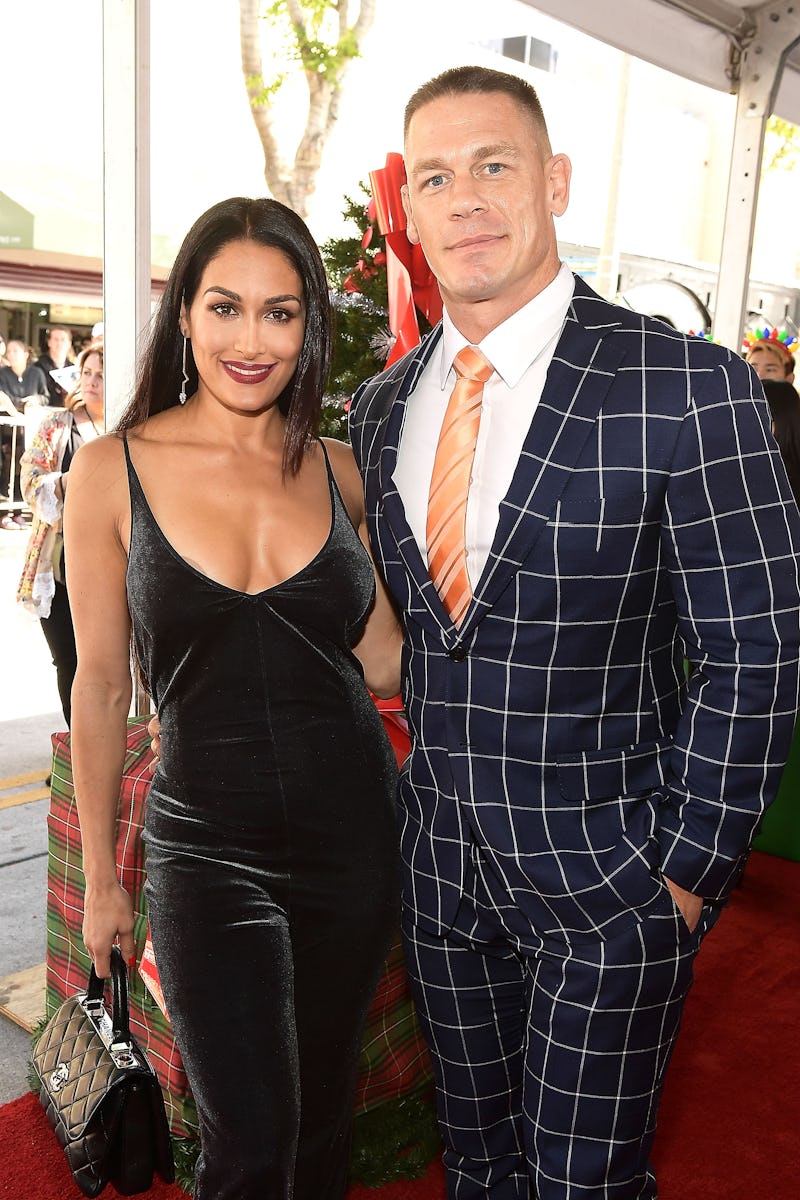 Matt Winkelmeyer/Getty Images Entertainment/Getty Images
How do you solve a problem like a broken engagement? For Nikki Bella, the answer is posting cryptic Instagrams apparently. On Thursday, Aug. 9, which would've been their six-year anniversary, Nikki Bella posted an Instagram about John Cena, as Us Weekly reported. The post included the simple caption: "8/9 | 6," her would-be anniversary date with Cena, along with how many years they were together. Rather than an actual photo, the Instagram is simply a screenshot of text.
Her 'gram suggests she's still in her feelings, as anyone would be just a week after an on-again/off-again relationship came to an end. The text of the Instagram post reads: "You've changed me forever, and I'll never forget you," with the "8/9 | 6" caption underneath.
As a reminder, the WWE power couple split "once and for all" last week, as TMZ reported on July 30, and they addressed their breakup after the final episode of Total Bellas aired. That is, Bella explicitly addressed it; Cena was the one that got cryptic on Twitter this time. Bella told People in a statement after the news went public:
After I called off the engagement, we tried to work on our relationship to get back to where it was, and in order to move forward with our wedding. After much time and soul-searching alone and together, we have decided to officially part ways. I had a beautiful and loving 6-year relationship with a wonderful man. I have the utmost respect for John, but I know this is what's best for me.
Seems like a perfectly healthy response to what's surely a painful situation, and even though he only suggestively tweeted about it, Cena seemed to be on the same page last week.
Apparently, a lot can change in a week, though. Because while Bella's would-be anniversary Instagram post seemed wistful yet at peace, Cena went back to Twitter for even more ambiguous tweets that suggest he's feeling some type of way. And no, not the type of way he was feeling last week when he was living with "little to no regret." Are his posts about his split from Bella? There's no saying for sure, but honestly, it sure seems like it.
On Thursday, Cena tweeted, "The promises you make are nothing compared to the ones you keep," and on Friday morning, he added, "You are the sum of your actions, not your words." Those tweets don't exactly take the same reflective, grateful tone as Bella's Instagram post, to say the least.
Fans know Bella and Cena have been on a rocky road for quite a while. Their ups and downs have been documented on Total Bellas. It all culminated in the final, heartbreaking moment on the finale when Bella admitted to her sister Brie that she and Cena were done for good this time, but that she was afraid to tell him that this was her decision.
Because I just don't want to hurt him. It's just hard when you love someone so much and care for them so much, but you just can't do it anymore. It's not his fault, it's not my fault. We've had this amazing love story and its just come to an end.
Breaking up is extremely hard, especially when you have thousands of fans watching. On Bella's Instagram post, there were lots of comments with words of love and encouragement, and some people are still upset that this WWE royal couple couldn't make it to the church steps.
One thing is for sure: They both seem heartbroken, and they both love posting vague, somber content across their social media platforms. Well wishes to Bella and Cena, who really seem to be done this time.