Nikki Haley's Fourth Of July Didn't Go As Planned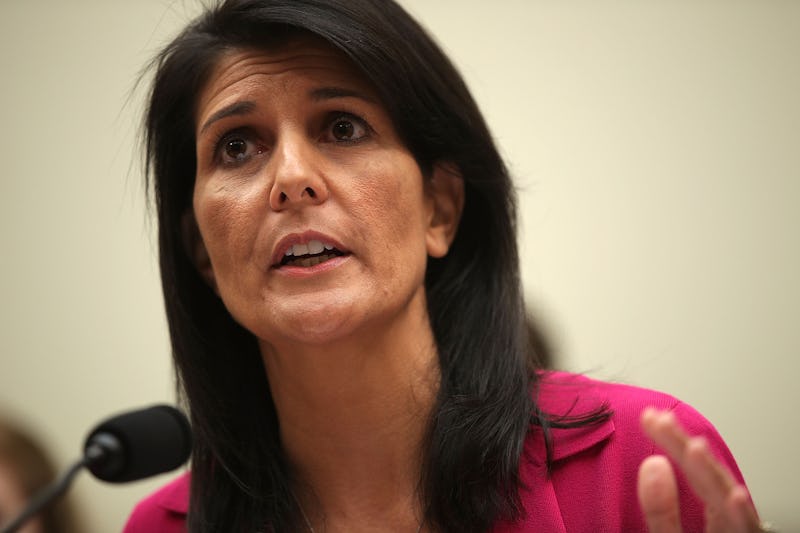 Alex Wong/Getty Images News/Getty Images
After North Korea reportedly tested a long-range missile on Tuesday, American officials had to get to work. The missile supposedly features a longer range than those used in North Korea's previous tests, which could lead to a more serious threat to the U.S. The full scope of implications of such a threat could still be unknown, but in the short term, North Korea's missile test sent U.N. ambassador Nikki Haley into meetings all day.
According to a tweet from her verified account on Tuesday, Haley, the former South Carolina Republican governor, was "spending my 4th in meetings all day." She added the seemingly sarcastic hashtag, "Thanks North Korea." She also tweeted out a statement from Secretary of State Rex Tillerson condemning the missile launch, and she announced that the U.S., Japan, and South Korea had called for an emergency meeting of the United Nations' Security Council to address North Korea's action.
Haley's tweets all came in response to an intercontinental ballistic missile (ICBM) that North Korea reportedly launched more than 1,700 miles high on Tuesday, according to CNN. The missile launch followed several other tests by North Korea in recent months, but Tuesday's launch seemed to heighten concerns from the U.S., as North Korea's arsenal may now be able to reach Alaska. Given that potential, Haley's day in meetings seems to make sense.
Haley's tweet about her Fourth of July was not well-received. While some respondents rushed to her defense, many Twitter users called the ambassador out for making light of her job and the situation at hand. Some reminded her that many members of the military and law enforcement agencies were also working on Tuesday.
Haley did not appear to respond to the criticism, but she did share updates from her meetings. Sharing a photo of herself flanked by her fellow international officials, Haley announced a request for an emergency meeting of the U.N. Security Council. The Washington Examiner reported that the Security Council meeting would likely happen on Wednesday.
Haley's boss, President Trump, sent out a sarcastic tweet of his own after North Korea's missile launch. "Does this guy have anything better to do with his life?" Trump tweeted on Monday night, seemingly referring to North Korean leader Kim Jong Un.
Haley, Trump, and Tillerson may have all publicly responded to the missile test, but they weren't the only American officials reportedly working after the launch. Officials in the Pentagon released a statement on the missile launch, and the U.S. Army carried out an exercise with South Korea's military on Tuesday in the wake of the ICBM test. "The launch continues to demonstrate that North Korea poses a threat to the United States and our allies," the Pentagon's statement read, according to CNN. Despite the celebratory holiday, American officials across the board seemed to acknowledge that there was work to be done.