Nikki Haley Made An "Indian" Joke About Elizabeth Warren At A Fundraiser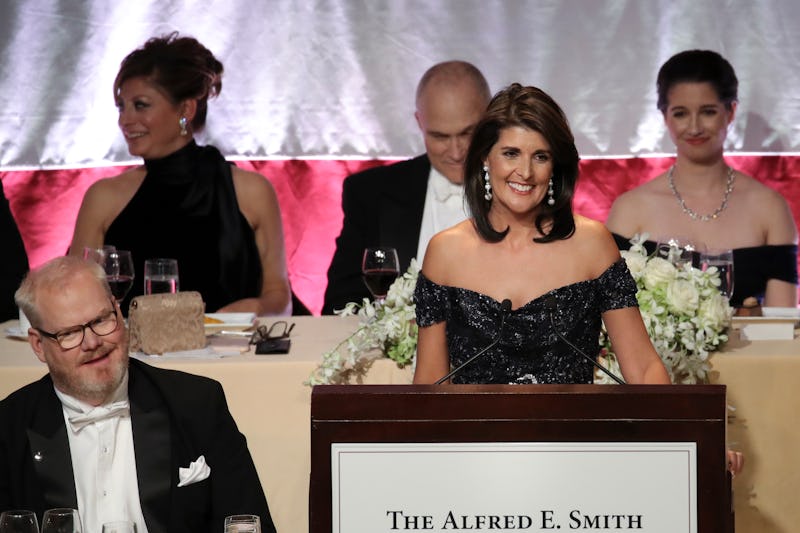 Drew Angerer/Getty Images News/Getty Images
Outgoing United Nations Ambassador Nikki Haley got in a few last laughs, so to speak, while speaking at the annual Alfred E. Smith Memorial Foundation Dinner on Thursday night. In her keynote address, Haley joked about Elizabeth Warren's Native American ancestry, saying organizers had "wanted an Indian woman" but that "Warren failed her DNA test." The soon-to-be-ex-Trump-staffer also appeared to use the event to rebuke her boss' recent rhetoric on political opposition.
"This year you wanted to spice things up again, right?" Haley said, noting how different last year's keynote speaker, House Speaker Paul Ryan (whom Haley called "boring" and a "boy scout"), was compared to President Donald Trump the previous year. "I get it. You wanted an Indian woman, but Elizabeth Warren failed her DNA test."
On Monday, Warren released a DNA test that claimed to find "strong evidence" of a distant Native American ancestor some six to 10 generations back. Many have viewed the Massachusetts senator's decision to take a DNA test in an effort to "prove" her claim of Native American ancestry after years of being called "Pocahontas" by Trump as preparation for a potential presidential campaign.
"Actually, when the president found out that I was Indian-American, he asked if I was from the same tribe as Elizabeth Warren," Haley joked Thursday.
But Warren wasn't the only political figure Haley took shots at in her speech. The outgoing ambassador also managed to get in a few jokes at the president's expense.
"Everyone in Washington called me with advice about this speech — they all said the same thing, 'do not under any circumstances make any jokes about the president,'" Haley said. "So goodnight, everybody."
"Actually the president called me this morning and gave me some really good advice," she went on to say. "He said if I get stuck for laughs, just brag about his accomplishments. It really killed at the U.N., I got to tell you."
But Haley later put the jokes aside when she brought up how she's heard both Republicans and Democrats describe their political opponents as "enemies or evil" in what she called "our toxic political environment." Said Haley:
In America, our political opponents are not evil. In South Sudan, where rape is routinely used as a weapon of war — that is evil. In Syria, where the dictator uses chemical weapons to murder innocent children — that is evil. In North Korea, where American student Otto Warmbier was tortured to death — that was evil. In the last two years, I've seen true evil. We have some serious political differences here at home. But our opponents are not evil. They're just our opponents.
Her comments appeared to be a response to Trump's recent comments that those who opposed his nomination of Brett M. Kavanaugh were "evil" and "bad people." The president has also repeatedly referred to members of the press as "the enemy of the people."
Haley announced her decision to resign as U.N. ambassador Oct. 9 but has so far refrained from elaborating as to the reason for her departure.