Nikki Reed Slams Those Nina Dobrev Feud Rumors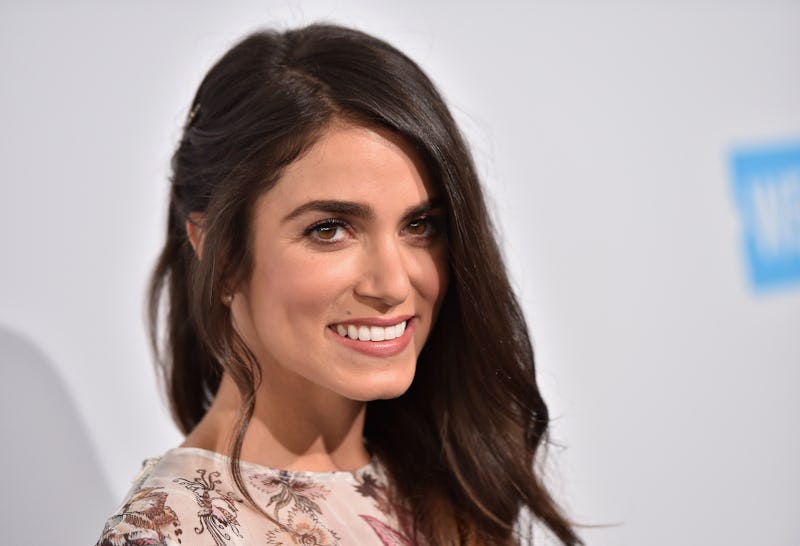 Mike Windle/Getty Images Entertainment/Getty Images
If I could give out an award to the best Instagram post about women uplifting other women, it would go to this Sleepy Hollow actor. On Tuesday, a photo of Nikki Reed, Ian Somerhalder, and Nina Dobrev was shared by the former Twilight star. Somerhalder and Dobrev's days on the set of The Vampire Diaries (the finale of the show includes Dobrev, despite her leaving as a full-time cast member after Season 6) are coming to an end and it appears Reed wanted to put to bed any and all feud rumors that may or may not still be out there involving herself and her husband's ex-girlfriend/co-star.
For those in need of a refresher, former TVD co-stars Dobrev and Somerhalder broke up in 2013 after dating for more than three years. Then, in April 2015, Somerhalder married Reed. When Dobrev left The CW series at the end of Season 6 in 2015, many believed she departed due to her ex and possibly because he moved on with someone else. Beyond ridiculous, right?
It's sad that when a man moves on with another woman, the automatic assumption is that the new woman in his life and his former girlfriend despise one another. Not to mention, for fans to believe that Dobrev left a show and a character she played for six years because she didn't want to be around an ex-boyfriend is, well, infuriating to say the least. She certainly deserves more credit than that.
Neither Reed, Somerhalder, or Dobrev have breathed life into any of the rumors circulating around them. That is, until now. Via Reed's Instagram, they are shutting down any preposterous ideas about their relationship with not only a photo of the three of them together, but with some powerful words. Reed begins,
For the last few years we thought addressing any baseless rumors with silence was the best way. Besides, who wants to respond to made up stories about "friends backstabbing friends", "cheating exes", or "cast members exiting shows" on low-brow websites like hollywoodlife that are just perpetuating trends that preceded us. Yuck.
(As the only website Reed mentioned specifically, Bustle reached out to HollywoodLife for comment on the actor mentioning them in her post, but did not receive an immediate response.)
Reed is referencing the unfortunate belief that women can't be friends and that they must hate each other when it involves an ex-flame. For far too long, this is how women have been perceived. Yes, it's unfortunate, but it is also dangerous. As Reed explains, women, including herself and Dobrev, "have a moral responsibility to young girls to end that narrative, because at the end of all of this, those young girls are the ones who lose."
By fans pitting Dobrev and Reed against one another, young women could be taught to believe this is how women are supposed to treat each other. However, what they should be learning is that women should be supporting one another, not the opposite. You know, kind of like how TVD's Elena (Dobrev), Bonnie (Kat Graham), and Caroline (Candice King) have done as best friends throughout the entire series. And how Reed and Dobrev are doing now.
That's something Reed wants everyone to understand. Women can and should like other women. She writes,
So here's to putting an end to all those fake stories of on set jealousy, betrayal, made-up-friendships lost & women hating women. Because at the end of the day, that's what this is about: teaching girls that you have to hate other girls only breeds a generation of women who believe you have to hate other women.
Dobrev and Reed getting along sets a great example for anyone who thinks that women are just plain catty and will never be able to get along. Like Reed says, "And finally, let's use this as an example of how important it is to stop this trend of writing horrible headlines about women, painting us as bitter, angry, insecure, heartbroken, childless, feuding, backstabbing monsters because whether we want to admit it or not, it changes the way all women view themselves."
Clearly, Dobrev feels the same way, because she also shared an Instagram of herself with Reed and Somerhalder on Tuesday. Based purely on the photo, they sure look happy and like they're friends.
If that doesn't convince you, then you should take a moment to read Dobrev's caption, which is, "Can't believe how time flies. Farewell dinner with team Somereed! So good catching up with these goofballs. All ❤"
Even Somerhalder spread the love that Reed and Dobrev have for each other and shared the same photo as Reed. According to Somerhalder, Reed and Dobrev "were able to get together for their first real dinner." He believes there is too much hate already in the world, so why add to that? Plus, he wants to end TVD on a good note. He wrote, "Let's finish this series with respect and kindness and continue that in our lives. I think it's time. What do think?"
There you have it. Women can be friends, should be friends, and should never allow society to tell them otherwise. If for some reason you forget that, please direct your attention to Reed's post.