Fantasy Author N.K. Jemisin Just Shattered The Glass Ceiling Twice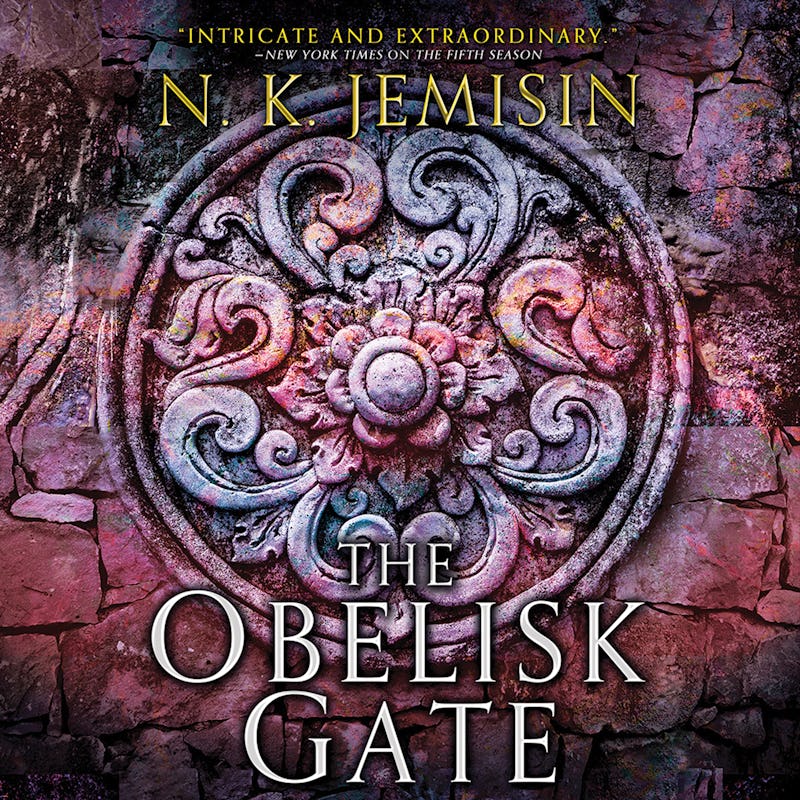 On Friday, the Hugo Awards honored some truly fantastic science-fiction writing, but one author had reason to be extra proud. N.K. Jemisin made Hugo Awards history with The Obelisk Gate, which won her the Hugo Award for Best Novel for the second year running. Jemisin took home her first Best Novel Hugo last year, for her 2015 book, The Fifth Season. Her latest win makes Jemisin the first author to win back-to-back Best Novel Hugo Awards in 25 years.
The Fifth Season and The Obelisk Gate are the first two installments in Jemisin's Broken Earth Trilogy. The series centers on Essun, a middle-aged woman living in a chaotic world called the Stillness, where "fifth seasons" come with earthquakes, choking ash, and poison clouds that last for hundreds of years. Essun is an orogene, a person who can control the seismic activity that plagues the Stillness. Orogenes are essential to humanity's survival, but are also freely killed by those who believe them to be less than human.
As a fifth season begins in the series' first installment, Essun discovers that her youngest child has used orogeny in front of his father, Jija, who beat the boy to death for the offense. After realizing that their daughter is also an orogene, Jija kidnapped her, and hauled her across the continent toward a place where, he has heard, orogenes may be stripped of their abilities and made "normal." Grieving and enraged, Essun sets out on a cross-country trek to rescue her only living child.
The Broken Earth Trilogy by N.K. Jemisin, $32, Amazon | The Fifth Season by N.K. Jemisin, $10, Amazon | The Obelisk Gate by N.K. Jemisin, $9, Amazon | The Stone Sky by N.K. Jemisin, $9, Amazon
The Broken Earth Trilogy wraps up with The Stone Sky on Aug. 15, so you shouldn't be surprised to see Jemisin sweeping the Hugos for the third year in a row in 2018. She's currently at work on three new novels, announced earlier this year, the first of which "is a contemporary fantasy dealing with themes of race and power in New York City."
Not only is Jemisin the first black author to win the Hugo Award for Best Novel, but she's also the first writer in 25 years to take home the top Hugo two years in a row. The last time that happened was in 1991 and 1992, when Lois McMaster Bujold won for two installments of her Vorkosigan Saga — The Vor Game and Barrayar — which, incidentally, won this year's Hugo Award for Best Series.
Truth be told, the 2017 Hugo Awards were all about women. Eight of the 10 awards went to women writers, with men only recognized in the Best Dramatic Presentation categories, and the shortlists were wonderfully diverse. The other book-related Hugo Award winners were:
Every Heart a Doorway by Seanan McGuire (Best Novella)
The Tomato Thief by Ursula Vernon (Best Novelette)
"Seasons of Glass and Iron" by Amal El-Mohtar (Best Short Story)
Words Are My Matter: Writings About Life and Books, 2000-2016 by Ursula K. Le Guin (Best Related Work)
Monstress, Vol. 1: Awakening by Marjorie Liu and Sana Takeda (Best Graphic Story)
The Vorkosigan Saga by Lois McMaster Bujold (Best Series)
Ada Palmer, author of Too Like the Lightning (Best New Writer)
For more on this historic Hugo Awards year, check out Tor's announcement of the winners.