The Female Warriors From 'Black Panther' Are Getting Their Own Comic Series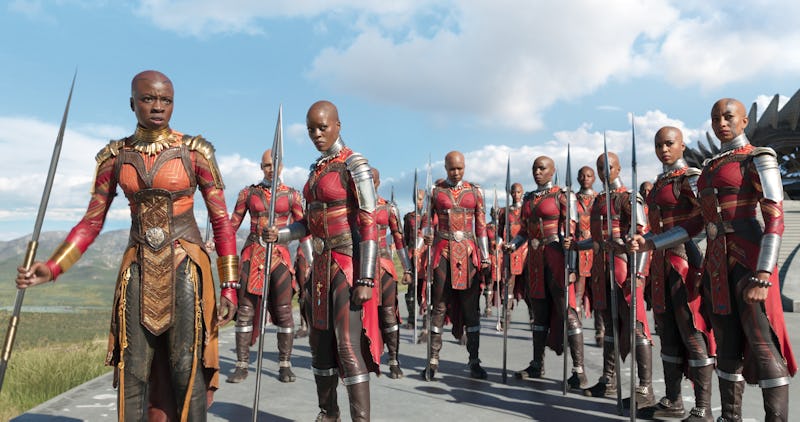 ©Marvel Studios 2018
Wakanda's elite female warriors are getting their own comic book series. Binti author Nnedi Okorafor is writing a Black Panther spin-off, Wakanda Forever, which features the Dora Milaje — T'Challa's personal bodyguards — in a starring role. Wakanda Forever: The Amazing Spider-Man is the first installment of Okorafor's three-part, limited series. The comic will hit store shelves in June.
Nnedi Okorafor's Afrofuturist fiction makes her the perfect author to write a Black Panther comic, and Wakanda Forever: The Amazing Spider-Man won't be her first dabbling with T'Challa's world. She made her Marvel Comics debut with Black Panther: Long Live the King, a six-issue series that first appeared in December 2017 and wrapped up in February 2018.
The Nigerian-American author of Akata Witch and Who Fears Death has won and been nominated for many coveted prizes in science fiction and fantasy, including the Andre Norton, Hugo, James Tiptree Jr., Locus, Nebula, and World Fantasy Awards. Okorafor's 2005 novel, Zahrah the Windseeker, won both the Wole Soyinka Prize for Literature in Africa and the Black Excellence Award for Outstanding Achievement in Literature. You can check out her TED Talk on Afrofuturism, recorded at the TEDGlobal conference in August 2017, below.
Wakanda Forever: The Amazing Spider-Man will follow Okoye, Ayo, and Aneka to New York City, where they have been sent "to investigate a threat to national security. In the process, they connect with Peter Parker, according to Vogue. Okoye and Ayo made their big-screen debuts in Black Panther, where they were portrayed by Danai Gurira and Florence Kasumba, respectively. Aneka did not appear in the Black Panther film, but featured prominently in Roxane Gay's spin-off comic, World of Wakanda, in which she and Ayo embarked on a romantic relationship. Vanity Fair reported in April 2017 that a similar storyline, in which Okoye and Ayo were shown to be romantic partners, was ultimately cut from Black Panther.
Seeing more of the Dora Milaje in any media is a fantastic step forward, particularly when — as in World of Wakanda and Wakanda Forever — we get to see their adventures outside of their employment as T'Challa's personal bodyguards. Writing for Vox, Jamie Broadnax says that "[s]eeing big-screen versions of Nakia, Okoye, Shuri, Queen Ramonda, and all the women of the Dora Milaje was something that I, a black female comic book geek, never expected to see in my lifetime. I've read, researched, interviewed, and written about black characters in comics over the years; I'm deeply invested in comic book fandom, but the comic book industry rarely seemed invested in me." Now, hopefully, Marvel Comics may have taken note of the demand for stories that center black women and other women of color.
Wakanda Forever: The Amazing Spider-Man will be available at a comic book store near you in June. Look for Wakanda Forever: X-Men in July, and Wakanda Forever: Avengers in August.