OMG, Noel Kahn From 'Pretty Little Liars' Is In The New Fifty Shades Movie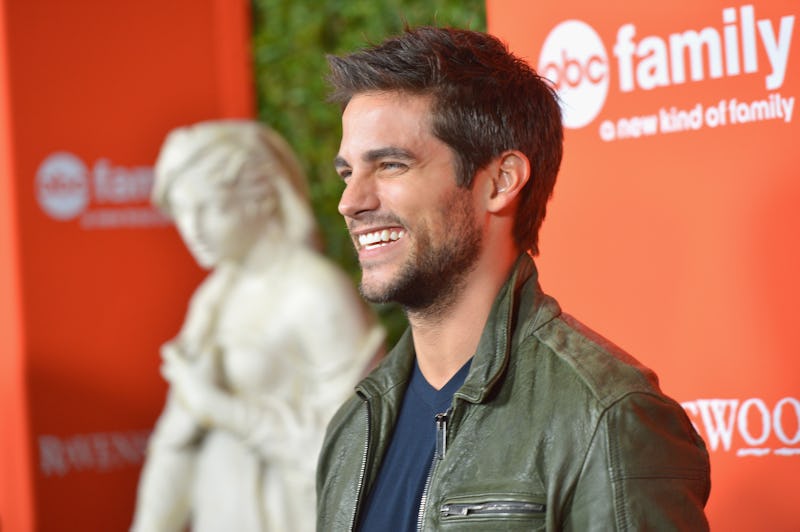 Alberto E. Rodriguez/Getty Images Entertainment/Getty Images
As if Fifty Shades Freed wasn't sexy enough already, there's a major bonus for Pretty Little Liars fans included. Adding some additional eye candy to the new movie, PLL's Noel Kahn, aka Brant Daugherty, makes his 50 Shades screen debut just as the film series comes to a close. The 28 year-old actor plays Luke Sawyer, a member of Christian Grey's personal security team assigned to watch over Christian's now-wife Anastasia Steele, stalked by her vengeful former boss.
Fans of the franchise can complain about the film's lack of accuracy, as bodyguard Sawyer actually made his first appearance in the second book, Fifty Shades Darker, rather than in Freed. Sawyer was assigned to keep an eye on Ana in the book after one of Christian's former submissives began stalking her, and continued watching over her in Fifty Shades Freed. According to the novel, Sawyer's style of guarding made Ana feel on edge, though I'm sure most of us would too with a dude constantly hanging out just a couple feet away from us.
Daugherty seems to be happily surprised to find his characer popping into the series. In an interview with EW, the actor spoke about walking around Christian Grey's apartment in awe, sharing that he thought, "this set costs more than my house!"
PLL fans will be just as happy as Daugherty to see him in the new movie. Many of us are still mourning the show, which ended in June 2017. Though a series spin-off series got the green light in September 2017, Pretty Little Liars: Perfectionists obviously won't be bringing back Kahn (I'd make a joke about his character getting axed from the pilot but...). So what's Daugherty been up to in the meantime? Most recently, he's been making appearances at Pretty Little Liars fan conventions all across Europe. His devotion to fans of the series runs deep, as shown by his Twitter account, which is mostly responses to people's queries and thanks for well-wishes from viewers.
Daugherty has another movie in the works also slated for a 2018 release, Save This Dance, where he plays a character called Dean Rogers, according to IMDB. When a former dance sensation returns to her small town after her mother falls ill, she realizes the family dance studio is in serious financial trouble. She runs into her former high school sweetheart Dean (Daugherty), who's eager to help, and the two enter a dance competition hoping to raise enough money to save the studio and rekindle old vibes.
Daugherty's had plenty of practice with formal dancing already; the actor appeared on Season 17 of Dancing With The Stars. He was the first Pretty Little Liars cast member to do so, followed by Janel Parrish, who placed third in Season 19, and Sasha Pieterse, who joined Season 25. Daugherty held his own, successfully performing the cha-cha, rhumba, salsa, tango, and jive, but when it came to pure ballroom, he unfortunately still needed some work. He and partner Peta Murgatroyd were eliminated in Week 8's competition, by no less than guest judge Cher, after a poorly received foxtrot performed to "The Shoop Shoop Song (It's in His Kiss)."
Whether he's upgraded his skills for Save This Dance remains to be seen; the actor hasn't posted or talked about his latest round of dancing on social media or in person yet. But he did give a final Fifty Shades Freed tease on Twitter. Answering a fan's question as to what his favorite scene is, Daugherty gave this enigmatic response:
That's a lot of eyeball emoji right there. In an interview with EW, Daugherty said that he wonders how his mom will react to it, saying she'd warned him, "Brant, when you get to Hollywood, don't take your clothes off!"
See if you can pick out which scene Daugherty's talking about when Fifty Shades Freed hits theaters.