Nordstrom's Black Friday Sale Includes J. Crew Coats For $50 & Designer Jewelry For $40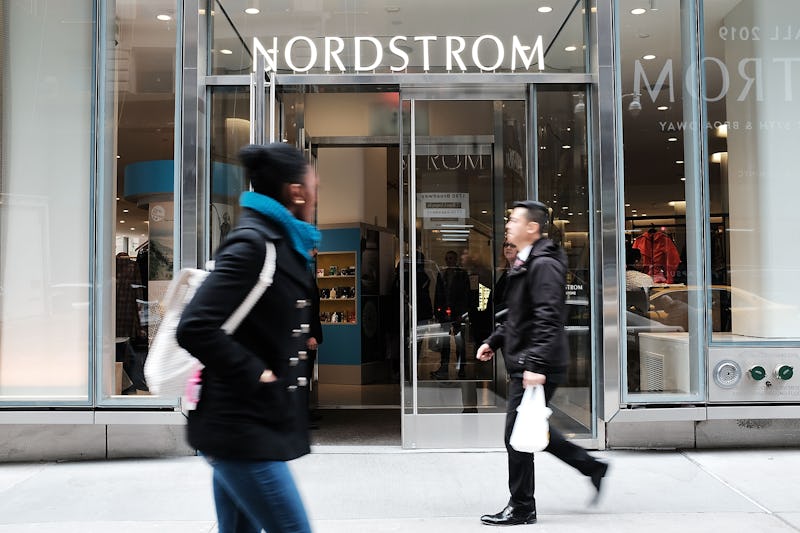 Spencer Platt/Getty Images News/Getty Images
The thing about holiday sales is that it's the one time of year that you can afford to splurge a little on the goodies on the higher-end of the fashion spectrum. Between buying toys for little ones and stuffing stockings, Nordstrom's Black Friday and Cyber Monday 2018 sale (offers regular sizes 00-20; petite sizes 00P-16P; plus sizes 14W-24W) is the time for some "you" shopping. And let's be real, it's been a long year, so treat yourself.
Whether it's an Eileen Fisher cardigan or a Free People dress with a lot of flow, there's no doubt the cost could easily cut into your rent fund. But in fashion, every now and then, there's room to serve yourself a luxe look. Not everyone is hip to purchasing designer apparel, but for the fashionistas who go hard in their gettup game are willing to make the "sacrifice."
The Nordstrom sale is surely something to celebrate, though. Per the revelations of a representative for the brand, select designer sale items are going to be up to 60% off items in-store Wednesday, Nov. 21 through Monday, Nov. 26. on Black Friday and then. So, think of it as a sale on top of sale.
Don't fret yet online shoppers, because there's also going to a sale on select sale items up to 60% off at 10:00 PM PST Tuesday, Nov. 20 through Monday Nov. 26 at 11:59 PM PST.
Just take a peek at the best online sale picks and admit you're excited.
J.CREW Olga Boiled Wool Topcoat
The real question is who's not looking for a top coat this season. If you're looking to be stylish, but festive this J.Crew will be knocked down a few prices from $140 to $56. Enough said.
Leith High Waist Flare Pants
The fact that a pair of flare pants from Nordstrom can cost under $30 is kind of mind-blowing, but then again, it's the most wonderful time of the year.
Dress The Population Valerie Halter Dress
For get togethers that you really want to stunt for often require something a little more extra, which usually costs extra. However, Nordstrom pulls up to make this Dress The Population gown under $100 for the show offs.
Marc Fisher Devin Pointy Toe Bootie
Fall fashion lovers will be pleased to know there are plenty of cool booties to choose from this season. One being this ankle bootie from Mark Fisher that'd be under $50 from it's initial $120 price tag.
Hayley Leather Satchel Kate Spade New York
A cute bag is almost never not needed in your closet, so why not swipe designer and dangle this Kate Spade New York satchel on your shoulder this season.
Tory Burch Ellsworth Leather Strap Watch
You never think you need a watch...until you do. Enter this blush Tory Burch watch that'll be knocked down from $117 to $47.
Wayf Perry Faux Fur Trim Coat
One big reason fashionistas dig fall is strictly for a statement coat. As soon as faux fur appeared on a rack, like this Wayf coat, they wore it in 60 degree weather to speak autumnal vibes into existence.
Chriselle Lim Bianca Piped Houndstooth Blazer
Smart Black Friday shoppers will note that getting deals on exclusive items is the magic of this Nordstrom sale. This Nordstrom exclusive Chriselle Lim Houndstooth Blazer may be a piece to consider since you'll literally only have to shell out $30 after the 60% discount.
Tis the season of skipping long lines and wrapping gifts, and the discounts are so mind-blowing, you don't know where to start. Hopefully, with this year's shopping trip, you've made yourself a list and checked it twice.