North West Is Obsessed With This DCOM That Stars Her Almost "Auntie," & SAME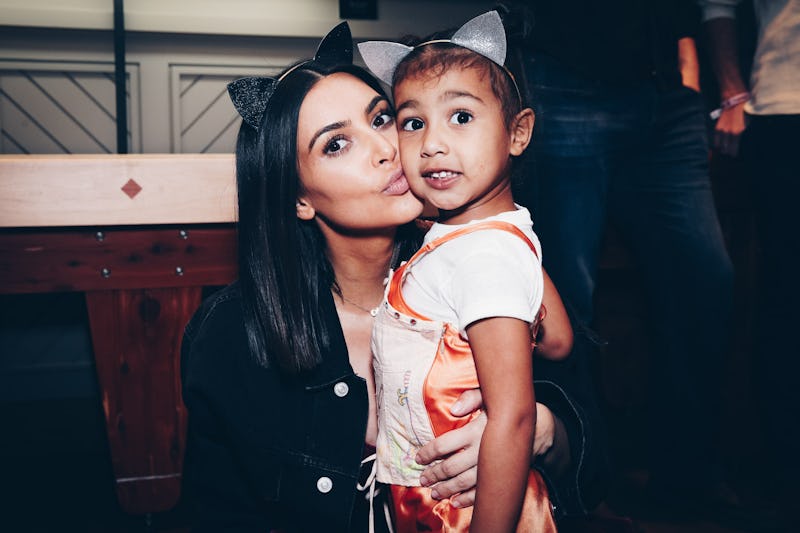 Handout/Getty Images Entertainment/Getty Images
Like so many little kids, Kim Kardashian West's daughter is growing up on Disney Channel Original Movies. But, it's her DCOM of choice that Kim finds hilarious, so much so that she had to share it with her Instagram followers. Turns out, North West is obsessed with The Cheetah Girls starring Adrienne Bailon, who was was engaged to Kardashian's brother Rob. Without even knowing it, North is keeping up with the Kardashians with her latest TV obsession.
On Monday night, Kardashian's Instagram Stories featured a scene from The Cheetah Girls. "North's obsession," Kardashian captioned the video. If you listen close it sounds like you can hear North repeating lines from the movie; perhaps, practicing to make her own version of the film? Yeah, North's definitely obsessed, which is why Kardashian's not sure if she should reveal the family connection to the movie. You know, how she and Bailon could have been real-life Cheetah sisters, or at the very least, Cheetah sisters-in-law.
Kardashian posted a clip of Bailon dancing in the movie, writing, "Should I break the news that to North that this could have been her auntie?!?!?!" Bailon and Rob Kardashian started dating in 2007, breaking up two years later amidst cheating rumors. In 2016, on her talk show The Real, Bailon defended herself against the rumors that she cheated on Rob after he made mention of an ex who "was cheating and having sex with so many different people" on his reality show Rob & Chyna. "I absolutely never cheated on Rob," Bailon said, noting it was not her he's speaking of. "I'm like, 'Uh, I can't speak for anybody else, but I can assure [you] that was not me.'"
Bailon and Rob have had their ups and downs since they broke up. Both have since had tattoos removed; he covered up a tattoo of Bailon's name with a life-sized Barbie doll tattoo, and she removed Rob's full name from her rear end.
After having public spats with Rob, Bailon has made nice with the Kardashian family. Last year, the singer and talk show host, who married gospel singer Israel Houghton in 2016, admitted that Kourtney Kardashian helped her get through the Rob breakup. Hopefully, if Kim K tells North about her Cheetah Girls connection, she won't have to rehash all of this.
It's clear, though, that Bailon, who let's admit was always the coolest Cheetah Girl, is flattered by North's choice in television. After seeing the videos that Kardashian shared, Bailon poked fun at her Cheetah Girls look. "Just woke up to this! LOL," she wrote on her own Instagram story. "This hairstyle and this outfit," adding three laughing hysterical emoji. As for Kardashian telling her daughter about Bailon's dating history, the Cheetah Girl wrote, "HYSTERICAL." To show she hasn't lost her love for the Disney Channel movie she even posted a "CHEETAHLICIOUS" for old time's sake.
What might have been the best reveal thanks to North's walk down memory lane, though, is Kardashian remembering a little movie that she made with The Cheetah Girls. "So North requested we watch The Cheetah Girls movies tonight! And I found something really special," she tweeted. "When they were on tour we made an epic horror movie called Meow and I found it on YouTube." Honestly, it's worth a viewing, especially, since it's probably the only way you're going to see the Cheetah Girls back together.
It's certainly been awhile since Bailon donned her cheetah-print gear — the last sequel, The Cheetah Girls: One World came out in 2008. And the last time she reunited with Raven-Symoné was in 2015, with no planned reunions in sight. But, North West isn't the only one making sure fans never forget the Cheetah Girls. Back in March, Cardi B sang the Cheetah Girls' "Cinderella" on Instagram to show off her fandom.
For now, it seems that North will have to enjoy the original Cheetah Girls, but maybe Kim K and North can make a Cheetah Girls movie of her own. Who knows Bailon might even agree to a cameo.