Here's How This Month's Full Moon Will Mess With Thanksgiving Weekend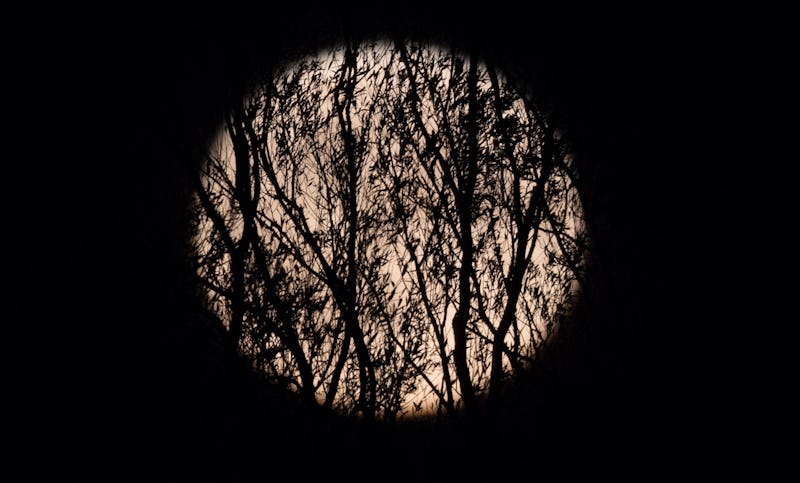 Matt Cardy/Getty Images News/Getty Images
November is kind of like the intense astrological energy of the entire summer packed into 30 days. There's already been a super extra new moon, Jupiter has exited Scorpio and started its year-long journey through Sagittarius, and Mercury retrograde is making things bajiggity AF. Not to be outdone, the November 2018 full moon astrology predictions bring promises of flaky and potentially combative energy that will leave you feeling unmoored, especially if you're planning to shop 'til you drop on Black Friday.
The Nov. 23 full moon in Gemini (just after midnight on Black Friday) is twinning at its best, or worst depending on how you want to look at it. Because the last Mercury retrograde of 2018 (Nov. 16 through Dec. 6) is also an exercise in duality, this full moon is going to double up on that polarizing energy. You might suddenly be compelled to try (or buy) all of the things, but flitting from one activity to the next without any conscious understanding of why you're doing so could leave you feeling lost and broke.
"As the ultimate social butterfly, Gemini can find common ground with just about anyone," astrologer Rachel Celeste Hansen explained on Astrology.com. "But every sign has its challenges, and Gemini's versatility can come at a price. With so many opportunities to socialize at this full moon [likely at a Thanksgiving dinner], it can be easy to scatter our energies and lose touch with our own center." What else can you expect from the second-to-last full moon of the year? Here are the November 2018 full moon astrology predictions you need to know.
It Will Feel Like Walking A Tightrope
If you remember nothing else during the November 2018 full moon, keep in mind that balance is everything. Going too far to one side of anything can lead to chaos. "There is a tendency for scams and con jobs to surge in frequency. Gambling, and other risky ventures can lead to downfall. Dishonesty already permeates the current social discourse," Astrologer Belinda C. Dunn noted on the website Crystal Visions. "As these tendencies are illuminated, the call for truth and justice can only increase, but it will be a mixed bag of tricks, and in my estimation, this is not the time to take unnecessary risks."
Does a Black Friday deal seem way too good to be true? It probably is. What's more, if you find yourself being single-minded to a fault during the full moon, take a beat and identify where you can counterbalance your behavior to keep the proverbial seesaw even. This is especially on Black Friday. Reach deep inside your soul for patience and understanding when others aren't being their best selves.
You'll Need To Actively Identify Opportunities
The duality of the November 2018 full moon in Gemini provides equal chance for both opportunities and pitfalls. However, if you're too focused on the challenges, you could miss out on some gems, like bananas Black Friday deals. This is where that whole balance thing comes into play.
"A lot of the opportunities that may come to you at this full moon will be related to the events that occurred in your life around January 2015, when Saturn first entered the sign of Sagittarius," Brittany Binowski wrote on Horoscope.com. "Those events could have brought some major restriction and focus to your life, making it difficult to sustain and build on your passions. The full moon in Gemini will trigger that time and the events that have occurred since then, transforming them into something that you can feel more optimistic about."
Thanksgiving Decorum Can Devolve Quickly
Thanksgiving, also known as the day when it's easiest to push your relatives' buttons, is going get a little extra this year because it ends just 39 minutes before the November 2018 full moon. This means that it won't take much to escalate harmless ribbing into a reenactment of the turkey-on-the head scene from the Thanksgiving movie Home for the Holidays. According to the Astro Twins, this full moon fuels "our urge to get things off our chests even more. Just don't leave diplomacy and tact at the door!"
Chances are that you won't be able to avoid Thanksgiving skirmishes entirely, but pick your battles before you take the bait. A less emotionally intelligent dinner guest could try to provoke you on purpose, and any intentional confrontation means there is a pretty slim chance of getting the other person to see your point of view. While dinner debate is generally healthy, it's also important to know the difference between a lost cause and a teachable moment.
If you find yourself getting hella frustrated, remember what Holly Hunter's character Claudia says in Home for the Holidays, "Nobody means what they say on Thanksgiving ... That's what the day's supposed to be all about, right? Torture." If you trust your gut and walk the line, you should survive the Thanksgiving weekend full moon like a boss who just scored a killer Black Friday deal.