Attention, Pop Music Fans: O-Town Is Back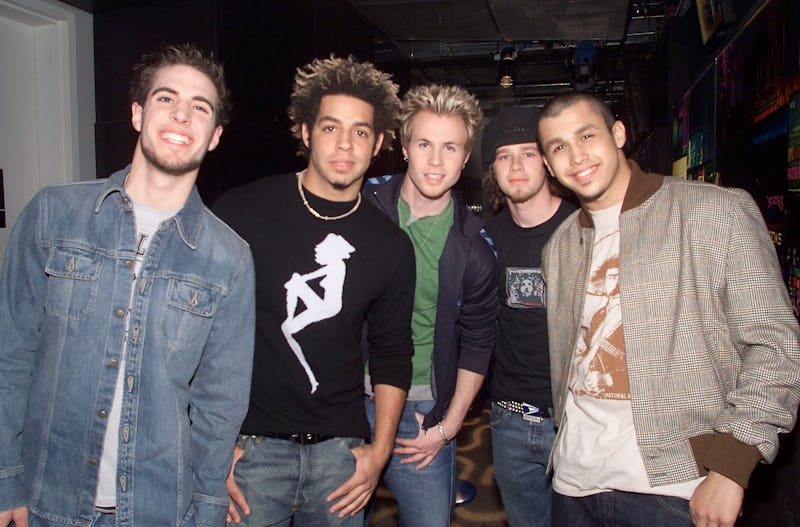 Scott Gries/Getty Images Entertainment/Getty Images
Get ready to party like it's 2000: O-Town is releasing a new album, according to a new press release. You may remember O-Town, the early '00s band who got their start on ABC's Making the Band and then proceeded to steal your pre-teen heart with "All or Nothing." The ubiquitous anthem to giving love your all was a staple at school dances long after the band disbanded in 2003, and if this amazing news makes you want to queue it up again, then you are definitely not alone.
After all, if it wasn't for their dedicated fans, O-Town would not be on the verge of releasing their big comeback album. The band's fourth album (and first one not backed by a studio) exists thanks to a Kickstarter campaign. That's right, when the band's new jams drop in April, it will be because their fans funded the effort. And yes, the guys are super grateful they still have such a passionate following all these years later.
"I had high hopes, but nearly zero foresight when it came to how the Kickstarter would go," band member Jacob Underwood said in a press release. "Reaching the goal in only seven hours was absolutely unexpected and enormously encouraging. It told me one thing: That we have fans out there that want us to continue to make music as OTOWN, and that's exactly what we're going to do. Our fans truly bless us."
All of O-Town's original members are back except for Ashley Parker Angel. Parker didn't participate in the band's 2013 reunion either, but Underwood, Trevor Penick, Dan Miller, and Erik-Michael Estrada seem to be doing just fine as a quartet. For fans, having four out of five of the guys back is sure to be more than enough reason to download their latest album.
The band is planning to break the album into two EPs, with the first song dropping on March 14. That means fans do not have long to wait to see if their Kickstarter contributions led to the next "All or Nothing." Even though O-Town never quite reached Backstreet Boys or NSYNC levels of popularity, seeing another one of the '00s addictive pop boy bands return with new music is exciting.
Go ahead and dig out your dusty CDs now (or, you know, hit up Spotify) because your long dormant O-Town feels are about to make a comeback even bigger than the band's. Embrace the nostalgia — when it comes to band devotion, '00s music fans still give it all or nothing at all.