Obama Responds To The "Senseless" Las Vegas Shooting With A Crucial Message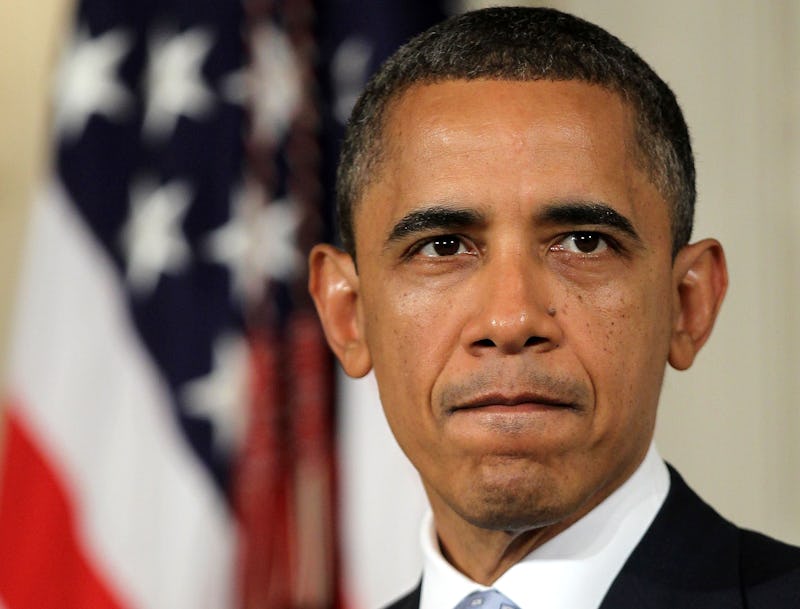 Alex Wong/Getty Images News/Getty Images
On Monday morning, former President Barack Obama quickly responded to the Las Vegas shooting that left dozens dead and hundreds injured at a country music festival. While he sent his thoughts and prayers to the victims, survivors, and loved ones affected by the devastating shooting, his tweet made clear his frustration that a tragedy like this has happened yet again.
"Michelle & I are praying for the victims in Las Vegas," he wrote on Twitter. "Our thoughts are with their families & everyone enduring another senseless tragedy."
This incident, which took place on the Las Vegas strip outside of the Mandalay Bay resort, is now the deadliest mass shooting in United States' history, meaning it takes the place of the tragedy at Pulse nightclub in Orlando, Florida, where 49 people were killed in June of 2016.
Obama was president during the shooting at Pulse, a gay club that was celebrating Latin culture the night of the shooting. As president, he also led the nation through the Fort Hood shooting in 2009, the Sandy Hook elementary school shooting in 2012, and the San Bernardino shooting in 2015. It's that point Obama makes at the end of his tweet — "enduring another senseless tragedy" — that lays bare the former president's anger that yet another mass shooting has taken place.
After the Pulse shooting in 2016, Obama delivered an at-times emotional and at-times scathing speech that united Americans "in grief, in outrage, and in resolve to defend our people" and also demanded that we consider what the lax gun control laws are doing to our country.
This massacre is therefore a further reminder of how easy it is for someone to get their hands on a weapon that lets them shoot people in a school, or in a house of worship, or a movie theater, or in a nightclub. And we have to decide if that's the kind of country we want to be. And to actively do nothing is a decision as well.
The speech, in which he also issued a moving call for Americans to stand together in this time of need, still rings true today. "In the face of hate and violence, we will love one another," Obama said in 2016. "We will not give in to fear or turn against each other. Instead, we will stand united, as Americans, to protect our people, and defend our nation, and to take action against those who threaten us."
Country singer Jason Aldean was on stage for the final night of the Route 91 Harvest Festival when shots rang out Sunday night. As of Monday morning, 50 people had been confirmed dead, and 406 people had reportedly been injured and taken to the hospital, Las Vegas police said. According to survivors who spoke to The New York Times, the gunfire seemed to go on relentlessly.
President Trump has also tweeted about the tragedy in Las Vegas, writing, "My warmest condolences and sympathies to the victims and families of the terrible Las Vegas shooting. God bless you!"