Offset Had The Best Possible Reaction To Cardi B's Grammy Performance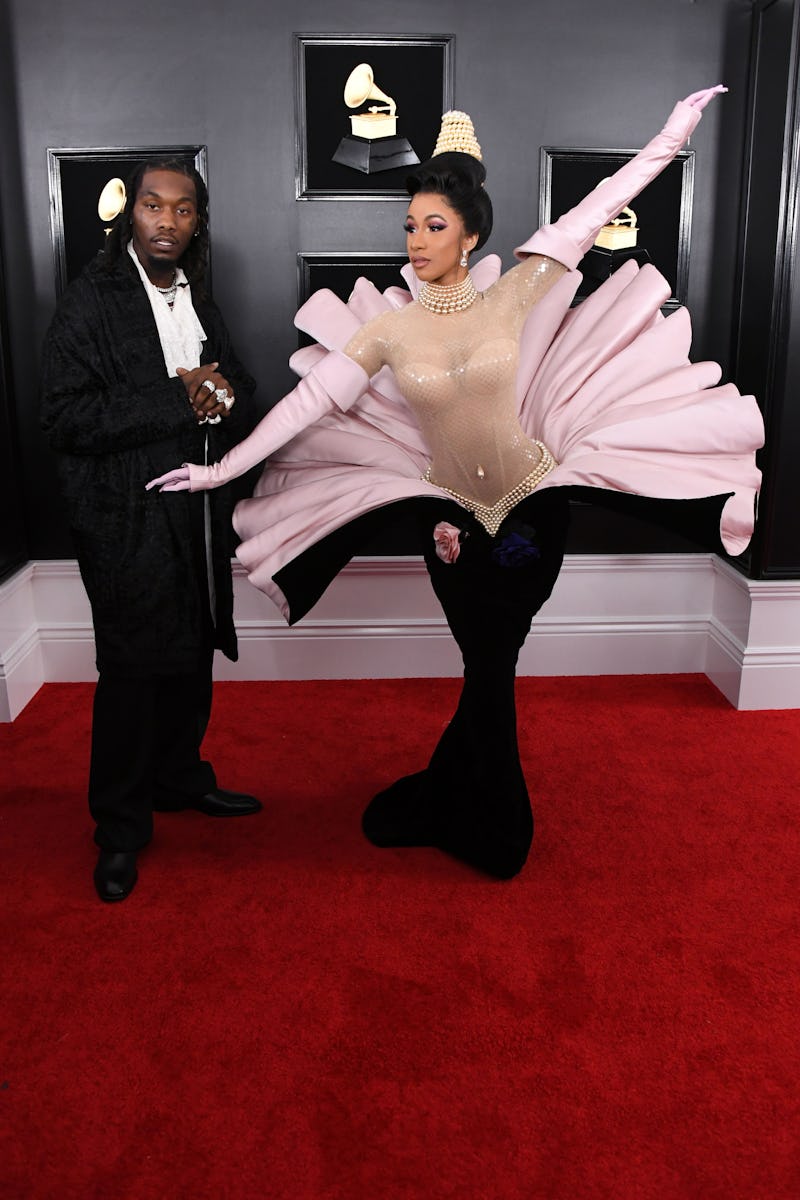 Jon Kopaloff/Getty Images Entertainment/Getty Images
Cardi B and Offset's relationship status has been a little complicated in the past months, for sure. But Offset's reaction to Cardi B's 2019 Grammy performance shows that for the time being — they're good. And, like so many couples out there, have their own ways of supporting each other.
Cardi B took the stage to perform her latest single "Money," complete with a badass piano player playing live, along with a couple of dozen of dancers on a stage that was basically an enormous, purple tiered couch. It was fun and sexy — just like Cardi herself. The crowd was feeling it, but no one more than the Migos rapper from the crowd. Some savvy camera worker had the foresight to pan over to him mid-performance and caught him dancing along with his tongue out. At the end of the whole thing, the crew panned over again to catch him clapping for Cardi with a huge, goofy grin on his face.
It was not the only blatant display of public affection between the two artists of the night. Earlier on the red carpet, the two touched tongues for the cameras. Yes, you read that right. They both opened their mouths and stuck out their tongues until they touched. As one does.
It's the kind of thing you can't really unsee and simultaneously can't stop watching, right? I know I'm not alone here, because when Offset stuck his tongue out during Cardi's performance, Twitter lit up with the requisite jokes and snark.
People Couldn't Take His Reaction
It was nice to see them show up together given some of their recent interactions in public. The last time most fans saw them in the same room together was when Offset interrupted her on stage during a December performance at the Rolling Loud Festival in Los Angeles with flowers and a cake that read, "Take Me Back." They had reportedly split earlier that month due to his cheating on her, according to People. Before that, the 26-year-old "Bodak Yellow" rapper told W in October, "Every single day there's rumors about me and my dude. And it almost drives me crazy, because I start to believe them. I don't have no proof. I don't have receipts. But I just got to know my man."
After Offset's troublesome public plea for her to take him back and some social media posts addressing the situation, it looks like the two have reunited for the time being. Not that it's anyone's business, by the way, what they decide to do with their relationship. The two are of course parents to little Kulture, who was born in July, so they're in each others' lives no matter what happens.
But as of Sunday's Grammys, it looks like they have made some sort of amends and are doing well. When you're literally wagging your tongues at each other — both up close and from afar! — it usually means you're sparking joy for each other. Hopefully that feeling will last for as long as they want it to, though judging by Offset's face while Cardi B performed, sparks aren't an issue these days.