OkCupid Is Now Making You Use Your Real Name — But These Dating Sites Still Let You Be Anonymous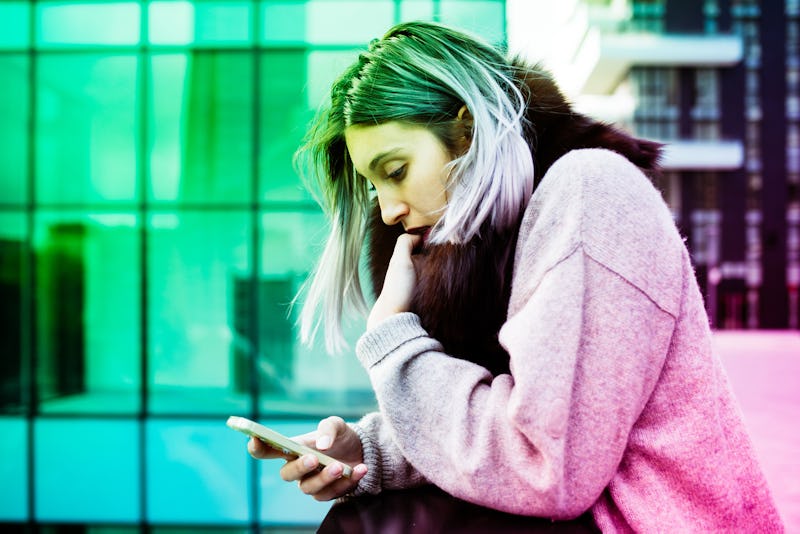 Fotolia
With all the dating sites and apps out there, it seems like there are changes being made to them daily. When you think about it, it makes sense, since there's a lot of competition out there and endless dating platforms for people to choose from. The latest? OkCupid is getting rid of user names and now making you use your real name, which could be a blessing or a curse. And by "name," they'll just require a first name.
Personally, I think it's NBD, as many other popular dating platforms have you not only use your real name, but also vet you via your Facebook profile. In OKC's case, there's no linking-to-Facebook required, and so it's implied you can even use a pseudonym — as long as that pseudonym is at least two letters long and includes no numbers, symbols, or emojis, an OKC spokesperson told The Verge. "For instance, if your legal name is Elizabeth but everyone calls you Liz or Ellie, we're not going to not allow this," the spokesperson said. Phew! Simple enough.
"We understand that, for some, usernames are a great way to show off who you are," stated OKC's blog post announcing the username news. "But for most, they are a pain to come up with and a pain to remember (or, in cases like unicorn__jizz, difficult to forget). And we hope that you can instead use your profile to give people an insight into your interests, rather than a made-up monicker."
I know I've certainly seen my share of creative, straightforward, silly, and disgusting usernames on various dating platforms out there, so addressing someone by their actual name — or even a pseudonym — sounds like a win. However, some users may prefer to use behind a pseudonym, so to speak. Whether they want to be more private and/or not want to be Google-able to online strangers, there are definitely reasons some OKC users may not embrace the change.
However, the OKC spokesperson told The Verge another great reason for it. "Normally when people introduce themselves via messaging they say for example, 'hi, i'm Sean,' instead of 'hi, I'm sadclown4eva,'" the spokesperson said. 'Also we are only asking people for first names only, not their last names, so this is an added level of protection." True — especially when you think about how OKC is not asking for Facebook verification (at least not yet).
Getting Rid Of Usernames May Mean Less Vulgarity
In their blog post, OKC also posted some common words in current usernames, by the number of usernames with words like the below. If you thought you were the only one attracting a lot of users with "horny" in their name, you weren't alone.
# of usernames with "cats" or "cat" = 888,124
# of usernames with "dog" = 138,246
# of usernames with "horny" = 16,411
# of usernames with "sexy" = 221,229
# of usernames with "lover" = 157,553
Eliminating words like these — unless your name truly is "Cat" — can definitely be a benefit.
If you're on OKC and wondering when you'll have to change your username, the answer is SOON. A test group of OKC members have already had to change their names, and all users will have to by the end of 2017.
However, if you prefer to online date anonymously, by using sites and apps where you can have a username to communicate with fellow online daters, here are some dating sites and apps that still allow you to remain anonymous.