OkCupid Will Display Your Pronouns In Your Profile With This New Tool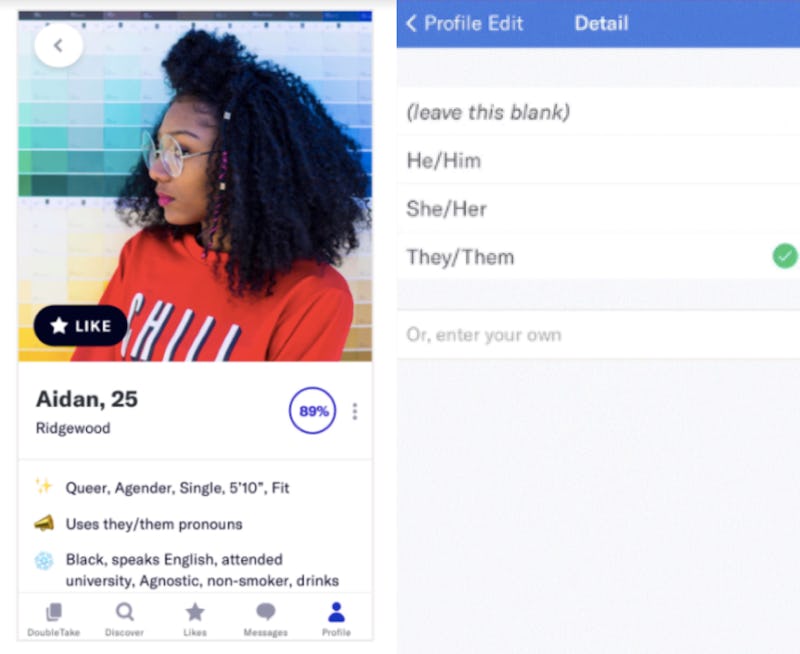 Courtesy of OkCupid
In a win for inclusivity, dating app OkCupid now lets all users list their pronouns on their profile. Released yesterday, the new feature marks OkCupid as the first mainstream dating app to offer users the option of displaying their pronouns. "We think our pronoun feature is a really important step for our LGBTQIA communities," an OkCupid spokesperson tells Bustle in an email. "The announcement is less than 24 hours old and the response has been incredible—both from LGBTQIA communities and others."
Users can display their pronouns alongside other notable personal attributes, letting them "connect and find love as their authentic selves," the company wrote in a statement to Bustle. For trans and gender non-conforming individuals, this is an especially helpful feature. In 2014, the app made similar steps to promote inclusivity by expanding to include 13 sexual orientation and 22 gender options.
"We're proud that OkCupid is the first leading dating app to empower daters to prominently share their pronouns," Melissa Hobley, CMO of OkCupid, said in the statement. "The most beautiful, meaningful and rewarding connections are formed when people are able to identify and are celebrated as their authentic selves."
The update comes almost a year after the queer dating app Grindr launched its own options for pronouns, the Huffington Post reports. In 2016, popular dating app Tinder released 37 new gender-identity options, and recently celebrated making more than 25 million matches worldwide since the release of its "More Genders" feature.
OkCupid collaborated with GLAAD to ensure the feature appropriately represented and empowered users. The update seems like a natural progression, considering that based on an analysis of nearly 20 million OkCupid user profiles between 2016 to 2017, the company discovered that "daters got woke in 2017." What does that entail, exactly? The use of the phrase "woke" in user profiles increased 50 percent in 2017, and there was a surge in usage of political terms and social cause-affiliated words and phrases like "women's rights," OkCupid reported.
Rowan Rosenthal, a nonbinary OkCupid product designer who uses they/them pronouns, designed the new feature. In an interview with Refinery29, Rosenthal expressed how their awkward first date experiences informed the idea for the update, since many people assumed Rosenthal's pronouns. "The waiter would ask what we want to eat and the other person would try to be polite and say something like, 'She'll have this,' and that's the point where I'd be like Oh this is kind of uncomfortable," Rosenthal told Refinery29.
"I thought Why don't we add pronouns to people's profiles?" explained Rosenthal. "Hopefully, in a lot of cases, that would help with situations where you're on a date and you're already anxious."
After successfully pitching the idea to OkCupid, the new feature was born. "One of the main reasons I was drawn to working at OkCupid was because it was one of the few mainstream dating apps that felt more inclusive, and I felt I'd be able to express my own identity fully and openly within the workplace," said Rosenthal in a company statement. "As a gender non-conforming person, I wanted to ensure the product that I work on everyday empowers the LGBTQIA+ community."
Considering that first dates are already awkward enough as it is, the update will hopefully help decrease awkward experiences like Rosenthal's, and ultimately raise the bar for representation on dating apps.