Olive Garden Dropped A Pumpkin Dessert That Combines Cheesecake, Brownie, AND Cookie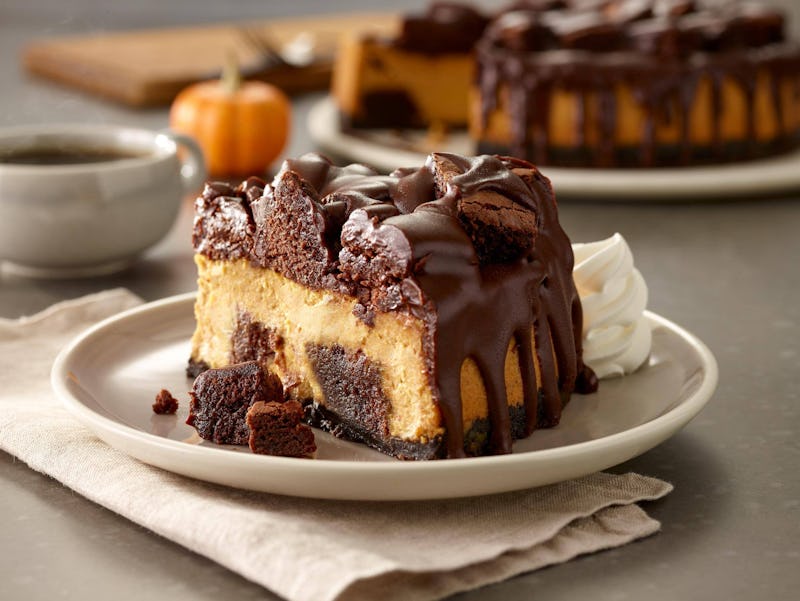 Olive Garden
We have reached mid-September and the Pumpkin Spice Latte has emerged and did not see its shadow, so pumpkin spice season is officially in full swing. That means you'll be seeing a bevy of pumpkin cheesecakes, pumpkin brownies, and pumpkin cookies galore. One thing you decidedly haven't seen yet is one dessert that combines all three; one dessert to rule them all, one dessert to find them, one dessert to bring them all and in the autumnal bliss bind them: enter Olive Garden's Chocolate Chunkin' Pumpkin Cheesecake.
According to Olive Garden, the seasonal menu offering is a "pumpkin cheesecake topped with a layer of decadent brownie bites and drizzled with rich chocolate fudge, all on top of a chocolate cookie crust." Wait, did YOU THINK WE WERE DONE? Buckle up, y'all, because it's also "filled with even more delicious brownie pieces and served with whipped cream".
But shhh — it's kind of a secret. At least, for now. The dessert doesn't officially hit the OG menu until Sept. 24, at which point the I assume the masses will descend. But if you're in the know about the dessert this week leading up to its official launch, you can play the pumpkin spice sleuth you were always born to be, and ask your server for it on the DL starting on Monday, Sept. 17. That is, if you think that your taste buds and the screens of people looking at it on your Instagram Story will be able to handle it.
To people who are truly ~in the know~ about Olive Garden — I'm looking at you, parents who named their firstborn child in honor of the chain — this dessert has been on your radar since July, when Olive Garden issued this deliciously cryptic poll across its social media platforms.
(Twitter informs me that I did, in fact, vote for the eventual winner, so all y'all on team "Brownie Blast" can take a seat.)
So not only does this dessert sound pick-your-jaw-up-from-the-floor delicious, but it's making history: it's the first fan-named item on Olive Garden's menu. Pushing for Chocolate McChocolate Face for the next one, so let's all stay on our toes. To be fair, I'm pretty sure at this point the chain can get away with calling its desserts just about anything it pleases, given the success of the last few cake combos; this is, after all, the place that gave us Cookie Butter Cake, combining speculoos and cake, and this summer's recent S'mores Layer Cake, combining s'mores and tiramisu.
Feel free to revel in the glorious images of Olive Garden cakes of yore with me the way that normal people reminisce on past flames.
If you're feeling really, really brave, Olive Garden has a slew of other delicious dessert menu items available right now, including a Warm Apple Crostata and a Cannoli Trio — but I personally intend on eating myself into the kind of pumpkin frenzy that will require not just a nap, but full-on hibernation. Happy Chocolate Chunkin' Pumpkin Cheesecake eating, y'all.