Olive Garden's New Meatball Pizza Bowl Just Combined Everything Delicious In This World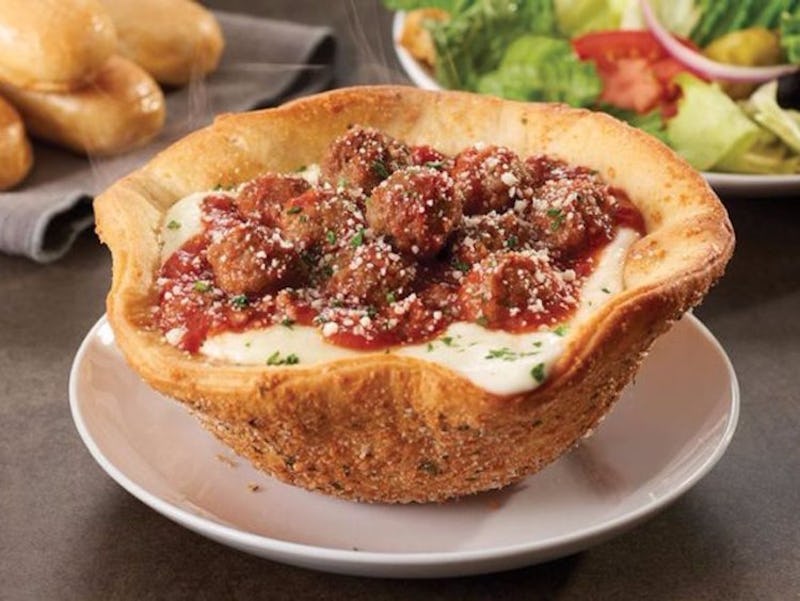 Olive Garden
While we were all arguing over our preferred pizza toppings in 2018, Olive Garden was out living in 3018 — as evidenced by the new Olive Garden Meatball Pizza Bowl, which just made its menu debut. If you have ever looked down at your pizza and worried that it seemed a little too two-dimensional for your sophisticated pizza-eating tastes, than this, my friend, is your ultimate godsend; true to its name, this new creation is quite literally a bowl of pizza. Made with Olive Garden's specialty meat sauce with pan-seared beef and Italian sausage, the dish is nestled in a concave bowl of pizza crust along with what appears to be an infinite amount of cheese. The world as we once knew it is now over; all other things claiming to be bowls or pizzas are officially canceled.
The new menu item was introduced as a part of Olive Garden's Lunch Duos deal, which starts at $6.99 and lets customers select an entrée that comes with either unlimited soup or unlimited salad. The entrées up for grabs also include sandwiches, flatbreads, mini pasta bowls, classic entrées, and something that I was just made aware of called a "Breadstick Sandwich" that might have just rocked my world as hard as the whole "bowl of pizza" thing just did. Before we examine my thesis on that, though, behold: the star of the show.
I'm not crying, I just have an unholy amount of cheese stuck in my eye.
And in case that wasn't enough to get you hyped, Olive Garden released a promotional video for Lunch Duos that I have watched on loop several times this afternoon for reasons.
Have a brief instant replay, because why not.
According to INSIDER, the Meatball Pizza Bowl retails on the Lunch Duos menu for about $8.99 (depending on your region) and will only be available until 3 p.m. Monday through Friday. In other words, it's time to pitch this as a ~team bonding opp~ to your boss, because the odds of anyone consuming the majesty of this pizza bowl within their regularly allotted half hour for lunch are slim-to-none.
And just in case the pizza bowl doesn't float your proverbial boat, let's loop back around to that whole "Breadstick Sandwich" shebang. As it turns out, Olive Garden offers four different varieties of them, all of which are sliced jumbo versions of their iconic breadsticks filled to the gills with deliciousness. Their current offerings include Eggplant Parmigiana, Italian Meatball, Spicy Calabrian Chicken, and Chicken Parmigiana. Because we are all on a rollercoaster that only goes up, they also come with a side of parmesan garlic fries.
Olive Garden, as it turns out, is no stranger to making some outlandish twists to classic Italian fare. Earlier this month, they introduced "Loaded Pasta Chips," a hybrid nachos and pasta dish that was instantly dubbed "Italian nachos" by the internet. Olive Garden describes the dish as "Homemade pasta chips, lightly fried and layered with Italian cheeses and a hearty meat sauce. Topped with cherry peppers and an alfredo drizzle." Although it was promoted specifically for the Super Bowl at the time, never fear — this new hybrid dish will be available until April.
If you think that your obsession with these flashy new menu items make you Olive Garden's biggest fan, though, you might want to step off. In the past year not only did an Olive Garden fan fiction challenge go viral enough to make your fusilli curl, but one bold set of parents legitimately named their daughter after Olive Garden. Talk about a legacy, y'all. Hopefully they'll still be making these daring hybrids for the masses by the time she has the teeth to eat them.