This Actor Beat Benedict Cumberbatch To Win UK's Most Powerful TV Star & TBH, Fair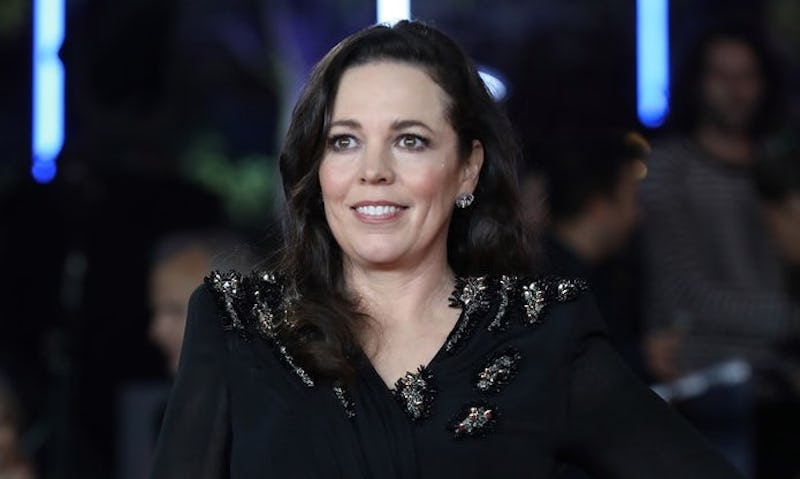 Tim P. Whitby/Getty Images Entertainment/Getty Images
Olivia Colman's trophy cabinet features a Golden Globe, several BAFTAs, multiple British Independent Film Awards, and several Royal Television Society gongs on top. She's starred in Broadchurch, The Night Manager, Peep Show, Fleabag, and more (she's set to appear in The Crown and Les Misérables next). So, it's little wonder, then, that Olivia Colman beat Benedict Cumberbatch to be crowned the Radio Times' most powerful person in British TV.
The publication's ranking attempts to determine the most significant people both behind and in front of the camera on British television each year; as associate editor Susanna Lazarus explains: "Who has captured the imagination of TV viewers in the past year? Which stars are at the top of broadcasters' wish lists, who landed the biggest roles, and who masterminded the moments that had you glued to your screen?"
Last year's list was topped by none other than incumbent Time Lord Jodie Whittaker, which should be a pretty good indication of just how big Olivia Colman's year is expected to be. Andy Harries, chief executive of Left Bank Pictures — the production company behind Netflix's The Crown — told RadioTimes: "Olivia is a wonderful actress to watch at work, especially as The Crown's new queen. She is such a warm, smart, transformative actor who steps in and out of character in seconds — one minute laughing with the crew, the next totally regal and locked into a complex exchange with the Prime Minister in one of the Queen's audiences."
Harries added: "She is so professional, so winning on and off the set — Olivia is a truly exceptional British talent."
Other big names to make the list? Colman's followed by new Doctor Who showrunner Chris Chibnall, This Country creators Daisy May and Charlie Cooper, as well as Declan Donnelly and Idris Elba. Meanwhile, Benedict Cumberbatch is ranked ninth, Romesh Ranganathan comes in at number 17, The Walking Dead's Lennie James is at 20th, and Eni Aluko — Match of the Day's first female pundit — scores the 25th slot. Musician Sheku Kanneh-Mason, who played cello at this year's royal wedding after a personal invitation from Meghan Markle, is at 83rd place, and the list is rounded off by Nanette comedian Hannah Gadsby.
Back to Colman: what makes 2018 her year? After all, she received a Golden Globe in 2017 for The Night Manager. She won a BAFTA for her leading role in Broadchurch back in 2014, as the Guardian reports — and two the preceding year, for her roles in Twenty Twelve and Accused. And when Meryl Streep accepted her 2012 BAFTA for playing Margaret Thatcher in The Iron Lady, she called Colman — who played her daughter, Carol — "divinely gifted." Plus, she appeared in the best Edgar Wright film of all time, Hot Fuzz, and please do not challenge me on this because I have an 80-slide PowerPoint presentation prepared. So how could Colman top all of that?
Well, for a start, she's due to succeed Claire Foy as the Queen in The Crown, as the Radio Times reported in October 2017. Foy won a Golden Globe for her role in the Netflix sensation and was nominated for a clutch of other awards, including a BAFTA and a Primetime Emmy; when Colman takes up the role, therefore, she's likely to garner a whole lot of critical acclaim. The series won't drop until 2019, according to the Hollywood Reporter, but Colman's got another enormous role lined up as well: Madame Thénardier in the BBC's adaptation of Victor Hugo's Les Misérables, as the Radio Times reports. Colman will appear alongside Adeel Akhtar as her husband, Monsieur Thénardier, as well Dominic West as Jean Valjean, David Oyelowo as Javert and Lily Collins as Fantine.
Colman told Vogue that she's not quite comfortable with the title "national treasure", saying, "I feel a little bit like I'm not ready to have that very nice title on my shoulders just yet." She added, "I know it comes from a warm and loving place, but I wonder if it means that I'm at the end of my career, and I feel like I'm only just getting going." She's both right and wrong, in my opinion. It's very clear there's an awful lot more to come from Colman — but Olivia, I'm sorry. You're already nationally adored.