This Wild Fan Theory About Kylie Involves Doughnuts & The Latest 'Kardashians' Episode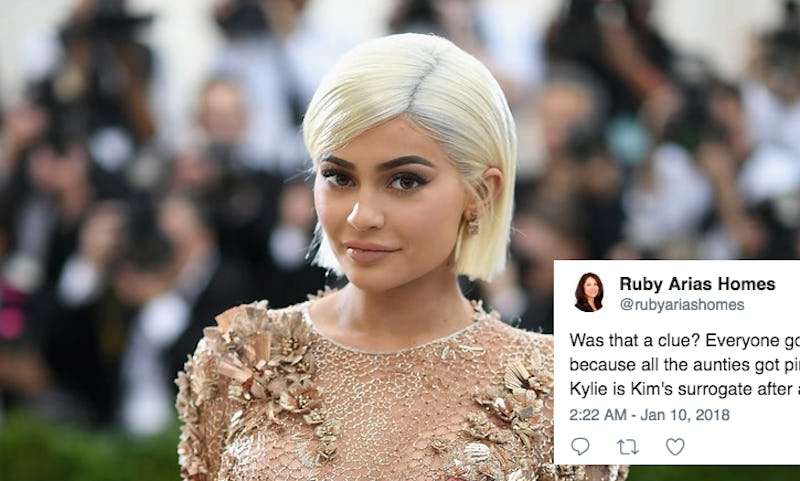 Getty Images/Bustle
Another day, another Kardashian-Jenner baby theory (or in this case, two theories). On Sunday night's episode of Keeping Up With the Kardashians, Kylie Jenner sent her family pink doughnuts — well, everyone but Kim Kardashian — and some fans are convinced that this is yet another clue (in a long line of pink clues) that Jenner is having a baby girl. But wait, there's more.
Other fans are focusing on Kardashian, and why she was the only one who didn't get doughnuts. This fan theory proposes that Kardashian didn't get doughnuts because (drumroll, please): Jenner is actually Kardashian's surrogate, and since we already know that Kardashian already knows that she and Kanye West are having a baby girl, the pink doughnut "sex reveal" was basically Kardashian (via Jenner) announcing this news to the rest of the family. Confused? Allow me to explain.
Let's start with the first theory: The pink doughnuts were a confirmation that Jenner is having a baby girl. For the last few months, Jenner has been kind of obsessed with all-things pink, as per her Snapchat. In November, she snapped a picture of her nails, fingers adorned with bedazzled butterfly rings — all in pink. In another snap of her nails, she used a filter scattered with hearts, flowers, a bow, two mice (bunnies?), and the words "love" and "no screenshots!!" — all pink. Later, she snapped the set for a Kylie Cosmetics video, decked out with a Christmas tree, a leather swivel-chair, a couch, and some framed photos of Barbie — again, all-things pink.
Which brings us to the doughnuts that Jenner sent everyone in her family (except for Kardashian) on Sunday night's episode of Keeping Up With the Kardashians. Those doughnuts were pink — like, really pink. This abundance of pink in Jenner's recent life, paired with her suspiciously MIA status for the past few months, has led fans to assume that this was the moment that Jenner revealed the sex of her reported baby to her family.
So, then, why did Kardashian get left out? A petty jab for an off-camera argument? Did Kardashian know Jenner's news before everyone else? Or, did Kardashian already know Jenner's news because Jenner's news was actually Kardashian's news? This is where things get crazy.
The second fan theory piggybacks on the first: Yes, the pink doughnuts were a confirmation that Jenner is having a baby girl, but — plot twist — the baby girl she's carrying actually belongs to Kardashian and West. Kardashian didn't get any doughnuts because, with Jenner serving as the surrogate, she already knew the sex. Oh, and the other supposed surrogate out there is just a front to protect Jenner. This theory, however, has been likened to that of bigfoot proportions, and doesn't exactly jive with Kardashian-West's and Jenner's reported due dates (which are thought to be in January and February, respectively).
Of course, none of this has stopped fans from running rampant with observations, assumptions, and theories about why the 20-year-old cosmetics mogul has been flying under the radar for the last few months. The Kardashian-Jenners have been noticeably tight-lipped about both Khloé Kardashian's now-confirmed pregnancy, as well as Jenner's recent absence from the media.
When Travis Scott, Jenner's boyfriend and reported father of her child, was asked by Billboard if he was becoming a father, he too, kept quiet. "I don't want to talk about that," he said. "They're just guesses. Let them keep fishing." And he's right. At the end of the day, all of these "clues" — the pink set, the pink nails, the pink doughnuts, Kardashian getting doughnut-dissed — they're all just guesses about The Mysterious Case Of Kylie's Maybe-Baby. But until this case is solved, there's no doubt that fans will keep on fishing.