This Video Of Tiffany Haddish Being Surprised By Oprah Is So Relatable It Hurts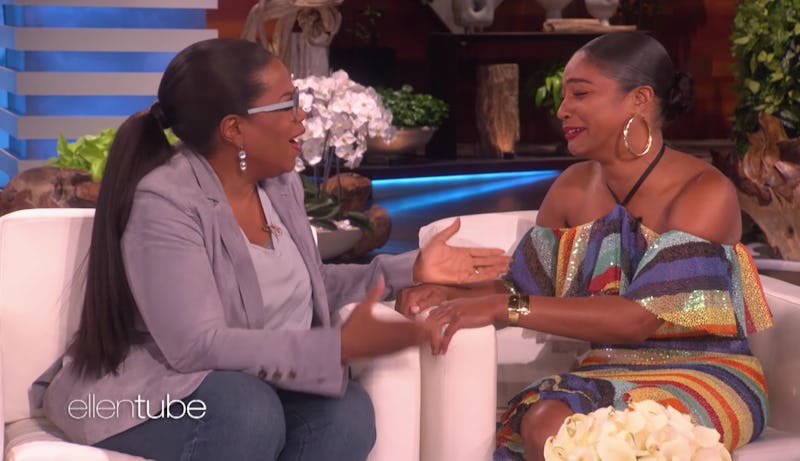 Ellen / YouTube
If 2017 was the year comedian Tiffany Haddish broke out as a performer, then 2018 is definitely the year she'll take over the world. Not only has she already been announced as a presenter at the 2018 Academy Awards, but, during an appearance on Ellen, Haddish was surprised by Oprah, and the video of Haddish and Oprah is like looking into a movie mirror. It's hard to decide which person you love more in the video: Oprah for her serene surprise, or Haddish for her all-out sobfest. And it's not even an act: the comedian legitimately burst into tears when Ellen brings Oprah out onto the set.
As it turns out, the Girls Trip star and The Last Black Unicorn author isn't just an Oprah fan; she's a superfan. During a brief chat with Ellen DeGeneres, Haddish reveals that she first met Oprah while working as an extra on the set of Their Eyes Were Watching God. The actor was entertaining her other extras during a break in the Oprah-produced film, and her antics caught Oprah's eye. Since that moment, Haddish imagined what the relationship between Oprah and herself could be like. Her idea eventually morphed into a business plan, wherein she and Oprah would cross the United States together to sell their home-grown vegetables at farmer's markets.
Much to Haddish's surprise, Oprah hadn't left Ellen after her own appearance. In fact, she was hiding backstage, waiting for the opportune moment to surprise the comedian. Here's how Haddish reacted to officially meeting Oprah:
A full-on meltdown seems about right. Still, there's just something so charming, so pure, about Haddish's total freakout. She's grasping at Oprah, clutching the icon's hands, and even offering her own seat to the former TV host during her own interview. It just goes to show that no matter how successful you get, and no matter how talented you are, being surprised by Oprah on a talk show is just about the greatest thing ever.
From there, Haddish and Oprah catch up like old friends, and your heart will grow so many sizes that the Grinch himself would be jealous. "I'm so proud of you," Oprah beams, while Haddish tries not to lose it again. Between sniffs, the comedian revealed that she took her idol's words to heart — she hand-wrote letters to her, detailing achievements as her career progressed — but never heard back from Oprah. This is an especially wonderful moment. Oprah is ever the regal person, so she politely informs Haddish that she must have lost the letter, to which Haddish responds "I sent six!"
Apparently, the lovefest continued backstage. The pair posted separate Instagrams of the moment, because if you meet Oprah without taking a flawless selfie, did you even meet her? "Look who I just surprised..." Oprah wrote, teasing her Feb. 22 appearance on Ellen. Haddish then reposted the photo three times. True to form, her caption was effusive:
"SO JUST SO YALL KNOW I POSTED IT THREE TIMES BECAUSE I AM THAT DAMN HAPPY! YES! YES! YES I CRIED AND YES I ASKED HER TO BE MY AUNTIE! SO ALL THANKS BE TO GOD FOR ALWAYS COMING THRU YOU HEAR MY PRAYS AND ANSWER ACCORDINGLY AMEN!"
Is there a better celebrity than Haddish? From her incredible Groupon story to her historic awards show speech, there's nothing that the actor can't make entertaining. Her reaction to meeting Oprah just makes you want to hug her and never let go. And, after decades in the entertainment industry, though, the spotlight is finally on the comedian — where it really, truly belongs, let's be real.