Oprah Wore A Tuxedo To The 2017 Emmys & It Was A Surprising Choice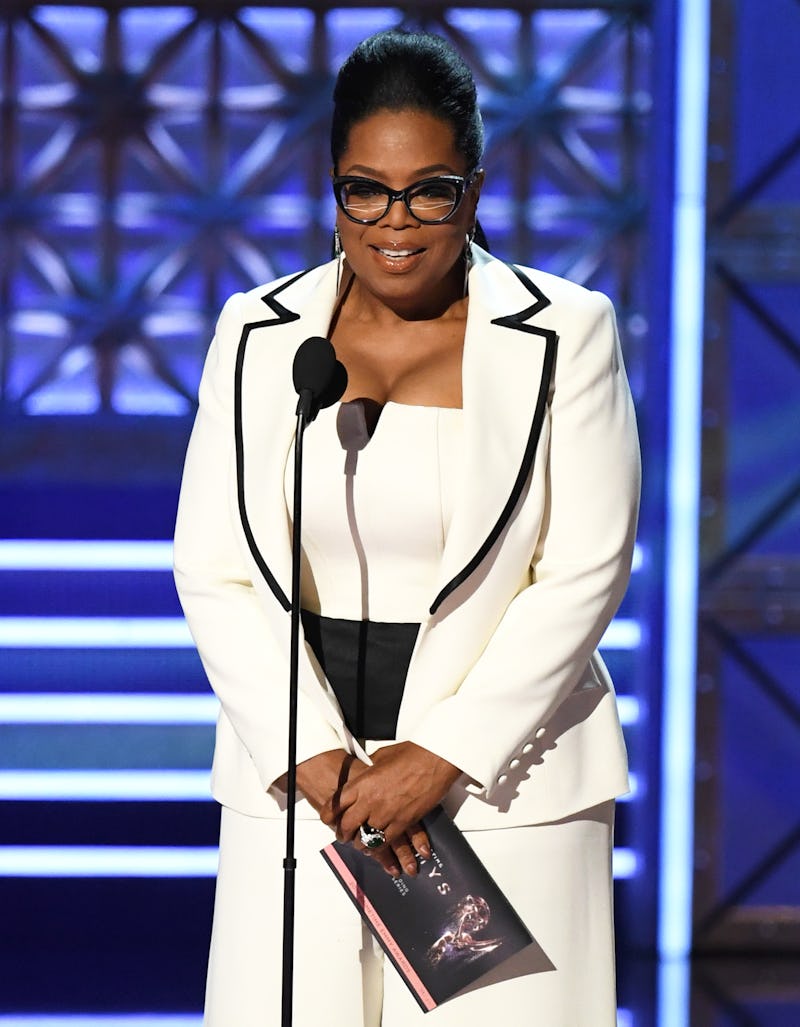 Kevin Winter/Getty Images Entertainment/Getty Images
If there's a woman who knows a thing or two about TV — as well as award shows and scooping up trophies — it's the one and only Ms. Oprah Winfrey. So, to say Oprah made a statement at the Emmys on Sunday night? Well, there's nothing surprising about that.
That said, how she chose to do it was a bit on the surprising side. While she's normally one to show up in a glittery gown or classy dress, Oprah surprised us all by wearing a beautiful white tuxedo with David Webb jewelry to Sunday night's show instead. And she slayed.
Let's say it all together: "And you get a look. And you get a look. And you get a look."
While she didn't walk the red carpet, we did get to see Oprah's tux early on in the night when host Stephen Colbert called her out in the audience during his opening bit. She was sitting right in the front row, and if you know anything about comedians, they pretty much have to roast whoever they can see from the stage. Colbert pointed Oprah out almost immediately, before informing the audience that she had been snubbed this year at the Emmys (she wasn't nominated for her role in The Immortal Life of Henrietta Lacks). He then promised her better seats next year, as if you can do better than front and center in the first row. So funny.
Snub or no snub, Oprah's white tux really stood out among her go-to dresses and gowns from award shows past. The crisp white blazer was trimmed in black along the pockets and lapels, and she wore a black cummerbund. Oprah paired it all with her signature black framed glasses and some dangling earrings, which brought the look up to true Emmys status.
The stylish selection was so incredibly fresh, especially with the wide legs, which are super on trend right now.
Her hair was pulled back into a sleek ponytail to complete the look. While it all appeared to be effortless, it did, in fact, take a lot of work.
Before the Emmys began, Oprah shared a photo on Instagram as she got ready with makeup artist Derrick Rutledge, who was "beating her face," as makeup artists are wont to do. By the looks of things, he did a great job. As did her hairstylist, Nicole Mangrum, who can be seen below pulling all that hair back into the cute ponytail we got to see hours later.
The whole "getting ready" process was apparently a weekend-long thing, according to Vogue. Besides the love she received from her hair stylist and makeup artist, Oprah also got special attention from Anastasia Soare, the brow legend and founder of Anastasia Beverly Hills, Vogue reported.
In true Oprah style, she also shared a pre-Emmys photo of her pedicure, while she was mid-pedi. Oh Oprah, you're so relatable.
Though she looked so flawless at the award show, it is nice to know the finished product really did take a lot of work. Celebrities, they are just like us.
Oprah's presence wasn't to be ignored during the Emmys ceremony, either. With a few more call outs from Colbert and others from the stage (comedian John Oliver made a point of "picking" on her, too), everyone took their moment to hang with Ms. Winfrey.
Pretty cute, right? "Miss Oprah" is perfection, as always.
Oprah took all the attention in stride and was a great sport, as always.
All the pre-show prep, jokes, and Twitter pics led up to the final award of the evening, which Oprah presented. Her stage time gave us a full glimpse of the tux in all its glory as she handed out the Emmy for Outstanding Drama Series, which went to The Handmaid's Tale. Clearly a fan of the show (and likely the book, as well) Oprah was excited to hand the trophy over to the show's star, Elisabeth Moss, who looked pretty darn excited herself. Talk about an incredible night.