If You've Ever Mixed Oreos With Cookie Dough, This New Product Is For You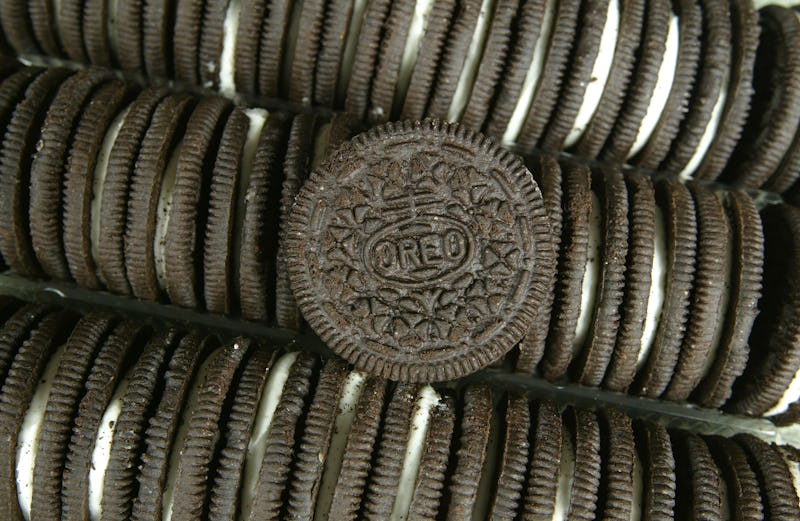 Justin Sullivan/Getty Images News/Getty Images
Eating cookie dough might actually be the epitome of happiness. There's something kind of forbidden about it (I guess the risk of getting Salmonella? Or something?) that weirdly makes it taste even better. Thankfully, Oreo, your favorite crunchy on the outside creamy on the inside cookie, understands: Rumor has it that Oreo and The Cookie Dough Café may have teamed up for Oreo Gourmet Edible Cookie Dough, which is, in other words, oreo cookie dough. I'll give you a second to pick your mouth up from the floor.
Before you worry about safety, this is not your childhood cookie dough. Every product created for the company is made to be safely eaten right out of the cookie dough filled jar.
In fact, The Cookie Dough Café sells a variety of edible cookie dough including confetti and chocolate chip. Unfortunately, not much is known about the Oreo Gourmet Edible Cookie Dough or where else it will be released. The treat was reportedly spotted by Instagram user The Junk Food Aisle at Mariano's in Chicago, but that's pretty much all that's known. (Bustle reached out to Nabisco, the snack food company and owner of Oreo for more information but has yet to hear back.)
If you just can't handle the anticipation which, frankly, is very understandable, there's good news: The Cookie Dough Café does have a cookies & cream flavor on the market that is loaded with chunks of Oreo cookies. You can order that or any of the other flavors online.
Hopefully we will have more information soon because as Harry said to Sally in When Harry Met Sally, "When you realize you want to spend the rest of your life with somebody, you want the rest of your life to start as soon as possible." Or in this case cookie dough, because — let's be honest — cookie dough might be better.