Orlando Bloom's Instagram Tribute To His Grandma Will Absolutely Break Your Heart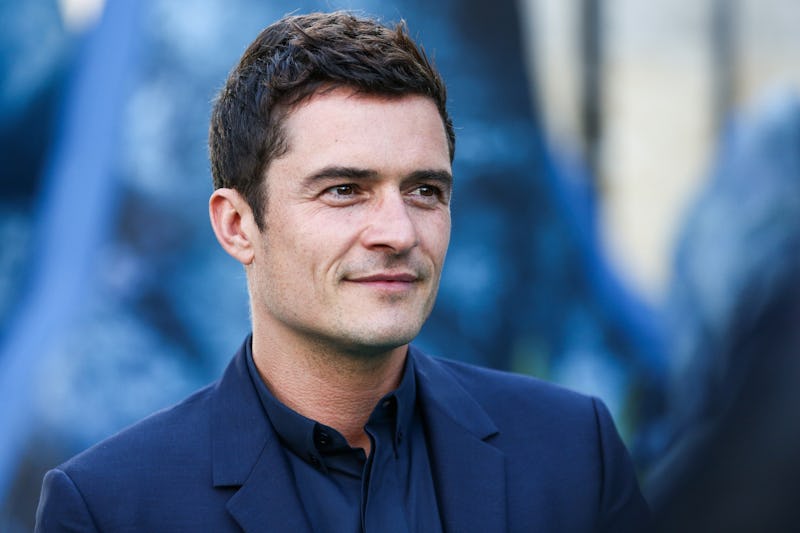 Rich Fury/Getty Images Entertainment/Getty Images
If you need something to melt your heart and break it at the same time this Friday, look no further: Orlando Bloom posted a touching tribute to his grandmother, who he says will "pass soon." Bloom shared three photos of himself with his grandma Dorrie on Instagram, along with a loving message remembering their time together and reminding his followers to be grateful for their loved ones.
According to the post, Dorrie is 98 years old — a woman with nearly an entire century of history. In the photos, Bloom is with her by her beside, smiling, and planting a little kiss on her hand. There's one that will make you cry most: a photo of their two hands clasped together.
"Cherish the memories and moments and celebrate and respect the life," the actor wrote at the beginning of his caption. "We are born we grow old we get sick and we die this we know so love and give love." He then shared some very sweet memories of his time with Dorrie, and they are very quaintly British:
"As I lie awake pondering and knowing that she too will pass soon now perhaps before I wake I pray I smile I shed a tear or two at the memories of Sunday lunch with Yorkshire pudding (she made it the best) and roast potatoes and beans from the allotment and pudding and humbugs and walks in the fields or along the canals and knitted cardigans the love and history."
It seems Dorrie lived a full, fulfilling, and giving life. Bloom's post received many comments of sympathizers sharing their own stories of loved ones passing, as well as their thoughts, prayers, and love. As pointed out by E! News, one comment came from Bloom's girlfriend Katy Perry, who wrote: "Love you angel."
Bloom and Perry made their first official red carpet appearance recently at the Gala for the Global Ocean at the Opera of Monte-Carlo in Monaco on Sept. 26, as People reported. The on-again off-again couple looked very stylish and very much in love. They split in February 2017, which Perry confirmed on her Twitter, but it seems Bloom and Perry are in it for the long haul this time around. According to People, a source close to Bloom claimed:
"[Orlando] is still very happy with Katy. This has been an amazing year for their relationship. It was like they needed to split and get back together again to get to this point. Orlando is very excited about his life with Katy."
Not only that, but, there have been proposal rumors following the couple. People reported on Oct. 3 that a source close to the pair hinted there may be a wedding in the future: "Orlando doesn't have a ring yet but has been talking about the future. Everyone would be excited if they got engaged. Katy is wonderful!" But that's all speculation. "The future" doesn't necessarily mean wedding bells.
Whatever the future holds for Bloom and Perry, one thing is certain: She will be by his side during this difficult time saying goodbye to his wonderful grandmother. He closed his Instagram caption: "I am so grateful for my grandma Dorrie I love you." It's a sweet reminder to all his followers to be grateful for your loved ones. Now go ahead, wipe that single tear away.