Oscar Isaac's Best Moments With Carrie Fisher Will Make 'Star Wars' Fans So Emotional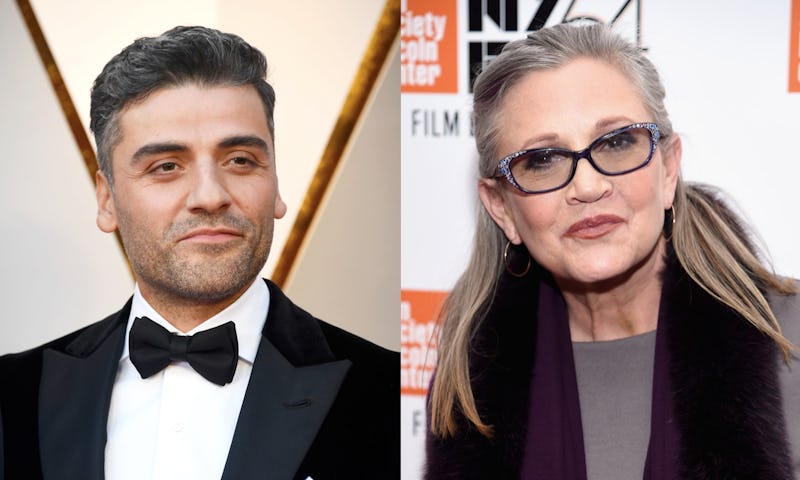 Frazer Harrison/Getty Images Entertainment/Getty Images; Dimitrios Kambouris/Getty Images Entertainment/Getty Images
This Star Wars actor is known for perhaps being one of the most lovable and meme-able people in Hollywood. But one thing fans may not know is just how close Oscar Isaac was with Carrie Fisher. Before Fisher's untimely passing in December 2016, the Star Wars legend worked with Isaac in both The Force Awakens (2015) and The Last Jedi (2017). Isaac and Fisher's best moments together prove how close the two really became in that short amount of time, and revisiting them will make any fan feel the love.
While Fisher reprised her iconic role as Princess Leia in the films, Isaac took on Poe Dameron, human captain in the New Republic and eventually in the Resistance. Isaac's recent cameo at the 2018 Oscars, alongside co-stars Mark Hamill and Kelly Marie Tran (and of course, BB-8), was another moment for fans to realize how much Fisher is truly missed.
The latest trilogy will continue with the next and final installment Star Wars: Episode IX, premiering in 2019. While Isaac will return in Episode IX (written and directed by J.J. Abrams), according to IMDb, these moments signify just how much Fisher will be missed by him on set.
When Fisher Interviewed Him On A Red Carpet
At The Force Awakens red carpet, Fisher interviewed Isaac. In the hilarious video, Isaac casually had his arm around Fisher while the two were joined by her daughter Billie Lourd. Then, Fisher swapped places with an interviewer to ask Isaac questions. They also dropped multiple S-bombs in the video, and it was amazing.
When Fisher & Isaac Filmed Their First Scene Together
When visiting The Late Show with Stephen Colbert last May, Isaac recalled getting slapped by Fisher over and over during the very first day of shooting. He explained that in the scene, her character confronted his, very upset with him, and the director had her slap him about 27 times.
"Every time, she'd hit like a different spot on my face," he joked. But there were no hard feelings. "She was, by far, the quickest-witted, funniest, most down-to-earth, real human beings I ever had the opportunity of working with."
When They'd Break It Down On Set
Last summer, Isaac reminisced about dancing with Fisher on the set of The Last Jedi. As he explained to Entertainment Weekly, they were pretty much regular dance partners. "One of my favorite things that would happen from time to time on set would be when Carrie would sing old songs," he said. "Whenever that would happen I would offer her my hand and we would waltz around the set — on a starship, in a Rebel base, on an alien planet, and she would sing and we would dance."
The way he described the memories was even sweeter. "So surreal and beautiful to think about now," he said. "For all of her delicious, wicked humor and fiery energy she also had such sweet grace. I miss her dearly."
This Sweet Kiss They Shared On Set
This brief but adorable on-set moment proves how close the two became in the Star Wars process. It seemed they really had a respect and adoration for one another, and it shows even just through a GIF.
Isaac's Facebook Tribute To His Late Co-Star
Two days after Fisher's untimely death, Isaac posted a sweet Facebook tribute to her which pointed out some of his favorite qualities of the fallen star. "She saw through things, at a different angle, with the gritty wisdom that comes from the hardest lessons," he wrote. "And, man, did she make me laugh." The photo shows Fisher goofing off on set alongside Mark Hamill.
While Fisher is sadly no longer here, Isaac's precious moments with the late icon are luckily eternalized on the internet for fans to relive forever.