Oscar Isaac Addressed Carrie Fisher's Posthumous Role In 'Star Wars: Episode 9'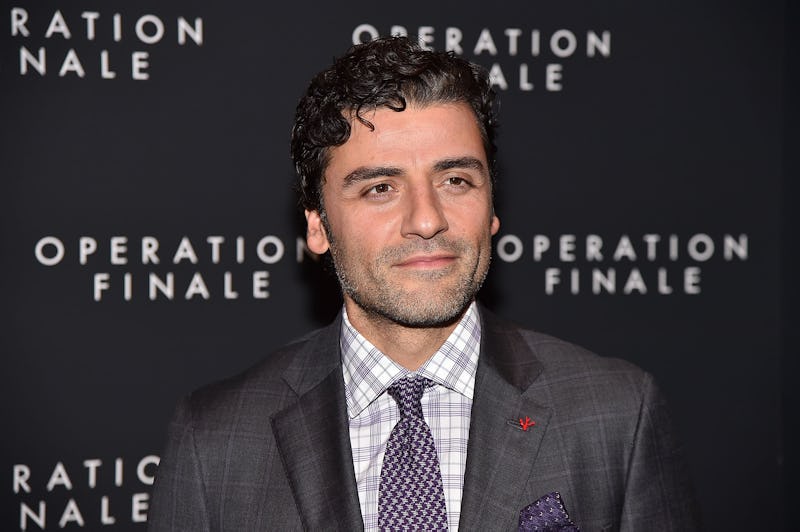 Theo Wargo/Getty Images Entertainment/Getty Images
When J.J. Abrams announced plans to use footage of actor Carrie Fisher in the next Star Wars film, fans were hesitant. But costar Oscar Isaac's comments about Carrie Fisher in Star Wars: Episode IX should put any fears to rest. On Aug. 31, the actor talked to People about Abrams' decision, and it's obvious that he's not just okay with it, but excited for how the film will turn out.
"When I read the script it all made a lot of sense to me," Isaac told People, "Treating that character that we all love so much with real respect from the beginning — I was very happy about that." In addition, Isaac was reportedly looking forward to complete the "fulfilling arc" of the heroic Poe Dameron. "It's been a good chunk of time where we've been doing these movies," he joked to the magazine, and it only underscores the fact that Isaac knows what he's talking about. What's more, Fisher and Isaac bonded on the set of their Star Wars film together, so he's another person in the long line of those close to Fisher that heartily approve of Abrams' decision.
"We desperately loved Carrie Fisher," Abrams said in a statement in the July 27 announcement. "Finding a truly satisfying conclusion to the Skywalker saga without her eluded us." The director continued:
"We were never going to recast, or use a CG character. With the support and blessing from her daughter, Billie, we have found a way to honor Carrie's legacy and role as Leia in Episode IX by using unseen footage we shot together in Episode VII."
Per The LA Times, the actor's brother Todd Fisher announced that, "I couldn't be more personally thrilled and happy that our Carrie will reprise her role as Princess Leia in the new and final Star Wars Episode IX using previously unreleased footage of her shot for Star Wars: The Force Awakens". Rolling Stone reported that his niece, Billie Lourd, also gave the film's producers her approval. Close friend and longtime costar Mark Hamill tweeted his support as well, but it didn't prevent some light grumbling from the internet.
It seems as if the studio's main concern is that fans will anticipate CGI, or some other manipulative technique, regarding the ways in which footage will be used. The important thing to remember is that it's not any of those things. The content of Fisher is simply extra footage from The Force Awakens, which was written and directed by Abrams. That's the entire point — that the footage has already existed. Plus, it should be congruent with Star Wars: Episode IX, since she was speaking words written by the director, and being directed by the director, too.
The odds are that it will all fit, even if it's a little jarring to see an actor on screen after they've passed. But that's a personal opinion, though, more than anything. If the director made the decision to use this footage, and Fisher's brother supports it, and her daughter is in favor of it, and Fisher's cherished friends and costars are on board, it's likely time to accept once and for all that it's not only an okay choice, but a great one.