Panera Has A DOUBLE Bread Bowl Now & It Is Truly A Thing Of Beauty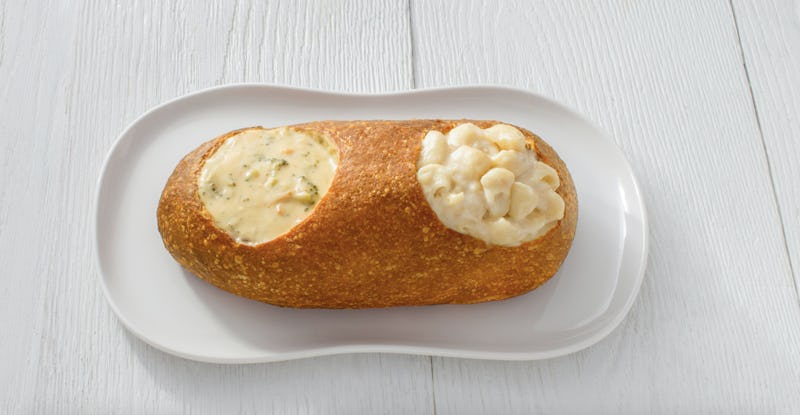 Panera
2018 has certainly been a good year to be a card-carrying Panera stan, but it's about to get even better: Panera is testing Double Bread Bowls, a concept that defies logic, science, and the veritable carb sponge that is my brain. The concept basically just took your beloved Bread Bowl and elevated it to new heights. The Double Bread Bowl is a loaf of bread (a LOAF!), only this time, it has not one, but two cut-outs, so that you and a friend can each get a soup or mac and cheese and then enjoy it from the same hunk of bread.
TL;DR: Step aside, Lady and the Tramp. A new sexy dish just hit the scene, so spaghetti can take a hike.
The caveat here is that the Double Bread Bowl is only testing right now — specifically in the Philadelphia area, starting on August 5, per Panera. But if it does well there, the Double Bread Bowl has the potential to hit menus nationwide. So humans of Philadelphia, if you really are the city of Brotherly Love, the time to prove it to the rest of the world is right here and right now — by taking the people you love to go to town on a straight up loaf of bread with you. Or, barring that, taking your bad self to Panera and ordering one for yourself (because honestly, double-fisting tomato soup and mac and cheese out of a giant two-sided bread bowl sounds like an as-of-yet-unrealized American Dream).
Behold the Double Bread Bowl in all of its glory.
The Double Bread Bowl will be available in participating Philadelphia area stores between August 5 and August 31, and will be available both at the cafés and through Panera delivery. As for the rest of us, it's available in our hearts — or, if we are particularly shameless, available if you are willing to scoop out your own loaf of bread in front of the rest of Panera's customers and shove some soup into it like any true fan would.
If this does end up rolling out nationwide, customers will have more options to put in the Double Bread Bowl than ever. Panera recently announced the addition of four new cheese-y menu items, two of which are screaming to be put into a bowl of bread: Baja Mac & Cheese, topped with avocado, pico de gallo, and cilantro, and Bacon Mac & Cheese, a temporary menu addition in June that went permanent in July.
As all my Panera peeps know, Panera also rolled out nationwide delivery on May 9, making it easier than ever to get your Bread Bowl fix — be it the OG version, or the one that Philadelphia is about to be blessed with. You can check if you're within a delivery radius on Panera's website here; or you can just do your civic Panera duty and take a road trip to Philly to go try the Double Bread Bowl for yourself. Save me a seat, y'all.