These Parkland Survivors' Tweets About The Jacksonville Shooting Are So Powerful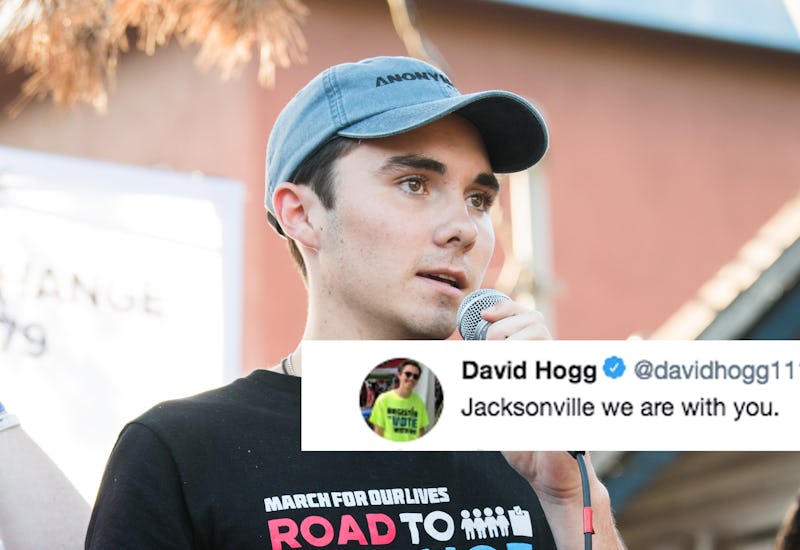 Emma McIntyre/Getty Images Entertainment/Getty Images
When tragedy strikes, it's natural to turn to a leader for support. So if you're turning to the current and former students of Marjory Stoneman Douglas High School to hear their words about the Jacksonville shooting that took place on Sunday, you're not alone. The Parkland survivors are responding to the Jacksonville shooting on Twitter, and their words carry so much weight.
"Terrified at what I'm seeing in Jacksonville," Parkland activist Cameron Kasky tweeted on Sunday. "Sending love and support to those affected."
"Jacksonville we are with you," fellow activist David Hogg said in his first tweet in the subject. He quickly followed that up with an appeal to his followers to bring all of the negative emotions they might be feeling at this moment to the ballot box in this year's midterms.
"While @50milesmore, @MFOLBoston and I were marching against gun violence in front of Smith and Wesson another shooting occurred in Jacksonville, FL in yet #AnotherFLshooting," Hogg tweeted. "We know change will not come until we demand it this November and after."
The Jacksonville Sheriff's Office first reported the shooting in a tweet on Sunday afternoon, warning community members to stay away. The office reported that the shooting took place at a video game tournament at a shopping center. It announced that there were multiple fatalities and that at least one suspect was dead at the scene of the crime, but the office has not released any more details.
Delaney Tarr, another Parkland activist and now a college freshman at the University of Georgia, also tweeted her words of support.
"Once again, my heart hurts and all of me is so angry," she wrote, retweeting the original post from the sheriff's office. "We cannot accept this as our reality. We cannot accept violence, or hate. Fight for Jacksonville. Send them your love, your passion, and your change."
Lauren Hogg, who still attends Stoneman Douglas, also offered her thoughts — first in a message to Jacksonville, and then in a message to Florida Sen. Marco Rubio and Gov. Rick Scott.
"Our hearts are with you Jacksonville Landing," Lauren Hogg's first tweet read. "It's crazy to think that March for Our Lives Road to Change had an event there just about a month ago."
In the second, she tagged Rubio and Scott before launching into an all-caps plea.
"HOW MANY OF YOUR OWN CONSTITUENTS MUST BE TAKEN DUE TO GUN VIOLENCE IN YOUR OWN STATE FOR YOU TO DO SOMETHING?" she wrote. "STOP LETTING THE NRA's MONEY BLIND YOU FROM SAVING THE PEOPLES LIVES THAT YOU CLAIM TO PROTECT."
Fellow Parkland activist Jaclyn Corin added her thoughts in a short, heartfelt message.
"Holding Jacksonville in my heart. I'm so sorry," she wrote.
A local March for Our Lives organization connected to Parkland also issued a response: March for Our Lives Jacksonville, which had only just responded to the previous shooting in Jacksonville earlier in the weekend.
"March for our Lives Jacksonville is working on coordinating a response to the recent mass shooting," the team posted on Sunday. "We once again are incredibly devastated to hear of such tragedy. We need to make sure this does not ever happen again in our city!!"